Bannister Lake Web Widgets and Timeline Drive Interactive Election Coverage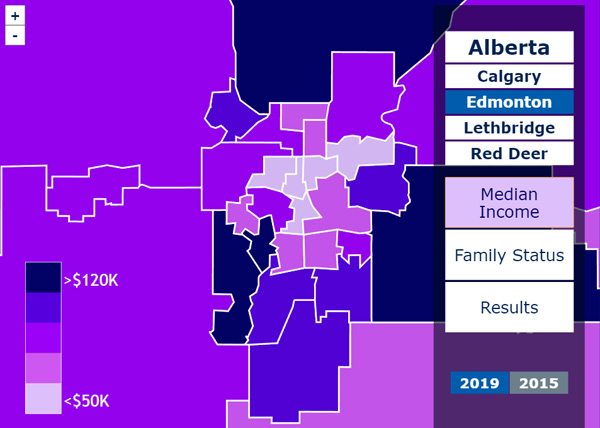 Global Television's coverage of the Alberta provincial election in Canada on 16 April 2019 employed two new data-driven techniques designed to communicate the details of election results to viewers and editorial teams. For one of these, Bannister Lake worked alongside Global Television's production, design and technical teams to develop a touchscreen-based series of web widgets that incorporated live election results, historical results and the relevant demographic data.
Global Television used the interactive web widgets to illustrate the connections between election results and contextual data such as household income and family status. Combined with easily read maps, viewers were able to comprehend and contrast regional and city-suburban voting outcomes very readily.
Web widgets are BLADE urls from a special version of Bannister Lake's main branding and ticker system, Chameleon, that displays scores. Web masters can use the widgets to add Chameleon data onto their pages without writing their own PHP code. Still a new product, over time the widgets will be made available for all data types and in different dimensions and views. Users can also control how often they automatically refresh.
Aggregation Portal
Data is retrieved through a BLADE interface as a public information aggregation portal for websites. BLADE data exchange software sets up data retrieval, contained within a single URL. Each BLADE module, one of which is specialised for election data, gives access to relevant topics and content in XML, RSS, JSON or CSV formats, as available, so that the same dynamic broadcast content may be used on most platforms.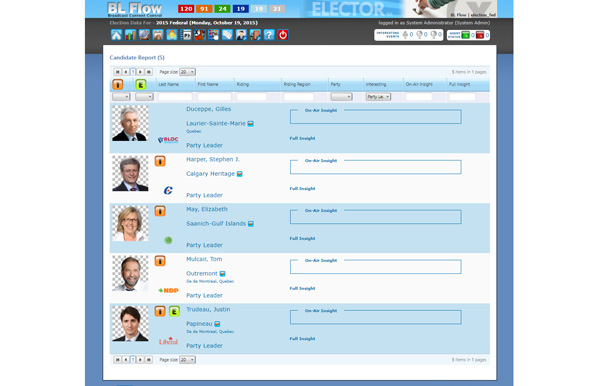 Elector candidate reporting
Bannister Lake's development of HTML5-based widgets adds a distinctive dimension to election coverage that makes it more engaging and directly meaningful to people. They can be launched for other live data applications including sports, finance and eSports in a similar way. The widgets can be built quickly and are specifically designed to use in applications that can take advantage of responsiveness and interactivity.
Furthermore the same products can be used both on-air and online, so that viewers can access and control the specific content they want to consume in different ways. For broadcasters that want to expand their election coverage online and to mobile devices, the widgets's ability to visualise more kinds of data, to make it interactive and to incorporate interesting related datasets opens options for making election results more compelling for more people.
Results Timeline
Global Television also used a new Results Timeline function that was recently added to Elector, Bannister Lake's election race software, to help analysts and reporters predict race outcomes more accurately. The Results Timeline displays a graphical timeline of election results per constituency or per party, and then consistently and continuously updates it as data comes in. It is an easy way to read a visual representation of the overall voting trend and allows analysts to quickly identify votes that are fluctuating dramatically, have a clear winner early on or are too close to call.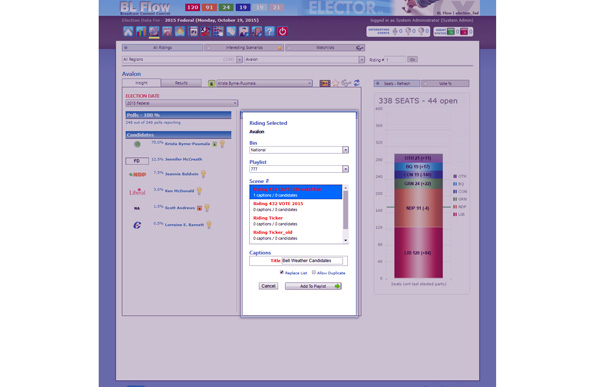 Elector voting breakdown
Combined with a web-based content management interface, Elector displays and broadcasts election results and information with a high level of automation. It can mix automated data from various sources such as Newswires, Reuters or AP News, with manually entered content to create customised election experiences. Combining an automated data feed with content entered by operators means you can make sure the content is correct while still having the opportunity to highlight the races that are relevant to a particular audience.
Elector is very flexible in terms of display requirements, for example, real-time mode or time-delayed, in SD, HD or both, and in one or multiple languages simultaneously. You can also control the system with a single operator or divide tasks between several operators. You can set up Elector to meet your broadcast display zone obligations, as well, to support sponsors, news tickers and party and non-party based results, or alternatively use on-the-fly DVE control. www.bannisterlake.com.