Holland America Line Sets Sail with Custom Blackmagic Live Stream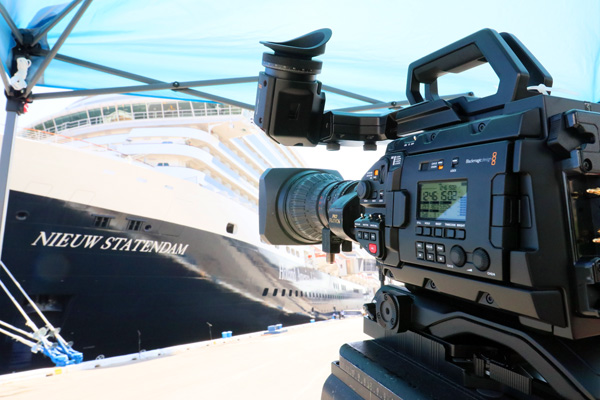 Photo courtesy Punch Drunk Productions
Punch Drunk Productions from Seattle had the fun job of producing and live streaming the dedication ceremony of a new cruise ship in Holland America Line's fleet.
Live streamed from the World Stage Theatre onboard the ship, called Nieuw Statendam, while docked at Port Everglades in Fort Lauderdale, Florida, the ceremony follows the maritime tradition of bringing good luck and protection to a new vessel. It included the official dedication, several speeches and the traditional bottle of champagne broken over the ship's bow. The presentation was streamed to Holland America Line's website, Facebook page and YouTube Channel, where it unexpectedly attracted hundreds of thousands of views around the world.
Deceptively straightforward, the project involved production challenges that Punch Drunk needed to prepare for well in advance. But, as specialists in multi camera live broadcast, the company is familiar with the changeable nature of live events. Creative director Jacob Stone, who is the company's founder, and his 13 team members designed a system to solve three major hurdles.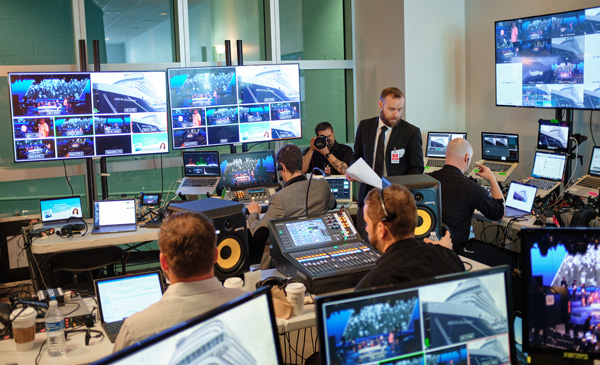 Photo © 2019 John Meloy
Four Cameras, B4 Lenses
"The first consideration was that the main stage was going to be located on the cruise ship while our control room was on shore," said Jacob. "Second, the ship would be returning from sea the morning of the broadcast and we needed to go live that afternoon, giving us quite a tight timeframe in which to fully connect the stage to the control room. Finally, the champagne bottle would be smashed on the exterior of the ship, which required positioning a camera, plus microphones to capture the audio, outside the ship and making sure it wouldn't be visible in the wide camera shot."
The Punch Drunk team used four Blackmagic Design URSA Broadcast cameras with Fujinon HD broadcast lenses to capture video both on and off the ship, along with a Blackmagic ATEM Camera Control Panel to shade the cameras. They wanted to use this type of B4 lens because they are parfocal and stay in focus when magnification or focal length is changed. Also, the Control Panel would help when switching back and forth between cameras located in both interior and exterior locations, which needs constant shading for a professional look.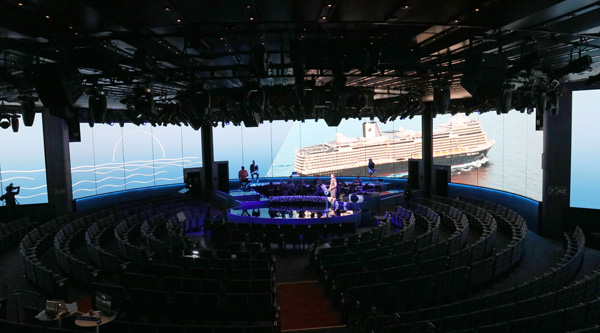 Photo courtesy Punch Drunk Productions
Each camera also used a Video Assist 4K as an additional monitor. Meanwhile in the control room on shore at Port Everglades were Blackmagic Design's Smart Videohub 40x40 router for signal management, an ATEM 4 M/E Broadcast Studio 4K as the primary switcher, an ATEM 2 M/E Broadcast Studio 4K as the backup switcher, and an ATEM 1 M/E Advanced Panel to control the switchers.
"The URSA Broadcast cameras working together with the ATEM Camera Control Panel have made a huge difference for us," said Jacob. "We needed cameras that could record HD natively, allow remote shading and support the B4 lens mount for parfocal lenses with servo zoom. For a camera body with this kind of functionality at this price, nothing else comparable is available on the market.
Ship to Shore Data Channels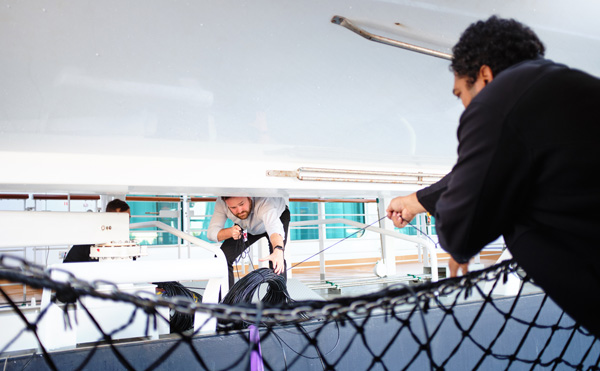 Photo © 2019 John Meloy
"The ATEM Camera Control Panel is configured with four remote control panels to independently shade the cameras, with an aux bus switch built in, so we don't need any additional SDI in and out. We can simply use Ethernet to access the system. With this equipment, we get the same level of control that we would expect from a much more expensive platform."
The team used damage-resistant tactical fibre to establish 24 data channels from ship to shore for camera feeds, intercom, audio and aux returns. They tested and retested every piece of equipment so that when it came time to deploy to the ship, as little as possible was left to chance, and every channel of fibre was meticulously labelled and documented for everyone in the control room.
"The Smart Videohub 40x40 router performs especially well in such situations, allowing us to instantly modify our routing plans once we were patched, and respond to changes that were made during rehearsals while the ship was at sea," said Jacob. "The ATEM 4 M/E Broadcast Studio 4K was also vital to this process."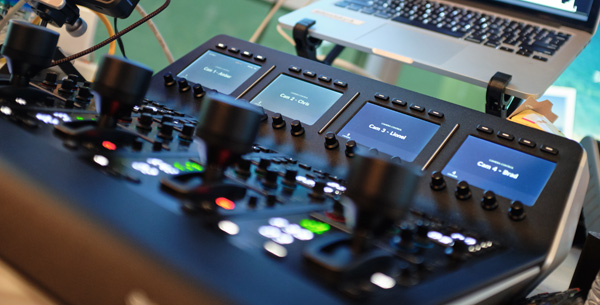 Photo © 2019 John Meloy
Smashing
For the challenge of capturing the champagne bottle smashing, the team used an URSA Broadcast under a pop-up tent and captured the audio through two channels from wireless shotgun mics mounted near the shore, plus a long range parabolic dish mounted outside of the control room. The team took that video feed through another 500ft length of tactical fibre directly into the control room using Blackmagic Mini Converters Optical Fibre 12G, and then roundtripped the ISO exterior shot back to the ship's control room, where the live feed from that camera was displayed on a huge LED wall to the live audience onboard the ship.
In the control room, Blackmagic Design UltraStudio Mini Recorders supplied video to a Telestream Wirecast set up with Open Broadcaster Software, which were used for web streaming. The HyperDeck Studio Mini recorders were used with custom software for graphics effects playback, with one output for fill and one output for key, and seven HyperDeck Studio Pros for all master and camera ISO recording.
"We've only just started to realise that the HyperDeck Studio Minis have a lot of potential," said Jacob. "For example, our graphics effects operator created a software application that triggers playback on the HyperDeck Studio Minis using ProRes 444 files with alpha channels, which gives us two independent SDI outputs. The media can sit on the HyperDeck Studio Mini and feed the ATEM's DVE system directly. With that set-up, we have a playback device with dedicated key and fill output that costs less than US$700."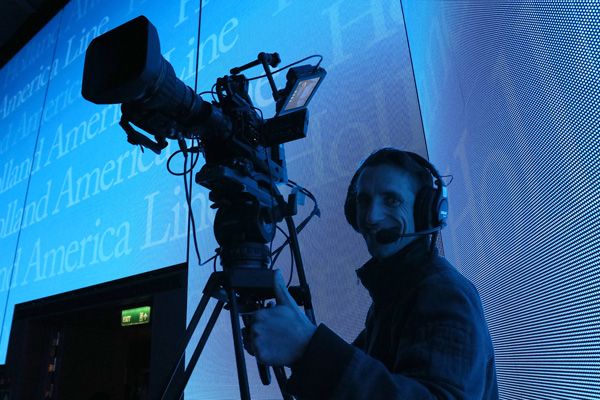 Photo courtesy Punch Drunk Productions
Purpose-Built Control Room
The modular nature of the Blackmagic Design equipment meant the Punch Drunk team could complete this project with a completely purpose-built broadcast control room. They built out the cameras in Pelican kits, each in its required configuration, prepacked and ready to go.
"When I give a kit to one of our camera operators, they can decide on the spot which accessories and tools are appropriate for their camera position. The Blackmagic gear opens up a world of equipment options to people who may not have previously have had access to it. When an agile broadcasting company like Punch Drunk can afford to own the entire system, end to end, we can expose a whole new generation of people to how real broadcast works." www.blackmagicdesign.com