ChyronHego TRACAB Gen5 Updates Tracking Algorithms, Adds AI Recognition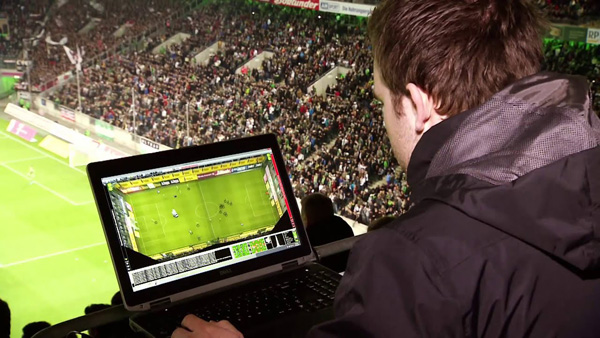 ChyronHego's TRACAB Gen5 is the new version 5 of the company's optical sports tracking system, updated with improvements to its tracking data quality and accuracy. The software is now driven by redesigned tracking algorithms, a denser array of high-resolution camera angles and AI functionality for player, number and colour recognition.
TRACAB Gen5 uses a distributed system of cameras installed around the field of play and image processing to capture and output real-time tracking data on the movements of each player, the referees and the ball. Among the world's most commonly deployed optical sports tracking systems, TRACAB has been installed in over 300 stadiums and is currently used to capture live tracking data for about 4,500 football, soccer and baseball matches each year.
TRACAB's purpose is to deliver an accurate, real-time data feed that leagues, federations and teams, betting companies, broadcasters and OTT rights holders can rely on to produce virtual graphics and other visual elements to engage fans.
TRACAB Gen5 is based on a distributed camera architecture in which cameras can be deployed on both sides of the field and behind each goal to capture action from four angles. With several different camera views to stitch, process and compare, Gen5 is able to follow every object on the field at a much higher resolution and generate more accurate ball and player tracking data.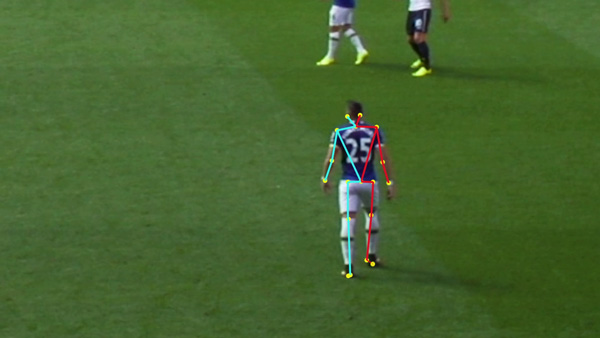 Skeletal tracking
Associated with tracking is player identification, the accuracy of which is improved through TRACAB Gen5's new AI capabilities, which the system uses to recognise and distinguish player numbers and jersey colours from any angle. If preferred by clients, this ability also introduces the option to omit operators from on-site operations.
TRACAB Gen5 has, on request of the Deutsche Fußball Liga (DFL), been independently validated by the Technical University of Munich, which used the Vicon 3D motion capture system to measure the tracking and data collection accuracy of TRACAB. Vicon is the industry standard by which tracking systems are validated in the football market. The tests revealed that TRACAB Gen5 is able to track objects on the field with an average accuracy of 7cm, relative to the centre of mass of a player, and with 100% tracking completeness.
Combined with a real-time latency of less than 300 milliseconds, ChyronHego says these are some of the highest performance results achieved by any sports tracking system in the world. On the strength of these results, the DFL is currently rolling out TRACAB Gen5 to all 36 of its Bundesliga and Bundesliga 2 arenas for the 2019-2020 football season.
Data robustness and scalability is what is important to stakeholders – that is, leagues, teams, betting clients and broadcasters or OTT operators. ChyronHego supplies the data as a service through the TRACAB Gateway, a cloud-based, automated delivery engine and database. The TRACAB Gateway has an open architecture with APIs for real-time and post-match data integration, and queries data for all stakeholders.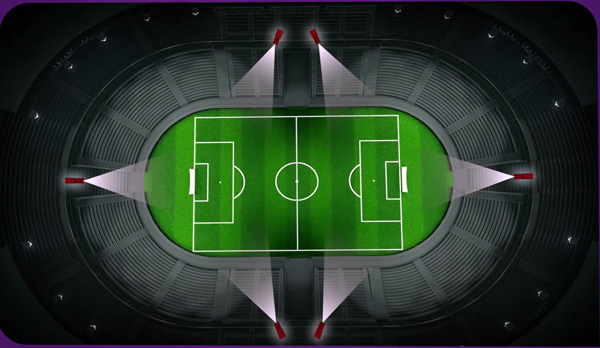 Distributed camera architecture
Further to accuracy and real-time data delivery, ChyronHego is planning to expand the application of TRACAB's neural network algorithms in order to perform limb or skeletal tracking. By consistently identifying players' key body parts such as heads, shoulders, arms, hips, knees, heels and toes, users can display three-dimensional skeletal movements of players.
The resulting multidimensional, intelligent data will be fed automatically into VAR (Video Assistant Referee) operations, supporting offside calling decisions to be supported by instantaneous and automatic identification of situations. This level of data resolution and quality is expected to power many new stakeholder applications for fan engagement and professional purposes. www.chyronhego.com