ASTROLab Reveals the Sky at Night with Blackmagic 12G-SDI Workflow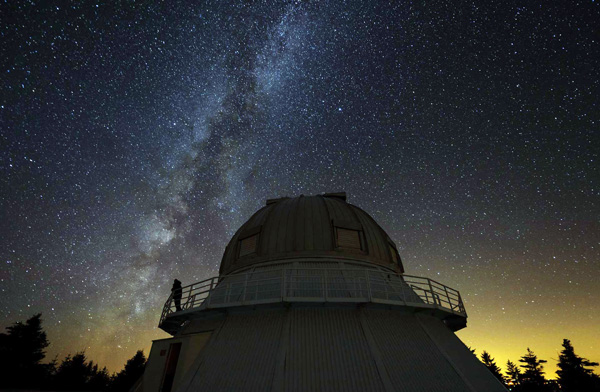 ASTROLab presenter Guillaume Poulin stands outside the observatory at Mont-Mégantic NP.
ASTROLab, an astronomy activity centre at the Mont-Mégantic National Park in Québec operates a 95-seat auditorium and astronomy activity centre where visitors can view daily science presentations in an interactive theatre. It is located in a protected IDA (International Dark-Sky Association) Dark Sky Reserve. Concerned with light pollution, the IDA protects places like ASTROLab as a land management effort to preserve the quality of starry nights and nocturnal environments for their scientific, natural, educational and cultural value.
Presentations are projected on an 8m by 5.5m screen and cover topics such as cosmology, space exploration and light pollution. Because the centre wants to expand its reach beyond the local area, the presentations are also live streamed to audiences overseas.
To make the presentations as dynamic and interactive as possible, two presenters work together on stage. The main presenter engages with the audience and talks through the given topic, while the second operates a panel that accesses a Blackmagic Design ATEM Production Studio 4K switcher, Smart Videohub 12G 40x40 router, HyperDeck Studio 12G record and playback deck, and Blackmagic eGPUs. These devices control all the of the venue's lighting, sound and video projections in real time. The custom 4K installation was designed by Canadian systems integrator Solotech.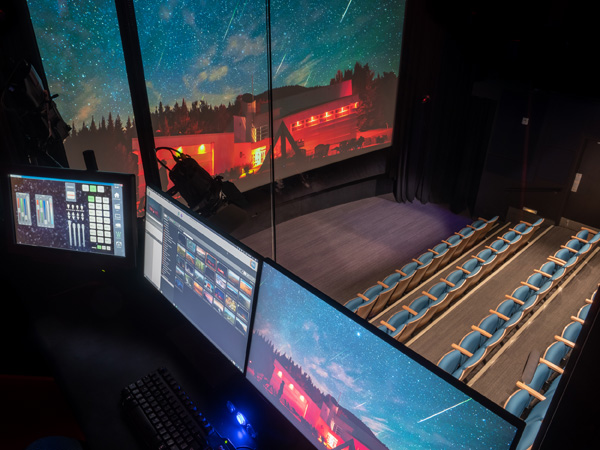 "The system we have in place with Blackmagic Design makes transitioning between images and videos during a presentation very straightforward. Our presentations are scripted, but we encourage audience participation and questions. With the ATEM production switcher and Smart Videohub router, we can adjust the images immediately to reflect and illustrate impromptu conversation within a few seconds, just by clicking a button," said Guillaume Poulin, one of the ASTROLab's senior presenters.
"Switching from one HDMI signal to another would take a lot more time and the result wouldn't be as smooth. Having the router up at the SDI level allows us to operate the theatre a lot faster."
Since the images and video are projected onto such a large screen, running ASTROLab's content at 12G-SDI 4K at 60 fps is a major step toward a smooth, comfortable viewing experience for the audience so that they can focus on the content. To achieve this, the ASTROLab team incorporated two Blackmagic eGPUs into the theatre control panel - one for each computer, to output two signals in 4K at 60 fps. As well as greater volume, the Blackmagic eGPUs improve graphics performance and accelerate computational tasks, which helps maintain instant, invisible transitions between images and videos. Separately, all video inputs are converted to 12G-SDI through Teranex Mini converters.
Guillaume said, "Simply projecting the content onto the screen in 4K at 60 fps has always been our primary technical challenge and is particularly important for astronomy footage like a galactic fly-through. At 24 or 30 fps, the image will skip. On a screen that size, this effect is amplified and can create an unpleasant sensation for viewers. Attempting to achieve the necessary resolution and frame rate up until now was a technical and financial strain, but the Blackmagic equipment has made it simpler and more affordable."
The technical project manager at Solotech Ghislain Veronneau said, "Another of our hurdles has been the need to generate completely fluid cross fades on demand on a massive screen. In spite of those combined technical parameters, it was imperative to maintain a budget that ASTROLab was comfortable with. With the 12G-SDI 4K hardware from Blackmagic Design, we were able to customise a budget-conscious system. The client and our own team are impressed with the final on-screen rendering we were able to achieve."
For their live streams, the ASTROLab uses a Blackmagic Web Presenter to bring live presentations into classrooms around the world in real time via video conferencing. "To enhance the experience of the remote productions, we use the ATEM Production Studio 4K's picture-in-picture view, which shows the presenter talking in the upper corner. Meanwhile, the students can view the image currently being displayed in the auditorium in full screen mode," said Guillaume.
Regarding the need for technical expertise at ASTROLab, the new gear has made it easier for new presenters to come up to speed quite quickly. "We have some senior staff, but also hire students for two or three months over the summer," he said. "Since they are here for such a short period, they don't have much time to master the tiny details of running theatre systems. The Blackmagic Design workflow and user experience has proven to be very simple and manageable for everyone." www.blackmagicdesign.com