Matrox Monarch EDGE and SBG Focus Visualise In-Game Sports Performance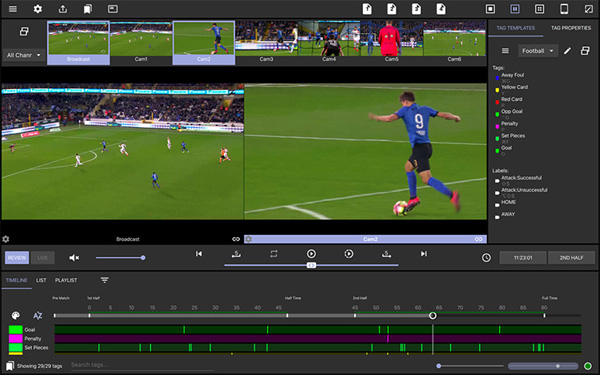 Football is estemated to be the most-watched sport in the world and, according to FIFA.com, global viewership for the 2018 World Cup final topped 1 billion people.
Nevertheless, fans may not be aware of exactly what teams need to do to train and prepare for each match. For example, sports video systems now play a key role in many training programs. One combined system, Matrox Monarch EDGE and SBG Focus, outputs high quality, interactive video and has manipulation tools for various applications.
Monarch EDGE's multiple-channel HD encoding applied to Focus' instant replay and live-clipping software allows analysts, coaches, physiologists and doctors to access and work with clear video streams taken from the match, viewed from multiple angles. Once the video has reached the team staff, it can be used in different ways.
Coaches can check instant replays and tag moments in the match, review the tactics and the weaknesses of the other team, and make adjustments within their own team to improve their performance. If an incident occurs during the match that results in injury, doctors or physiologists can see which body parts have been affected, and develop treatment plans based on the material they have analysed.
Capture and Connectivity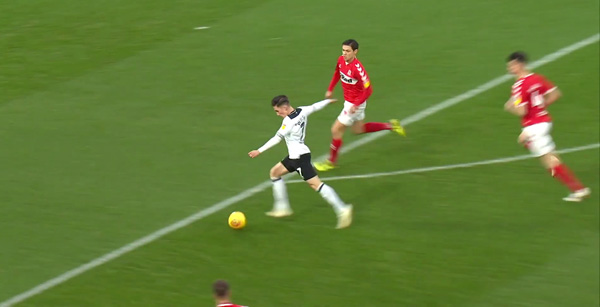 Focus can capture as many angles as there are cameras with feeds installed at an event. Many leagues and competitions make several SDI feeds available from the host broadcast to the coaching technical areas. These can be combined with fixed cameras installed for the officials and analysts, all of which are fed to Monarch EDGE's SDI inputs. All angles are then streamed to SBG Focus' server where they are recorded, displayed and made available for instant replay and clipping.
The angles are presented in an interface designed with hot keys, touch screen support and jog shuttle controllers that help the operator work quickly. For example, at any point you can jump back to an incident, select the appropriate angle from the touch screen matrix and jog through the footage frame by frame, play in slow motion, rewind and zoom in.
Users have various output options that will send the selected playback to pitch-side monitors to assist the in-field referees' decisions, for example. Users choose SDI or IP connectivity from Monarch EDGE with 3G, 12G SDI, and ST 2110 up to 25 GbE network connections. The number of active channels you can review and record is unlimited - the matrix also automatically adjusts to the number of channels it detects.

Independent RTSP Live Feeds
Using a range of streaming protocols, Monarch EDGE can deliver four independent RTSP live feeds at 1080p50 to Focus servers while optimising the specifications to keep data rates extremely low. 1080i25 SDI feeds can also be upscaled to 1080p50 to supply the most accurate temporal (time-based) information possible for review by team video analysts.
Users see quad-channel broadcast quality with 4:2:2 10-bit HD streams. Encoding is supported with power to simultaneously generate low-bitrate 4:2:0 proxy streams for each input, which can be monitored by devices on the network. Team staff can also use Focus to create a unique streaming channel for each event, in which resolutions and bitrates can be mixed and matched.
Regarding protocols, on closed networks, MPEG-2 TS or RTSP streams can be selected. For the cloud or when the network is congested, the new open-source format SRT may be more appropriate, for use on open networks. SRT has similar reliability and latency to RTMP, and can also be encrypted if necessary.
Video in Action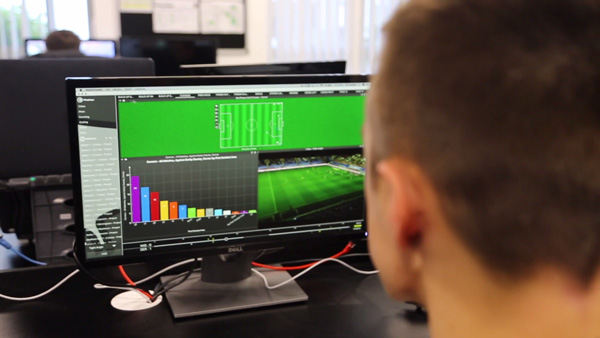 Simon Cuff, commercial director at SBG Sports Software said, "Our customers are looking for ways to improve their workflows that will reduce turn-around times and increase the quality of their deliverables. Matrox Monarch EDGE addresses both aspects. The quality of the picture, even at low bitrates, is the best we've seen, and the unit is easy to set up and configure, which lowers the stress on match days."
Replay operations include controls over searching for relevant actions within the catalogue of video, and tagging capabilities allow users to precisely mark these actions in detail to analyse later.
The Monarch EDGE and Focus workflow was tested in a live environment, side-by-side with other similar products. Among these, Monarch EDGE was the only one that could deliver multi-channel synchronised video feeds to Focus at low enough latencies to give the team staff a chance to analyse tactics, review injuries and hold half-time team talks with enough relevant information. www.matrox.com