EVS Gears Up for Machine Learning and Native IP Support at IBC2019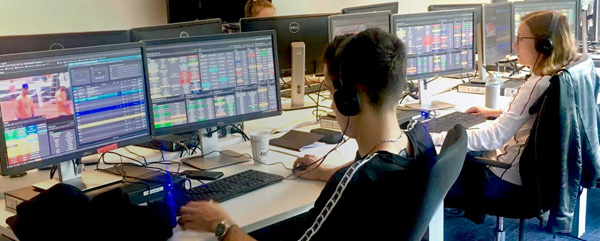 Machine learning and native support for IP are the primary motivations behind the new production and storytelling systems EVS will show at IBC2019. The company will present lean workflows that make live production standards accessible at lower operational costs. Full IP interoperability and integration with third-party products are other critical aspects of the new EVS systems and updates.
A new automated multi-camera positioning and framing system will be launched, developed to analyse the images of robotic camera feeds in real time and guide the cameras toward the live action with the appropriate zoom. Designed and tested to precisely mimic the movements of human camera operators, the system uses machine learning enabled by VIA Mind. EVS designed VIA Mind as an AI-driven functionality and assistance component to help automate simple, repetitive high-precision tasks, leaving operators free to handle creative work.
The new camera positioning function integrates directly with the EVS X-One unified production system, built to keep production costs low. X-One ingests up to six camera feeds of all types – manually or automatically operated cameras or a combination of both – making them accessible to a single operator with tools for low-cost, broadcast-standard live productions of small and mid-sized events.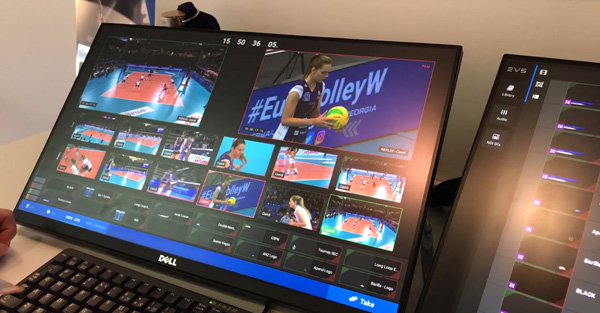 X-One unified production system
An upcoming version of the X-One has new storytelling functionality making it possible to quickly assemble highlights packages and dynamic live productions. This adds to the tasks the operator can already handle through the X-One's straightforward user interface – live switching, replays, audio control, graphics creation and insertion, and content playback.
Suitable for niche sports events, the X-One also has new, small form-factor hardware, multi-angle clip creation and editing, new replay speed settings, and picture-in-picture effects.
EVS' new XS-NEO software-defined server and IPD-VIA Ingest application, one of the first applications for the VIA platform, was announced at NAB 2019 and continues to be developed. The new system carries out fast, simple ingest with dynamic, concurrent support of multiple formats, codecs and framerates. The XS-NEO server software is hosted on EVS' PMR processing module, which is built with both IP connectivity and support for SDI-based productions. It also delivers the loop recording system, in common with all EVS hardware servers.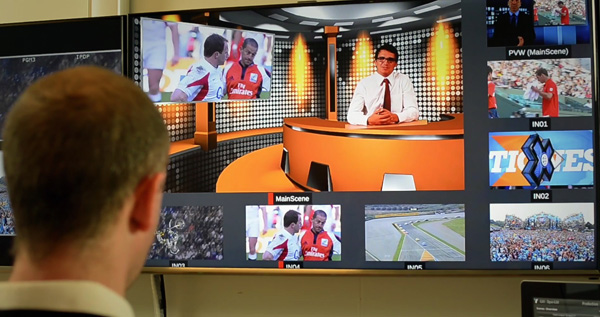 Dyvi software-defined production switcher
Through a HTML 5 web interface, the system is used to control and schedule live feeds ingested directly into the XS-NEO server to help shorten production cycles. The solution natively writes onto third-party storage as well as to the Avid Interplay production management workflow solution, so content can be edited in post production during recording and as a multi-camera sequence with easy-to-find metadata that reduces search time.
The latest updates to the Dyvi software-defined production switcher will be at the show. Dyvi is comprised of 32 in/16 out PMY processing modules, a 24-button control panel and touchscreen Windows PC GUI, and now has a PMY processing module that supports both SDI and IP for hybrid SDI/IP connectivity and operation in multiple formats, including UHD-4K and 1080p.
A demo area on the EVS stand will show how the ESL gaming network uses Dyvi inside sports venues and for its live programming. IBC will also host an esports showcase in partnership with ESL, EVS and Lagardère.
EVS will demonstrate the XT-VIA live and XS-VIA live studio production servers' capacity and flexibility to produce content in multiple formats including full-HD 1080p, UHD-4K and HDR, and to upscale 1080p content to UHD-4K for playout. Also, due to the new Multicam 16.2 software engine the servers now run on, they also both have an onboard SDR/HDR multiviewer for visibility and control.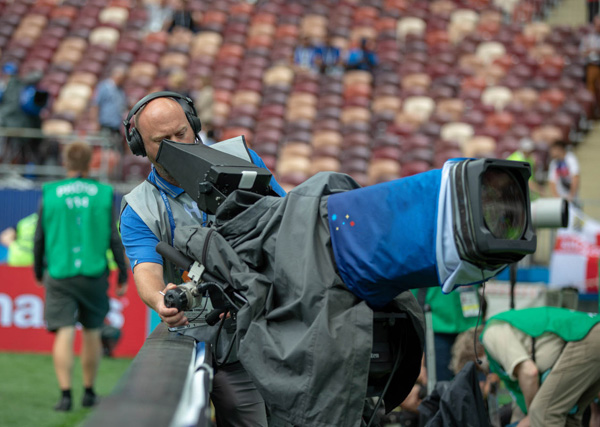 The XT-VIA and XS-VIA servers have passed the JT-NM SMPTE ST 2110 tests in order to support the interoperability required for multi-vendor IP infrastructures. The servers' capabilities are also extended with the introduction of XNet-VIA, EVS' high-speed ethernet-based media sharing network. This new network facilitates ultra-fast and bidirectional sharing of high-resolution and super motion content between XT-VIA and XS-VIA servers.
EVS will implement an all-IP live production infrastructure at IBC that includes XT-VIA live production servers, EVS XStore scalable central storage system and the EVS IPDirector system for live content production and asset management. The set-up is similar to the one deployed in 2018, however, Dyvi will be used this year as well to animate the on-set background displays. The workflow is based on SMPTE's 2110 IP protocol for an interoperable and collaborative workflow between the systems, which will be located in various remote locations throughout the RAI.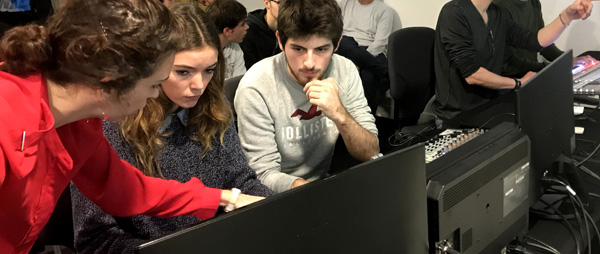 EVS training at Broadcast Academy
EVS will also partner with HBS (Host Broadcast Services) and its Broadcast Academy again. As part of a move to train operators and directors around the world in professional level production, visitors at the show can attend various panel discussions and three live sports directing masterclasses.
The sessions titled 'Train Tomorrow's Stars' and 'Encouraging Women in Sports Production and Directing' will use the Live TV Simulator, which is equipped with EVS' Dyvi switcher and LSM remote. The 'Lean Production' session uses the new Lean Production Live TV Simulator, which uses EVS' unified production system X-One. www.evs.com