TDC LIVE View Signage Displays Timely Information Across Live Events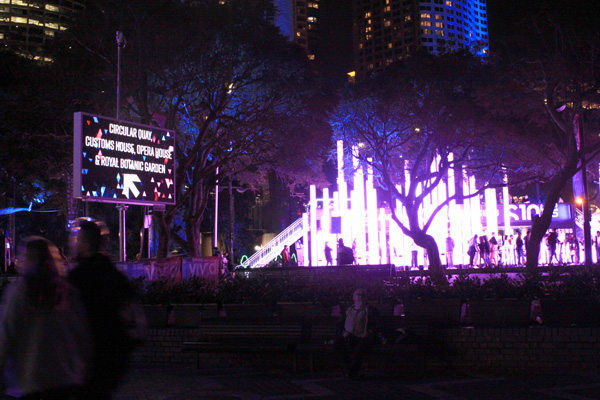 LIVE View Signage is a cloud-based system that updates visitors about their surroundings and manages the flow of crowds at events such as conferences, exhibitions and city-wide festivals. Developed by entertainment technology company TDC (Technical Direction Company), the system can show various types of information including event news, wayfinding, public transport schedules and weather updates. LIVE View Signage made its debut at this year's VIVID Sydney light festival.
TDC is a video company specialising in screens and major events with many years of experience and expertise in meeting the demands of organising large gatherings. "City-wide festivals such as New Year's Eve celebrations are becoming more common, attracting hundreds of thousands of residents and visitors," said Michael Hassett, Founder and Managing Director at TDC. "If traffic diversions are in place or public or transport schedules change, organisers need to communicate the information throughout the festival. That's what LIVE View Signage is designed to do."
Communicate from the Cloud
Because the system is cloud-based, it is straightforward to install and immensely scalable – from corporate events to city festivals. The LIVE View Signage system at VIVID Sydney used 14 high-resolution, 5m diagonal LED display screens installed at strategic locations across the city and helped manage the movement of over 2 million people over a period of three weeks.
Working with the state police, traffic management and local transport authority, the organisers found the system's dynamic capabilities especially useful, allowing them to change messaging in real time in response to events.
The system was controlled from a command and control centre, supplied by TDC, that also housed monitoring screens connected to cameras located at key points throughout the city. However, because the system is web-based, it can be controlled by anyone from anywhere with an Internet connection and a browser.
New Streaming Applications
Presentations at conferences or performances at festivals can also be streamed to LIVE View Signage screens, as can social media feeds, news and sports and so on. Beyond this, the cost of deploying LIVE View Signage can often be defrayed by making advertising opportunities available.
"LIVE View Signage is, in effect, a digital signage system with its own content management system that is specifically designed for flexibility and responsively managing information flow to everyone participating – either directly or indirectly – at an event," said Drew Ferors, Technical Service and New Media Manager at TDC.
"There's a number of potential applications that it can be used for. We are working on conferences, AGMs, corporate events and so on that can use the purpose-built capabilities of LIVE View Signage." www.tdc.com.au