AJA FS-HDR Delivers Simultaneous HDR / SDR for FA Cup Final at Arena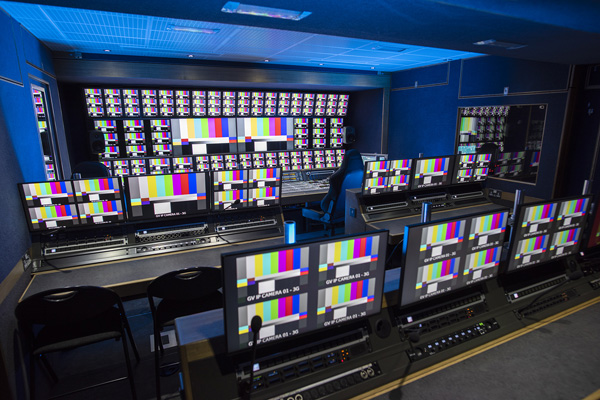 Although most consumers have yet to purchase HDR displays, video acquired and produced in HDR and delivered in SDR can still result in a better viewing experience than footage acquired in SDR. Consequently, production teams are now considering different ways to deliver live HDR and SDR feeds simultaneously.
Outside broadcast company Arena Television now aims to overcome the challenges associated with this kind of dual production through a single HDR workflow. Using its experiences with clients such as the BBC, ITV and Sky Sports, Arena intends to be able to deliver live broadcasts in HDR and SDR, while allowing the SDR output to benefit from the HDR source and transformation.
Real-time Colour Conversion
The workflow uses the AJA FS-HDR HDR converter/frame sync, the FS4 converter/frame-sync, and Hi5-4K-Plus Mini-Converters, and was recently deployed during the FA Cup Final broadcast.
Working with Arena in a partnership, BBC Sport chose to acquire footage in HDR for the FA Cup Final, and also produce an HD SDR feed because they were aware that a majority of the audience would watch the match in that format. Ahead of the event, Arena refined and tested the single HDR workflow concept it had been developing - with encouraging results.
"The FA Cup Final production was the culmination of three years of work that involved collaboration between our team, the BBC and AJA, as well as a lengthy R&D stage," said Dafydd Rees, Deputy Director of Operations at Arena TV. "FS-HDR was integral to making the entire concept work, giving us very high quality HDR up- and down-mapping to produce much more dynamic HDR and SDR pictures."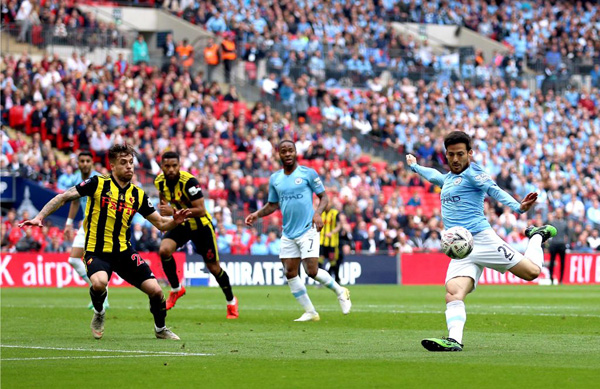 The FS-HDR converter and frame synchronizer is specialised for HDR and WCG processing in broadcast, OTT, production, post and, like the FA Cup Final, live event environments where real-time, low latency performance and colour fidelity is necessary for workflows of up to 4K.
In single channel mode, FS-HDR also serves as a 1-Channel up, down, cross-converter for high-resolution HDR transformation. In 4-channel mode, FS-HDR has 4 independent channels of 2K/HD HDR/WCG transformations as well as up, down,and cross conversions.
Camera to Graphics
Arena's workflow starts with Grass Valley cameras, outputting the main feeds in HLG or PQ HDR. 3G-SDI outputs are fed into AJA FS-HDR for conversion to SDR for shading to standardise the look of the different feeds. For replays, after slowing it down, the replay content is fed through FS-HDR for pass-on for simultaneous SDR and HDR output. Additional materials that require HD-to-4K up conversion are then run through an AJA FS4. Pre-recorded SDR materials are then fed from an EVS server to an FS-HDR for SDR to HDR transformations.
After the content is routed through the other equipment in the pipeline, an AJA Hi5-4K-Plus enables SDI to 4K HDR HDMI monitoring. The Hi5-4K-Plus is useful for a mixed camera production because it maintains image quality and supports HFR up to 60p for most 4K/UltraHD SDI to HDMI 2.0 conversions, and also generates standard HDR metadata. It can also be used as a monitoring connection from 4K devices using Quad 3G-SDI, Quad 1.5G-SDI or dual 3G-SDI outputs to new displays with HDMI 2.0 inputs.
Graphics for each broadcast start as 4K SDR sources that are sent through a combination of FS-HDRs and FS4s. The FS-HDRs support 4K SDR to 4K HDR conversion and processing of the graphics fill, while an FS4 is used to control the key delay for final synchronisation of the two items that are then fed into an EVS server. Cisco hardware is used as a routing backbone along the pipeline.

FS4 is a 4-Channel 2K/HD/SD or 1-Channel 4K/UltraHD frame synchronizer and up, down, cross-converter with a wide range of digital and optional 12G-SDI connectivity. FS4 can do the work of four separate devices in 2K, HD or SD or combine all processors and channels together.
No Failures
A major factor in designing the pipeline was the need to minimise feed failure, which Arena knew would create havoc for the broadcast and its reputation, as far as possible. "One reason we picked the FS-HDR was because of its dual power supplies, giving us redundancy, and general reliability," Dafydd said. "Its interface is very straightforward as well."
Arena will continue to refine its single HDR workflow concept with each new production it takes on, and to collaborate with AJA's development team on the hardware. "In this business you learn something new from every project. If not, you're probably not doing your job. The FA Cup Final was a complex undertaking from which we gained valuable takeaways that we can apply to future HDR productions," Dafydd said. "In particular, FS-HDR is valuable kit - our Swiss Army Knife for HDR production." www.aja.com