Riedel Keeps Esports Production in Control at ESL One and PUBG Mobile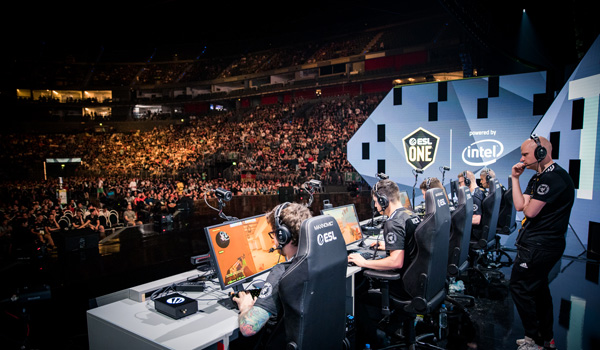 ESL One Cologne at the Lanxess Arena
Two top esports tournaments – ESL One Cologne and the PUBG Mobile Club Open (PMCO) in Berlin – were held at major venues in Germany in July 2019. The rapidly emerging esports scene features intense, carefully produced competitions that, like other large arena-based live sports events, require clear reliable communications between all members of the production team. The teams behind these two tournaments chose Riedel's signal transport and communications systems, which are well-suited for the pace and conditions of esports.
The championship round of the ESL One Cologne tournament took place at Cologne's Lanxess Arena on 8 July before a capacity crowd, when Team Liquid defeated Team Vitality and completed the prestigious Intel Grand Slam in a record time of 63 days and took a total of $1,115,000 in prize money. The production team used Riedel's MediorNet real-time network, Artist digital matrix intercom and Bolero wireless intercom equipment.
Decentralised Artist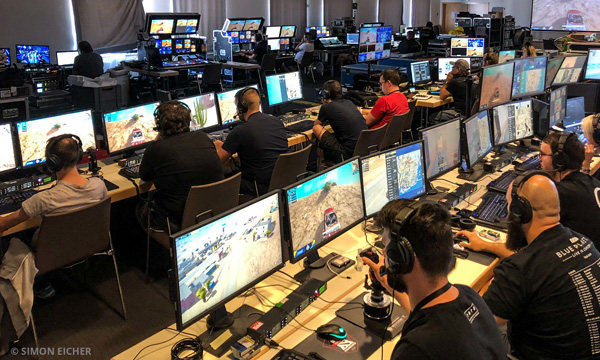 Battle Royale players compete in Berlin
ESL's production team could tap into an Artist-based intercom infrastructure that had already been installed as part of a recent technical upgrade at the Lanxess Arena. Meanwhile, to support the broadcast, NEP worked on a Riedel Artist frame, deploying 11 Desktop Control Panels to in-game directors and front-of-house engineers. As part of the actual show, ESL gaming experts and commentators used Riedel keypanels via the Artist system to deliver colour commentary for viewers.
Artist is a decentralised digital intercom network for communications and audio signal distribution. The build is modular, so that a system can range from a single frame to a fibre-based network of modular nodes. Each node holds client cards that accept and distribute different types of signals like SMPTE 2110-30/31 (AES67), VoIP, MADI, AES3 and so on plus analogue audio, and the whole system can be expanded from 8x8 to 1024x1024 ports.
Artist is unusual as an intercom platform that handles all audio standards. Its modular nature makes it adaptable to future standards and also allows it to scale from small theatre venues and OB vans to broadcast centres and massive events. Because it has so many ports, users access, set-up and control Artist systems with customisable configuration software called Director. Configurations are edited by drag-and-drop using programmable logic functions. One or several PCs can control and monitor the system via Ethernet – diagnostics are included. Whole or partial configurations can be saved and reloaded.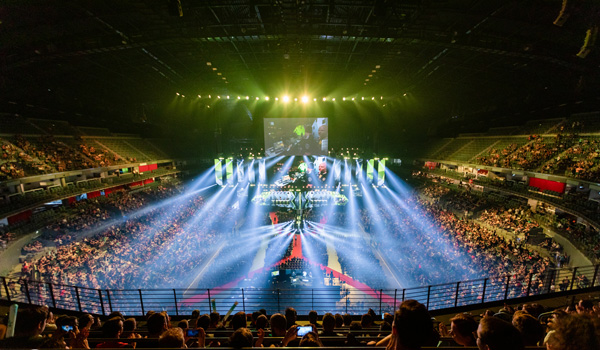 ESL's massive live production in Cologne
High-Density Networking
NEP used numerous Riedel MediorNet MicroN high-density media distribution network devices and MediorNet Compact Pro fibre-based stageboxes. The Compact Pros facilitated signal distribution between the production van, in-game director, front-of-house, stage/backstage, partner lounges, the expert studio and the commentary set. The stagebox works as a real-time media network, increasing flexibility, and includes integrated signal processing by efficiently multiplexing point-to-point devices.
MediorNet MicroN hardware is software-defined, application-based and configurable as a signal processor, as a point-to-point link for up to 12 bi-directional HD signals, or as part of a decentralised router. With a high-density signal interface, it can also serve as a multiviewer or a bridge between MediorNet networks and IP networks. It has a full set of audio, video and data I/Os with 3G HD/SD-SDI video ports and up to 128 audio channels.
ESL tournament organisers used 2-way radios from Riedel that linked directly to the Arena's intercom backbone via Riedel RiFace interfaces. This established fast, reliable communications between crews in the Lanxess Arena and the nearby Hyatt Regency Cologne hotel, which hosted the group stages. The RiFace interface integrates 2-way radios into wired intercoms, with processor logic to control the radios, plus circuitry to adjust the various audio source levels.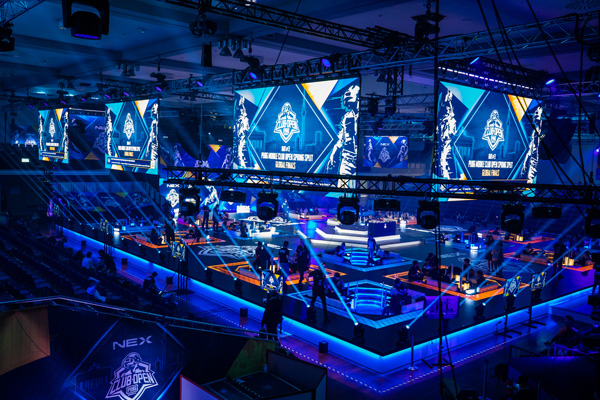 PMCO Spring Split Global Finals at the Estrel Congress Centre, Berlin
On 28 July, the PMCO Spring Split Global Finals wrapped up at the Estrel Congress Centre in Berlin with the team Top Esports winning the championship match. Though on smaller scale the ESL One, this event was the year's first global esports competition for the mobile game Battle Royale, for which 27 teams from around the world qualified for the preliminaries and finals. The organisers also deployed the Artist mainframe with 30 SmartPanels and 30 Bolero beltpacks to facilitate crew communications for this high profile esports tournament, which was streamed in 10 languages via YouTube, Twitch and other streaming platforms.
The SmartPanel interfaces host intercom apps and a MediorNet control app, making the panels multifunctional. They are built with colour displays, up to 24 keys, a multi-lingual character set, volume controls and a touch-screen UI. www.riedel.net