Pixel Power Adds Software Defined Uncompressed IP to StreamMaster Playout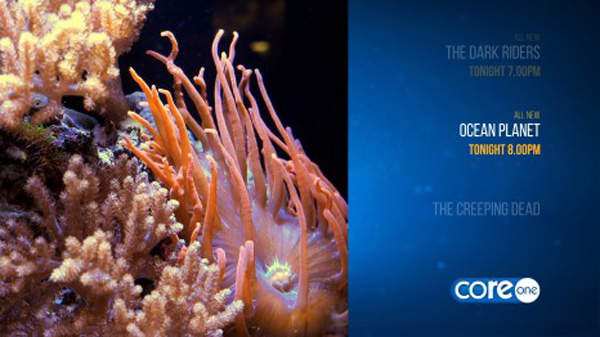 SreamMaster channel branding
Pixel Power will be adding uncompressed IP playout capability, based on the SMPTE ST 2110 family of standards, to its established StreamMaster playout system. 2022-6 support is to follow. The development continues the company's work to accommodate new standards within its software defined platforms StreamMaster Media Processing and Gallium Workflow Orchestration.
Like all StreamMaster and Gallium functionality, SMTPE ST 2110 will be supported as software, either on-premise or virtualised in a data centre. StreamMaster Media Processing runs on COTS hardware on-premise, in a data centre or in the public cloud. Its tools facilitate authoring, transcoding, logo and graphics insertion, content rendering, real-time master control, real-time graphics and DVE. The platforms are flexible and modular, so that broadcasters only need to acquire the tools or functional blocks they need and only pay for them when they use them.
"While we believe SMPTE ST 2110 is the right long term direction, there is still interest in standards such as ST 2022-6 because broadcasters like its similarity to existing SDI architectures," said James Gilbert, CEO, Pixel Power. "Our updated playout and delivery products, including automation, graphics and branding, are based on the StreamMaster Media Processing platform that can be updated using software only. The flexibility of IP-based, software defined playout and automation applications is now showing its value in recent deployments with major national broadcasters around the world."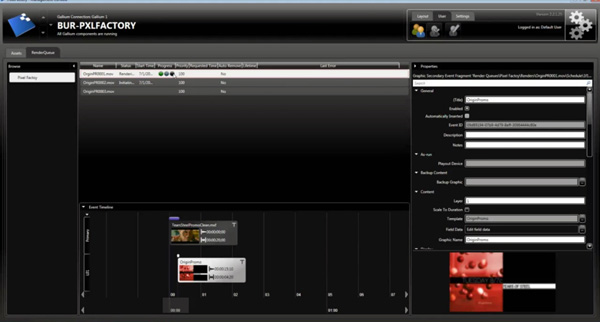 Gallium FACTORY graphics package for file-based workflows
StreamMaster branding and graphics playout engine, called BRAND, is designed for autonomous, round the clock operation in a transmission environment. With no direct user interface, or operator intervention the software delivers continuous on-screen information such as branding, promos, stock data, weather news, sports updates or news briefings. StreamMaster DELIVER supports channel virtualisation.
The SMPTE ST 2110 Professional Media Over Managed IP Networks suite of standards is a major contributing factor in the movement towards one common IP-based connectivity protocol for the professional media industries. The foundation for the SMPTE ST 2110 standards is Video Services Forum (VSF) Technical Recommendation for Transport of Uncompressed Elementary Stream Media Over IP (TR-03). The SMPTE ST 2110 standards suite specifies the carriage, synchronisation and description of separate elementary essence streams over IP for real-time production, playout and other professional media applications.
Pixel Power helped introduce PC-based graphics systems to broadcast about 30 years ago, as the volume of channels rose, and was among the first to market with live virtualised playout in the cloud in 2015. Pixel Power was able to demonstrate early on how adopting workflows based on IP transport streams and application virtualisation can impact broadcasters. www.pixelpower.com