VRi's 8K Live 3D Graphics Hits Real-Time Playout on AJA KONA 5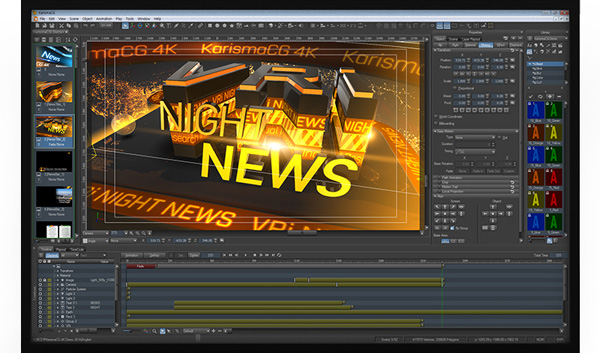 Demand for 8K production equipment in Asia and around the world is expected to continue growing over the next years as Japan prepares to deliver the 2020 Tokyo Olympics to viewers in 8K, and China gets ready for 8K broadcasts of the 2022 Beijing Winter Olympics. Korean broadcast systems developer Visual Research Inc (VRi) has responded by building a new 8K graphics system, able to support complex 8K imagery and animations in real time at high visual quality both for live broadcasts and post-production editing.
Accessed through VRi's KarismaCG broadcast graphics software, the 8K system achieves enough performance when run on AJA's KONA 5 8-lane PCIe 3.0 I/O cards for 8K and multi-channel 4K/UHD/2K and HD playout. KarismaCG is made for live environments with an optimised graphic engine that can use modern hardware to play out 16 scene-layers simultaneously and process large numbers of polygons in real-time without affecting stability.
Founded in 1995, VRi's speciality is producing graphics systems for local stations, cable television and South Korean terrestrial broadcasting companies such as KBS, MBC and SBS, and it also exports systems to more than 20 countries. Seeing the growth in 8K adoption across Korea, and in global demand since 8K broadcasting via satellite started in Japan in December 2018, VRi developed their 8K graphics system to create very vivid and photoreal imagery within an improved colour space and at 16 times higher resolution than HD in order to work with 8K video.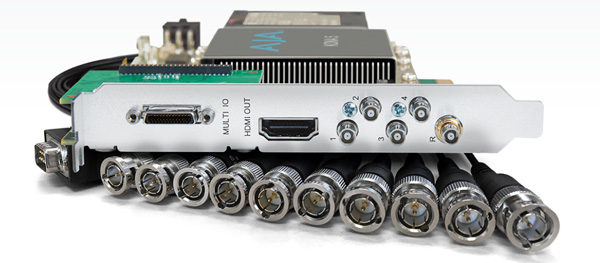 The 8K system configuration includes VRi's KarismaCG 8K graphics creation and playout software and two KONA 5 cards on a workstation built with dual Intel Xeon processors, running Windows 10 and fitted with NVIDIA Quadro GV100 GPUs and 32GB of 2666 MHz memory.
In the live workflow, KarismaCG renders 8K graphics in real-time, including 2D and 3D characters, images and animations, and the resulting signal is transmitted via PCI to KONA 5 at a rate of 60 fps. From the KONA 5, 8K signals are output over four 12G-SDI ports for playout in 8K broadcasts or to be mixed externally in live applications. The workflow uses the two KONA 5 cards for 8K playout to supply both key and fill signals for compositing.
Using AJA's SDK, KONA 5 was adopted as part of the 8K workflow during the creation and testing stages of the graphics system. Not only did the developers need stable, straightforward hardware to help them keep development time to a minimum, but the workflow also required affordable I/O capable of transmitting 8K signals in real-time.
KONA 5 cards support fast, 8-lane PCIe 3.0 I/O and have four bidirectional 12G-SDI ports that help make the cards easier to deploy in more varied applications. For example, as well as 12G-SDI, KONA 5 has HDMI 2.0, AES/EBU, LTC and RS-422 ports, giving it more flexibility in terms of image monitoring and integration with other production gear and workflows.
Now at the end of its development, VRi's 8K graphics system has been shown at industry events and received a positive reception. An upcoming release is now pending for the near future. www.aja.com