Telestream Updates PRISM for HDR 4K/UHD Productions in IP and SDI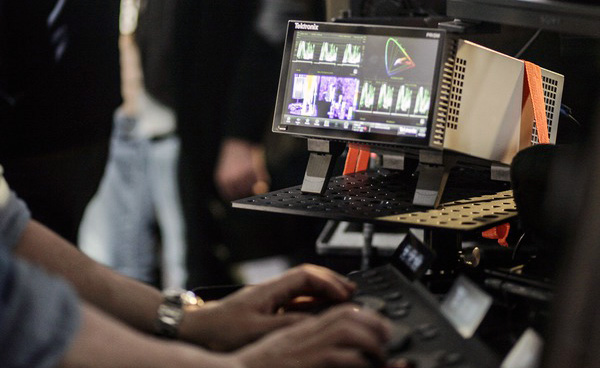 New changes to the Tektronix PRISM series of hybrid SDI and IP waveform monitors in the software update 1.10 focus on tools for HDR (High Dynamic Range) and WCG (Wide Colour Gamut) productions in 4K and HD. Although PRISM monitors, currently developed at Telestream, are recognised as devices that help producers and broadcasters make the transition from SDI to IP infrastructures, the changes in this software release are equally useful in 3G and 4K production applications for SDI.
Aiming to serve teams who are producing live events and mastering content in post-production and need to simplify their workflows, the Tektronix Video unit at Telestream have upgraded the monitors to include tools for HLG, PQ and Dolby Vision events and projects.
"Working in HDR and an expanded colour space is new for everyone, but ultimately these challenges will demand a new workflow and we have a role to play to support the industry," said Tsuyoshi Kitagawa, Product Manager at Telestream.
The monitors now combine newer tools such as CIE Chart, False Colour and Tektronix's Stop Display application, with conventional tools like Diamond that identifies RGB gamut errors in video signals, Vector and a standard percentage waveform. The combination helps to make transitioning to the new formats less challenging.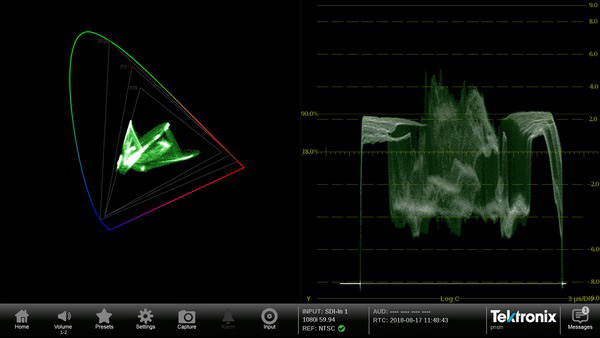 CIE Chart and Stop Display in vertical extended tiles.
Stop Display is a type of waveform that shows a camera log scale with graticule limits at 90% reflectance white and 18% grey, displaying the camera's dynamic range from shadows to highlights. This is useful because producers need to be able to refer accurately to the white/grey levels required for each transfer function, or Optical Electric Transfer Function (OETF), used in HDR acquisition, and the camera operator needs to adjust the camera exposure accordingly.
By using the Stop Display application, operators can adjust camera exposure consistently without knowing details of the camera OETF. The Stop Display reverses the OETF to convert the video signal from the camera to linear scene light using an internal integrated LUT and then represents the light level as a log2 waveform, showing more than 16 stops of range in a single display. The vertical axis on the Stop Display can either show Stops referring to scene light, or Nits referring to display light. The reference levels in the graticule are consistent for any transfer function.
A CIE chart with on-screen graticules for ITU-R BT.2020, P3 and ITU-R BT.709, simplifies adjustment of gamut. It has input configurations for transfer functions and colour space conversion to measure and adjust HDR and WCG quickly.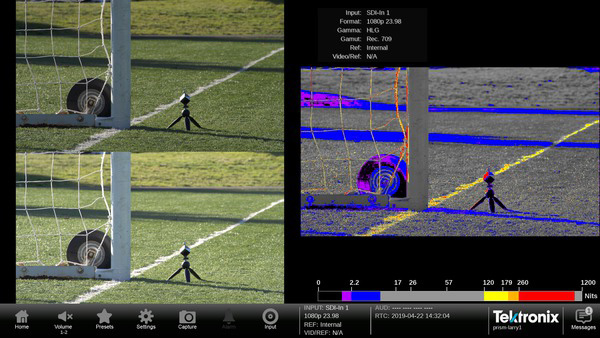 Upper left: Picture, lower left: Picture with SDR/709 conversion. Right: Picture with False Colour
The new software update includes a false colour mode that highlights areas in the picture display where the colours have exceeded the P3 gamut range, for example, which is critical in grading and quality controlling projects for Netflix requirements. Other important characteristics such as what percentage of the picture is in the HDR range – that is, above 203 NITS – can now be determined with objective tools that display the information or can clearly show it in a customisable false colour mode.
The PRISM platform is a family extension to the line of waveform monitors that Tektronix Video – now a business unit of Telestream – has developed to support similar transitions from analogue to digital and from SD to HD. This software upgrade is available now for any model of PRISM with the production license to enable the features that support HDR and WCG. www.telestream.net