Swiss Teleclub Expands Live Sports UHD Channels on Blackmagic 12G-SDI Network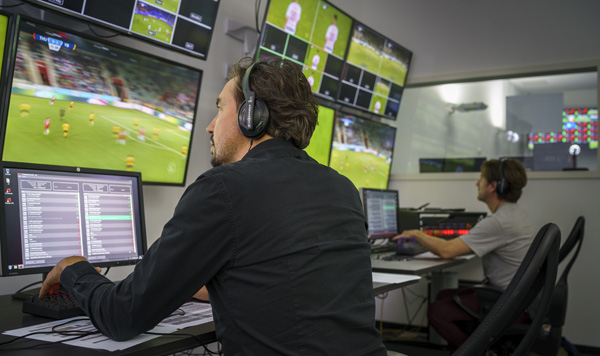 Swiss pay TV network Teleclub recently expanded its output to deliver more than 83 channels to viewers, including eight in Ultra HD, on its IPTV platform. The network broadcasts programming in German, French and Italian, and covers a variety of different sports including the top-level European and national football leagues, ice hockey and others.
"We needed to double Teleclub's capacity to feed new HD and UHD pay-per-view channels, studio production facilities, as well as extra commentary and graphics elements," said Remo Val, system and software engineer at Teleclub. "When we considered our Ultra HD requirements, it was clear that a single-link 12G-SDI network would ensure we had enough capacity in our server rooms and keep cabling and signal distribution hubs as minimal as possible."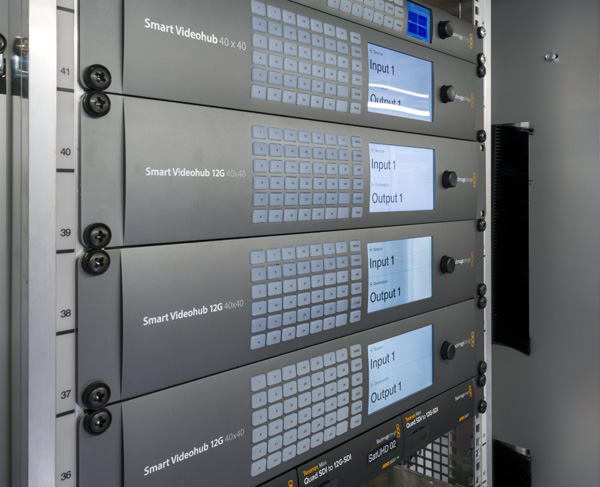 Developed to support greater resolution, frame rates and colour fidelity, a 12G network supplies four times the bandwidth of HD, carrying 12Gbps and making it suitable for 4Kp60 format streams, for example. Instead of four 3G SDI cables to reach 4K, a supplier would only need a single 12G SDI cable.
Teleclub has installed 18 ATEM 4 M/E Broadcast Studio 4Ks, so that each one serves two of the HD or Ultra HD channels, with a separate M/E (mix-effect) attributed to each channel. Each switcher is also matched to a video/CG server that Teleclub developed in-house using DeckLink Quad 2 capture cards and Caspar CG, layer-based real-time compositing software, for live video playout. A further ATEM 4 M/E Broadcast Studio 4K delivers the playout for an HD multiplex channel that combines multiple signals into one to transmit over a single cable, improving efficiency per cable and lowering transmission costs.

Remo said the server system is controlled by a bespoke dual playlist control interface. "The operator opens an event from our database, and the client generates all the specific content into a playlist, for example live or studio input, lower thirds, sponsor logos. The software controls the ATEM, the CG server and the audio engine to produce whatever the next item is in the playlist, making it possible for one operator to deliver an entire live event with one button."
Physically, the facility includes a new studio and 26 commentary boxes, with twelve Smart Videohub 40x40 12G devices in place to sub-switch monitors located around the channel's production headquarters in Volketswil, near Zurich, including VIP lounges and a spectator bar. "We have close to 250 Blackmagic Micro Converters, as well as Teranex Mini converters, working as the production centre's digital glue," said Remo.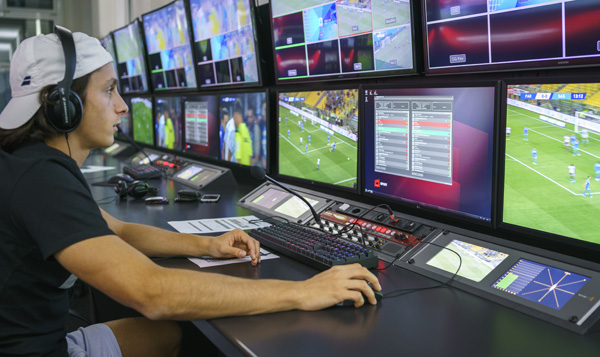 Smart Videohub is useful in a large broadcast system like Teleclub where cameras, switchers, recording and monitors are all connected to the router. Routing is done visually – users dial through the router cross points while displaying live video with custom labels. The connections can then be changed between jobs without actually reconnecting any cables. "It was an important consideration to demonstrate the network's expansion throughout the production hub itself, so wherever you are in the complex, you can see the scope and scale of Teleclub's broadcast output," Remo remarked.
"Realising this project without Blackmagic Design would have been more complicated for us. The open API and price of the capture cards meant we could design a flexible, reliable playout system specifically built on a robust 12G infrastructure that will carry our operations into the future." www.blackmagicdesign.com