Network 10 Captures Live Stories Everywhere with Dejero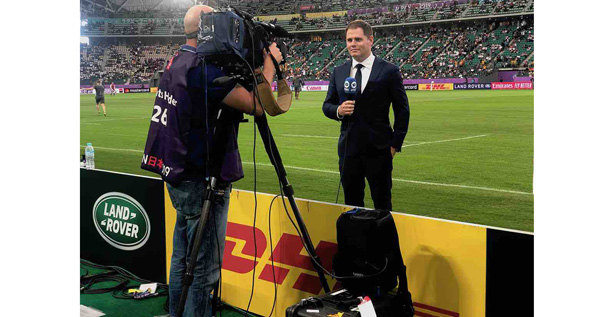 A reporter and cameraman use EnGo to capture and submit video in Japan for the 2019 Rugby World Cup.
Network 10, one of five commercial free-to-air national television networks in Australia, operates stations in the major cities of Sydney, Melbourne, Brisbane, Adelaide and Perth. It also has affiliates extending the network out to the regions and reports from overseas, and needs an efficient, affordable means of capturing and delivering breaking news from the field to the main station.
In January 2019, Network 10 purchased a fleet of Dejero EnGo video transmitters and WayPoint receivers, which use cellular blending to optimise data transfers, through systems integrator Digistor. The network's field reporters in New South Wales began using them to transmit camera feeds from news locations to their broadcast facility in Sydney. The staff find cellular blending is convenient and flexible when they need to deliver a continuous supply of content under variable conditions.
Live Remote Content
Network 10 business systems supervisor Rafael Oort said, "The Dejero equipment can be rapidly deployed and delivers broadcast quality video in HD and SD formats at very low latency, for either live or pre-recorded content. Our fleet of 20 Dejero transmitters supplements our DENG and SNG (satellite news gathering) resources and delivers more live content from the field domestically and internationally."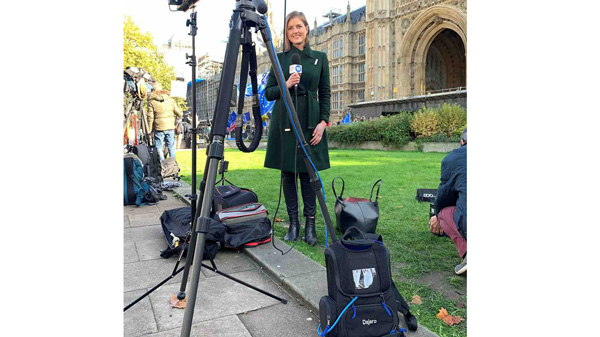 Network 10's video journalist Phoebe Bowden uses the EnGo from the UK.
Typically, the camera crews submit stories and footage from the field either live or using store-and-forward for ingest into 10's system for editing. Store-and-forward is usually used in networks with intermittent connectivity, when clips are stored on the EnGo, verified and sent to the final destination later on, when conditions improve. Rafael said, "A single camera person can be deployed at short notice and be live from anywhere in the world. As a source of high-quality video at low bandwidths, Dejero makes us flexible and efficient," Rafael said.
"For breaking news, it's especially desirable to set up a live cross transmission between a reporter/journalist and a live news program as it is aired. When working with satellite, as we previously did, it has always been hard to predict and negotiate in advance exactly when we will need a time window for a breaking news live cross. The process became expensive and inefficient and we needed an alternative."
EnGo and WayPoint Upgrade
Since the original purchase, Dejero has upgraded the EnGo and WayPoint devices, which in turn led to a refresh of Network 10's equipment. The EnGo transmitter now has global modems and field-user accessible SIMs for international reporters, and WayPoint receivers support SMPTE ST 2110 for IP infrastructure interoperability. Rafael's team actually took the opportunity to assess some of Dejero's competitors, but Dejero's ability to handle poor cellular network conditions is an advantage.
EnGo aggregates several different network connections, including cellular and satellite, from multiple network providers to establish a 'network of networks'. This composite network manages the fluctuating bandwidth, packet loss and latency differences of individual connections dynamically, in real-time, and intelligently chooses the optimal path to route IP packets to their destination. The result is greater reliability and expanded availability due to connection diversity, and higher bandwidth when and where it is needed.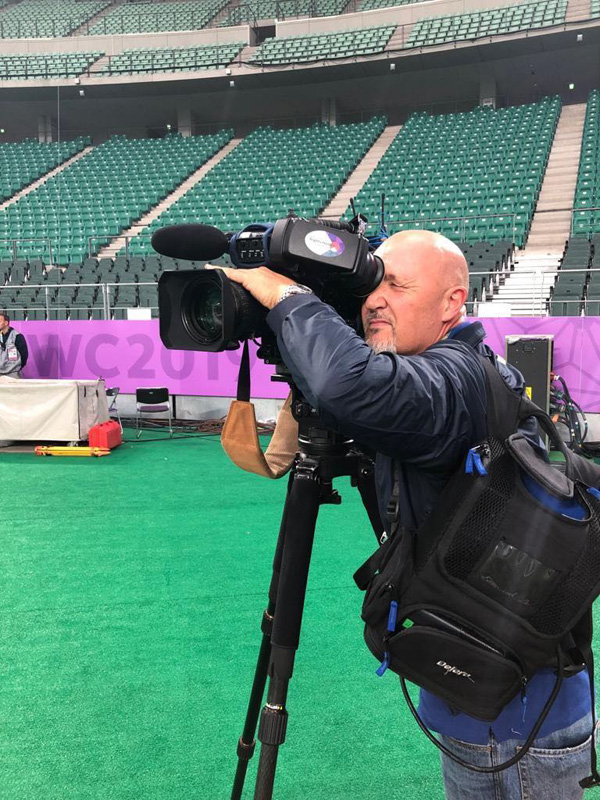 Network 10's cameraman Mark Alexander uses the EnGo at the 2019 Rugby World Cup in Oita Stadium.
Dejero is also able to use HEVC compression and adaptive bitrate encoding, which automatically minimises visual artefacts in footage that goes live to air. This type of encoding adapts to levels of motion and complexity in content as it is captured, improving performance even in low bitrate scenarios.
Agility on Location
Rafael has used Dejero systems himself for some time, and noted changes in their performance over the past few years. "Camera crews are setting up live crosses from a backpack, and love the ability to be more agile on location without being tied to a long cable. Their picture quality has vastly improved, and we're also gaining confidence in Dejero's bonded techniques and entrusting more crosses to cellular in preference to satellite."
EnGo has a compact XLR-based IFB (return A/V) connection, another one of its recent updates, to communicate with talent in the field while live or when they are ready to go live, which makes the live cross set-up much easier to manage from the perspective of staff in the master control room.
"The crews can power on, transmit and be live in a matter of seconds, anywhere in the world, without having to line up microwave links and SNGs. This functionality was particularly effective during the last Olympics where, because of the Dejero infrastructure, we were able to deploy multiple crews and submit all of our stories at minimal cost," said Rafael. "Dejero supplied 24/7 support for our camera crews as well, which is also a must. Our crews are deployed internationally and need to be able to call for technical support at any time." www.dejero.com