Imagine Communications Drives NEP Belgium's OB Systems into the Future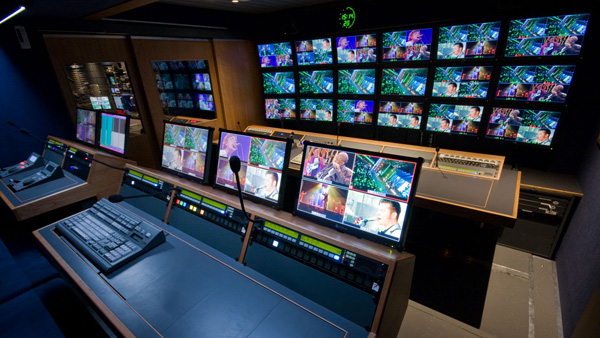 NEP Belgium has undertaken a full overhaul of one of their outside broadcast trucks, resulting in an up-to-date, future-proofed mobile unit that was completed in just over a month. Supporting the project was Belgian dealer and partner, VP Media Solutions, using core systems and hardware from Imagine Communications.
"Our Unit 14 still had many kilometres in it, but had systems on board that were life-expired," said Geert Thoelen, transitions manager at NEP Belgium. "We wanted a system that would fit into the existing space, would give us the functionality we need for projects now, and be ready for the future, including increasing use of IP connectivity. Moreover, we could really only take the truck off the road for little more than a month earlier this year, so our partners had to be capable of moving swiftly to install and commission."
The new infrastructure is built around Imagine Communications Platinum IP3 router, handling very high-density switching of SDI-HD signals in a single 15RU chassis. It is also capable of directly integrating uncompressed video over IP, so is ready to form the basis of a migration to IP connectivity — for example, if NEP wanted to introduce Ultra HD signals into their operations, IP connections could be used for these.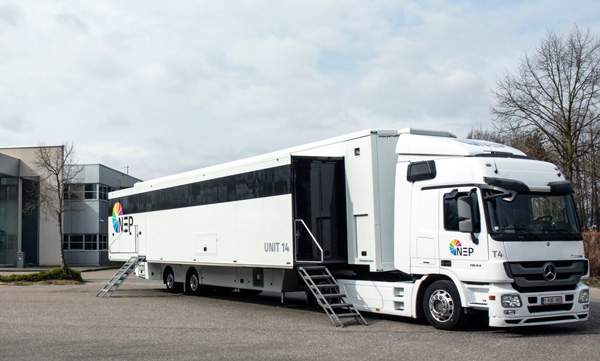 NEP Belgium's Unit 14 outside broadcast truck.
Imagine's Magellan SDN Orchestrator establishes overall system control in the truck. It is specifically designed to set up and unify the working interfaces in a hybrid environment, easing the transition between traditional, SDI-connected hardware and software-defined, IP-connected architecture.
While NEP defines its own migration path it still needs to maintain the integrity of the content passing through the truck. Incorporating the Magellan SDN Orchestrator control layer into a hybrid network means the flow of data can be software-defined, improving management with a more complete view of the whole network.
From Sports to Live Shows
In Unit 14, the Platinum IP3 router is also fitted with the Platinum SX Pro multiviewer cards, adding functionality while reducing rack occupancy and power consumption. "The router's small frame size fitted well into the truck, but what really made it the right choice for us was the integrated multiviewer," Geert said. "The multiviewer is much more flexible than our old monitoring setup. Unit 14 might be covering football Friday, Saturday and Sunday, then entertainment and concerts during the week, so we constantly need to change the configuration.
"With the multiviewer integrated as part of the router, we can set up as many picture-in-picture windows as we need for whatever the director wants." Made to supply a high number of sources and outputs in fewer rack units for live production environments, the SX Pro cards are scalable, high-density multiviewers. A team can manage multiple displays and handle signal monitoring - up to 576 sources over 192 displays in a single IP3 frame - with less than one frame of processing delay, while monitoring and controlling displays in groups from 1 to 6 at a time. They support 3G, HD, SD and composite signals.
"This was a project that needed a lot of collaboration," said Mathias Eckert, SVP & GM EMEA/APAC, Playout & Networking, at Imagine Communications. "Our design, integration and implementation team consisted of local staff. Working with VP Media Solutions, our partner, they brought together the skills needed to meet the requirements of NEP's team, who knew exactly what they wanted.
Unit 14 took five weeks off the road and returned to service to cover a concert for Ladies of Soul in Amsterdam. The installation work was carried out in NEP's workshops in Rotselaar near Brussels. www.imaginecommunications.com