Dejero CuePoint Brings Remote Talent and Studios Together at Nine Network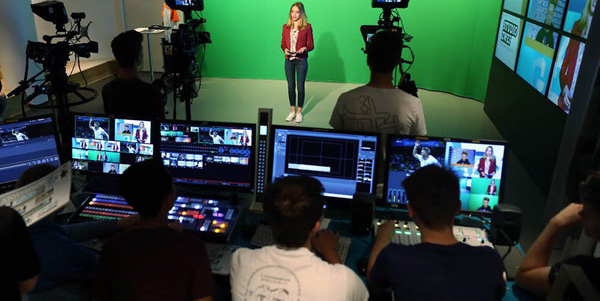 Reporters, interviewees, presenters and other talent often need to speak on-air to people and about images that they cannot see. The audience and some crew members are able to see them, but the talent can only only see this material if a dedicated return video feed, from or inside the studio, is set up for them, sending the video to screen behind the camera. In remote production situations, crew members and the directors often need return feeds as well.
Normally, return video cabling and displays need to be either built deliberately into a studio environment, or specially set up out at shooting locations where fibre, satellite or digital video network connectivity can be installed. To replace dedicated infrastructure, Dejero developed CuePoint to deliver return video with audio via low latency internet streaming to talent and crew located anywhere. Teleprompter feeds to live broadcast production teams in the field can be supplied the same way.
Nine Network in Sydney is the first broadcaster in Australia to purchase CuePoint, which was released earlier in 2019, and uses the system in several ways. The purchase was negotiated through systems integrator Digistor in Sydney. It is flexible enough to accommodate remote studio bookings at venues that don't have return video connectivity, news crews covering events on location, and low-cost, temporary studio setups where return video services can't be installed.
Remote Production
Nine Network's resources manager Michael Sammut said, "Two recent projects required us to stream video to remote overseas sites because tight budgets and technical constraints meant we couldn't use traditional fibre or satellite links. The first was at an external semi-permanent studio set-up, where the only connectivity available was the internet. We used CuePoint to stream a return program feed to the presenter, who could talk to or about the imagery that viewers would see on the other side of the world, as it went to air."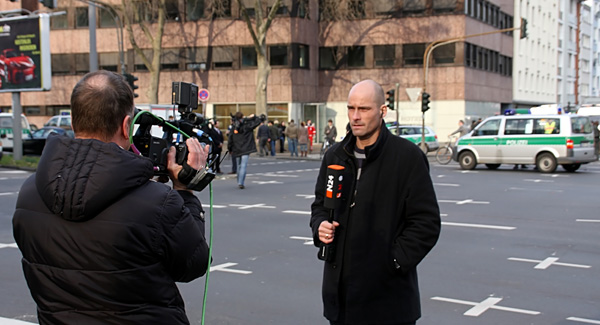 The talent in the field sees return video and teleprompting feeds, sent from the broadcast centre via CuePoint to a tablet or dedicated screen above or below the camera. At the same time, the remote camera operators, directors and technicians can also receive any of the feeds on mobile devices, and use them to guide their work. Scaling the number of return feeds needed in the field at any one time is a simple operation.
On a second project, Nine's studio wanted to design a system with CuePoint that they could use to support remote crews covering major events – as before, streaming the material the studio was putting to air to the smartphones of the talent and camera operators. In such situations, it means the crew stays more mobile and on location where they need to be, without having to return to the office to see the vision. A potential use case for this workflow is the upcoming Tokyo Olympics.
Improving Production Values
Before they bought CuePoint one of Nine's main requirements was low enough latency to integrate into a live production environment and make it accessible to mobile devices. It also needed to be flexible enough to make the feed available to anyone, including field crews and staff at external studios. "For example, if we are delivering a live cross transmission between a reporter and a live news program as it goes to air, from a location where it's not practical to book a satellite return feed, we still want the presenter to be able to work with the pictures that are going to air.
"CuePoint helps to increase our production values by helping the presenter to comment accurately, which is great for the viewers and the producers. We've passed the return video feed to freelance cameramen doing live crosses for us in places where they only have a Dejero to link to us - they connect their laptop to the internet, place it within the talent's eyeline and we're off and running. The initial cost is much lower than a satellite lease and it has no ongoing costs aside from a normal internet connection."

Flexibility
Michael said, "An interesting use case occurred when the social media producers of a show that was being filmed overseas needed to see, in real time, what was actually going to air after the shoot so they could trigger their social media posts at the appropriate time. Of course, they couldn't receive our broadcast where they were, so we switched our off-air feed to them on CuePoint. They could watch it overseas at exactly the same time as our viewers and simultaneously optimise viewer social media engagement. It was a huge help for them."
In one of their overseas studios, Nine have CuePoint connected to a Dejero enGo transmitter and at receiving locations it is usually viewed via browser on a laptop or smartphone. This level flexibility and ease of use is important to Michael's team.
He said, "The installation time is very short– similar systems require lengthier configuration and the feeds can't be as easily shared as widely at short notice. With CuePoint, the person at the other end only needs a browser, a login and a little technical knowledge. The low latency is crucial and means we're able to operate more efficiently, producing a competitive product at lower cost. www.dejero.com