Rock in Rio Gets a 4K Immersive Remote Production with Lawo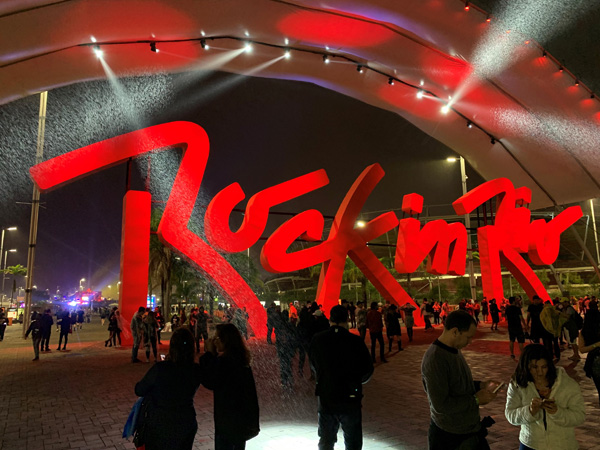 Attracting 1.5 million people to its first event in 1985, Rock in Rio has since ranked among the world's largest music festivals and moved beyond its native city Rio de Janeiro with events in Lisbon, Madrid and Las Vegas. It is also broadcast live by Globosat using an IP infrastructure based on systems from IP broadcast specialist Lawo.
Rock in Rio 2019 was a ten-day event at Barra Olympic Park in Rio and featured Muse, Drake, Foo Fighters, Bon Jovi, Red Hot Chili Peppers, Iron Maiden and P!nk on the Palco Mundo stage, with Seal & Bahian Xenia, Whitesnake, Jessie J and Slayer among the acts performing on the Sunset stage.
With an audience of over 45 million viewers across Brazil, Globosat is one of the largest pay TV operators in Latin America and a market leader in Brazil. To produce the 2019 edition of Rock in Rio, GloboSat supplied a remote production set-up connecting the television centre – named 'Cidade do Rock' (Rock City) – at the Barra Olympic Park with GloboSat's production centre about 15km away via two 80Gb/s optical fibre paths, Red and Blue.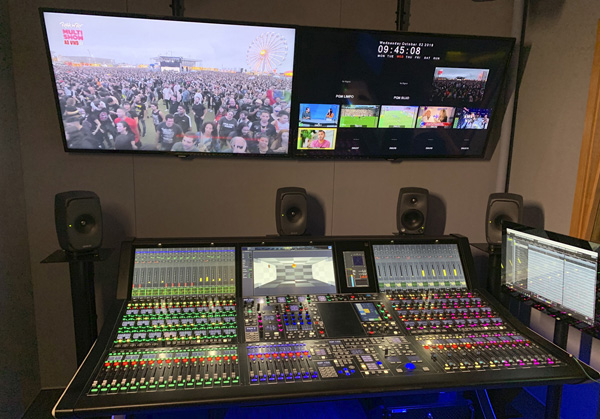 Television Central
The TV centre was designed as the central point to collect all signals coming from the various stages. The smaller stages including the Sunset Stage were equipped with Lawo V__remote4 units for video and audio to IP conversion and signal processing, relaying the feeds to the TV centre, located close to the Palco Mundo main stage.
Given the relatively short distance, all 16 cameras and the audio feeds from the main stage were transmitted to the TV centre's infrastructure via SDI. The centre's redundant IP infrastructure was built on Arista 7280 switches and Lawo V__matrix for converting baseband SDI signals to IP, processing and compression of video signals and furnishing the multiviewers.
One of the V__matrix C100 blades was used to generate a multiviewer mosaic with 24 PiPs whose layout was prepared with Lawo's theWall software, which sets up and controls multiviewers, configuring monitor walls, routing signals, changing mosaic layouts or saving and loading user presets. The other software-defined C100 blades were dedicated to processing and conversion tasks. In total, 28 1080i HD feeds and 4K feeds compressed with VC-2 were used for the video production. At GloboSat's headquarters, the facility's V__matrix infrastructure received the HD and 4K feeds plus the discrete audio from the TV centre for remote production.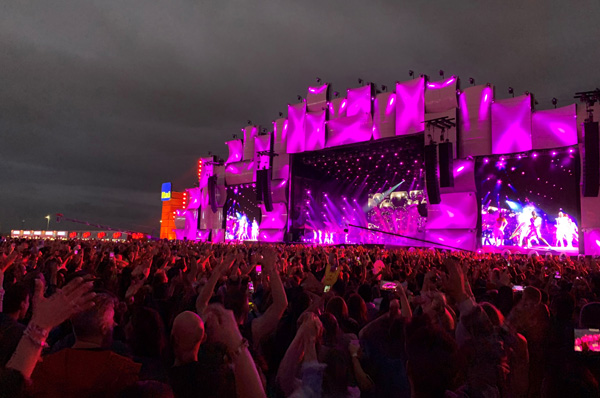 Automation and Higher Density
Globosat's Development Manager Alexandre Torres said, "We used Lawo to encapsulate the signals and transport them to the Globosat headquarters, which allowed us to work from home, in our familiar infrastructure and to record everything. IP has become a necessity for us. We operate dozens of channels originating from different contribution locations. IP furthermore allows us to engage in remote production, to automate certain routines and to share our signals with external parties. Setup times shrink and a significantly larger number of channels can be transported over a single cable at a much higher quality than in the past."
For monitoring and ensuring signal integrity of all the ST2110 feeds of the production, GloboSat used Lawo's smartSCOPE Deep Packet Media Inspection & Network Analyzer system, a high density 24/7 analysis platform for IP flows in live production and delivery networks checking for packet loss, jitter, encoding impairments and transport violations. Installed on a server at the main facility, it also allowed access and on-site monitoring at the remote TV centre via smartSCOPE's web interface.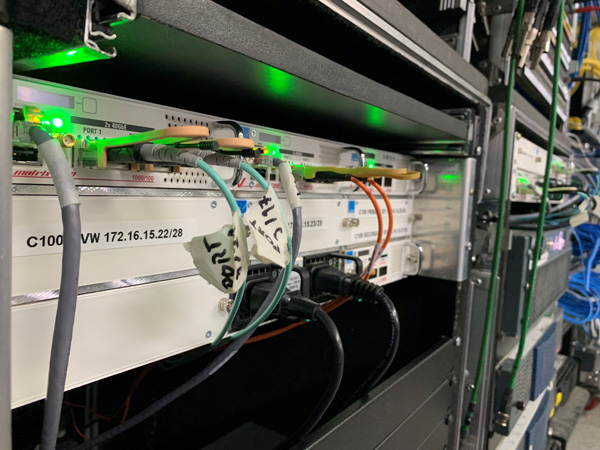 Audio Mix
The immersive Dolby Atmos audio mix was produced at Globosat's HQ using a Lawo mc²96 production console. The console and its Nova73 HD audio router also handled all audio routing for the complete 4K and HD productions. The sound engineers worked with 256 audio channels (128 per stage), which were recorded and distributed to various locations. The router inside a Lawo mc²96 console supports management of up to 256 IP streams, making it a good choice for routing in complex multi-site audio set-ups.
"We recorded up to 256 audio channels. We received streams, generated streams, routed them to various locations and converted RAVENNA streams to MADI and DANTE or vice versa. This is possible with a router like the one in the mc²96," said Gabriel Thomazini, Operational Audio Coordinator at Globosat. "One aspect I particularly love about the Lawo consoles is their authentic, clear sound that is a faithful reflection of an instrument's timbre." www.lawo.com.