EVS Transforms Live and Studio Sports Operations for Be tv and KeyWall
Be tv is a French-language, subscription-based television service covering Belgium and Luxembourg. Part of VOO cable television and Internet service, its programming ranges from blockbuster movies and TV series to live sports of all types including the Belgian Jupiler Pro League and English Premier League. Be tv also delivers non-linear services such as Be tv Go and Be à la demande.
In order to reduce production costs and simplify operations while maintaining consistent, high quality output, Be tv recently undertook a major technical and operational transformation. The network decided to move its studio from its headquarters in Brussels to its broadcast centre 60km to the south in Charleroi so that it could manage its technical assets together in one location.
Studio and Technical Outsourcing
The company also wanted to keep their main operations in-house as far as possible but outsource certain elements of its studio and technical requirements, so that it can devote more resources to sports content production for subscribers. An example is a partnership Be tv established with KeyWall, a Belgian TV production services and A/V facilities company, to outsource certain operations such as virtual set production. KeyWall has specialities in virtual sets for film and TV – from virtual set rental to full production set-ups for broadcast.
The partnership involved deploying a remote workflow with the functionality required to service three specific production models to build its content creation on, and also result in the quality they were looking for and allow them some flexibility. These models cover live production of Be tv's foreign sports properties, as well as studio and non-studio based coverage of the local Jupiler Pro League football programming and events.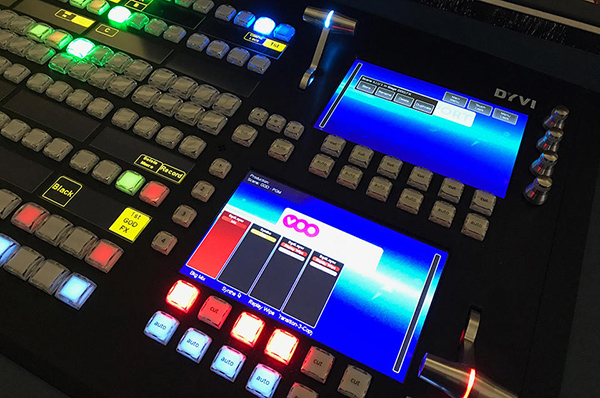 Because they were already an EVS customer, Be tv matched their requirements with equipment from EVS' current line up of live systems. They invested in two Dyvi switchers, which are software-defined with re-configurable panels, one XT-VIA live production server and five XS-VIA studio production servers.
As studio operations partner, KeyWall also purchased a Dyvi switcher and two XT-VIA servers to handle the studio-based programs and complete the workflow. This approach means Be tv can utilise the same infrastructure on all three of its production models. KeyWall decided they would be able to both offset the cost and gain from its investment by using the new equipment for other projects and customers as well.
Live Sports Workflow
For Be tv's sports coverage, which amounts to around 600 productions a year, their operators use the Dyvi switcher to design feature presets, or macros, such as opening and closing credits, the name of the match commentator and information relating to upcoming matches, as well as trigger the playout of clips from the XS-VIA servers to use during the live program.
For instance, during its 'Goals of the Day' program, which shows a featured match but keeps viewers informed about several Premier League matches taking place at the same time, transitions can be triggered over the main match with the Dyvi whenever a goal is scored elsewhere and needs to be shown. All these operations are activated through a Lawo VSM broadcast control system.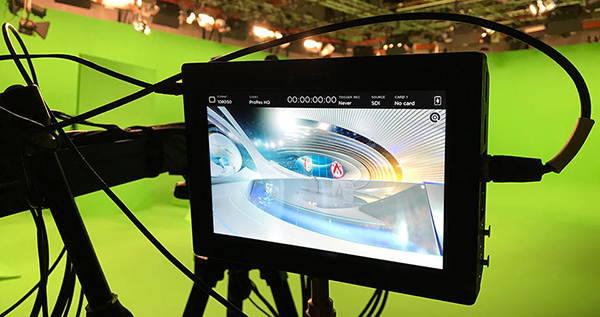 Using EVS' IPDirector live PAM suite, Be tv is able to schedule the ingest of live feeds on its XS-VIA servers. As these feeds are being recorded, an operator can use an XSense control panel to review the action and create clips and playlists that can be played back instantly during 'Goals of the Day'. These can also be used for other purposes like 23-second closures and game highlights that are shown in other Be tv broadcasts.
The PAM suite's applications include live media content browsing, control, edit and playout, working through a central database, integrating and exchanging media with 3rd party systems. Users set up metadata profiles and timecoded annotations that fit their own editorial demands and content. As at Be tv, the suite handles multiple-camera ingest and manages metadata, while a team instantly reviews the material and performs rough cuts.
The XSense control panel makes the live, multi-feed review, clip creation and cueing simpler, and allows playlist trimming and control. Operators can select to play content while ingest continues in EVS' non-destructive loop recording mode, without causing a time-delay for record to review.
Studio and Non-studio Sports
The second production model is used to produce the pre-game, half-time and post-game coverage of Jupiler Pro League matches when a studio is not required. This model is used for around 300 productions per season. In this case, an XT-VIA server records the program feed that the OB van produces at the stadium and ingests the camera feeds of the match commentators in the stands and the interviewers on the pitch. The XT-VIA is controlled by an LSM (live slow motion) remote control panel, which also creates multi-angle replays and highlights of the match for half-time and post-game analysis and closing sequences.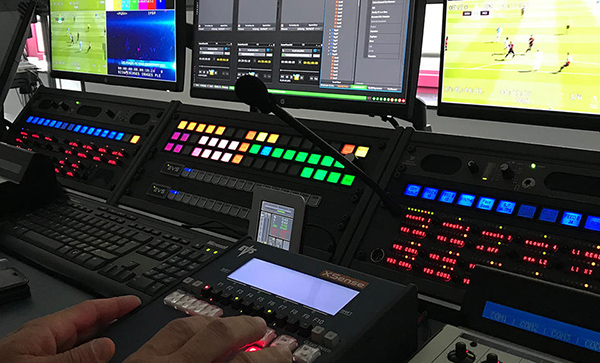 From all of these elements, the Dyvi is used to create features for the live production as well as switch the commentator and interviewer's camera feeds, and playout highlights and commercial breaks.
Be tv's third production model covers 80 high-profile Jupiler Pro League matches each season, for which a presentation studio is needed for pre-game, half-time and post-game analysis. Having closed its Brussels studio, Be tv now uses the KeyWall virtual set and control room in Charleroi to host the program.
KeyWall's own Dyvi switcher, about 14km away, is connected to Be tv's Dyvi in the Charleroi studio control room using a 40Gbps leased line. KeyWall's LSM control panels and IPDirector PAM software are used to operate the XT-VIA servers, which record the match feed, the camera feeds from the virtual set and the clips created for game analysis.
Because of Dyvi's remote production capabilities, the operator at KeyWall's control room is able to use video sources from Be tv's Dyvi PMY processing module such as opening and closing credits, commercial breaks, highlights from other matches and up to 16 camera feeds from the stadium. Meanwhile, KeyWall's own Dyvi processing module includes the studio cameras and clips from its XT-VIA servers.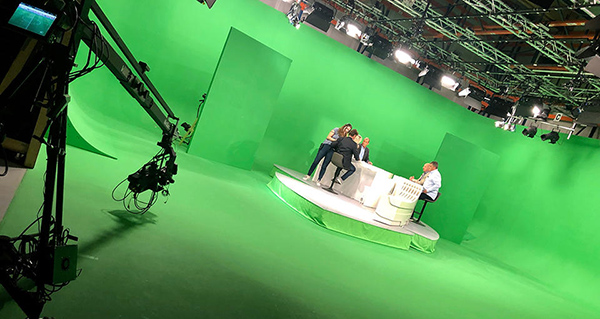 This extra creative functionality is possible because the processing modules have hybrid SDI/IP connectivity that allows the PMYs to be placed in different locations and share sources and outputs for distributed productions. Combined into a cluster, they work as a larger, unified processing module that gives users more options.
Control with Flexibility
With these systems in place, Be tv has the infrastructure and flexibility to produce up to four programs simultaneously and customise its workflow to suit the preferred production model, which makes their operations more efficient. Their operators have required minimal re-training, and outsourcing the studio management to KeyWall was relatively straightforward – the two companies connect the two Dyvi processing modules located 14km apart and use one to control the other in a master/slave configuration. Meanwhile, when not servicing Be tv, KeyWall can use its EVS workflow to work on live production projects for other customers.
Dominique Vanlaeys, Technical Director at Be tv commented, "We are able to switch between our three production models and keep control of our output, despite outsourcing some of our technical requirements to KeyWall. Dyvi itself opens many options for us because we can run simultaneous productions, changing configurations from one program to another very quickly. Without Dyvi's remote production function, this set-up with an external virtual studio would not have been possible." www.evs.com