ViSo Video Uses Ultimatte 12 for AR Productions inside Virtual Sets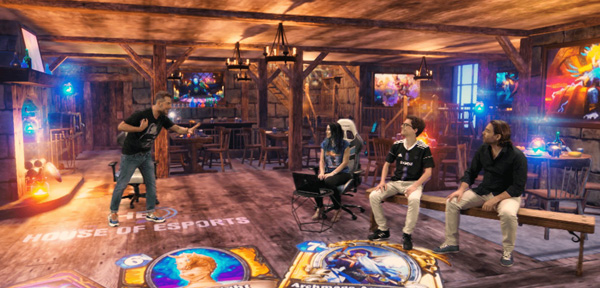 In 'House of Esports', a host and guests are placed into a featured game.
ViSo Video Solutions specialises in television productions that feature virtual sets and augmented reality elements. Their work includes national television commercials and shows for clients such as Sky Italia, Mediaset, ESL and Netco Sports.
Founded in 2010, the company's services now include in-house design and build of the CG (computer generated) and 3D assets needed for their projects plus editing, grading and all other post-production services, carried out in DaVinci Resolve Studio.
"Augmented and virtual studio environments bring opportunities to productions to increase impact and audience engagement," said Luigi Nino, general manager at ViSo. "We chose to develop our virtual systems in house so that we could control every aspect of a project. It gives us a chance to customise materials, lighting, animations and effects for each clients' requirements."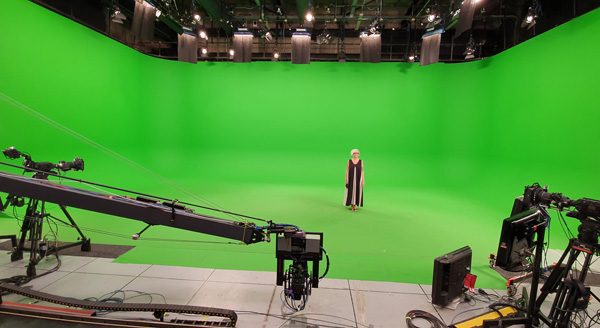 The studio's green screen set for AR measures 130sqm and uses three URSA Broadcast cameras mounted on tripods, and also has a dolly-mounted 4.5m jib on a six meter track. Using an ATEM 1 M/E Advanced Panel, an operator on an ATEM 4 M/E Broadcast Studio 4K handles live vision mixing with Ultimatte 12 compositing processors for keying.
"When you are recording and mixing multiple cameras like this, shooting from different angles, it can be quite easy to miss a bit of spill from the green screen. We had used Ultimatte previously and made the decision to upgrade to Ultimatte 12 as it is much better at dealing with green spill and the price has fallen considerably. Now that we can attach a dedicated Ultimatte to each camera chain, paired with the correct lighting, it's a lot easier to get an accurate key for all shots," Luigi said.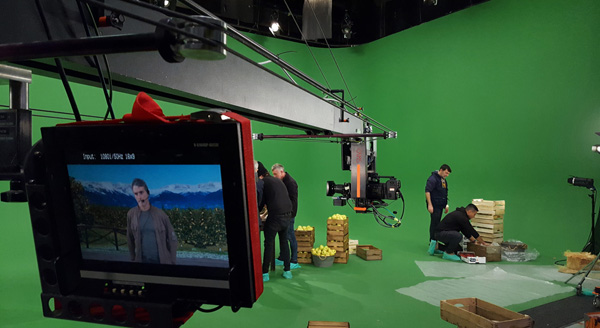 Crew prepare for a shot so that the real props and talent can be keyed and composited with a CG background.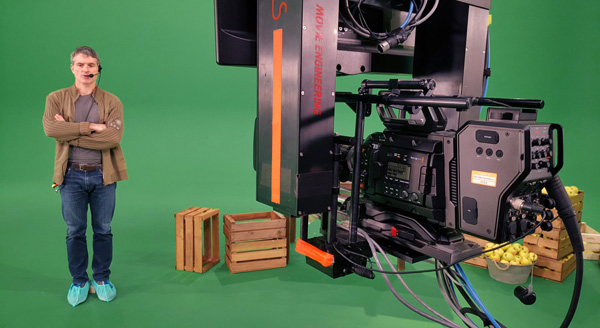 The keyers built into most live production switchers use the same keying parameters for all cameras, however, working live with multiple cameras at different angles often involves variations in the green screen, which affects the keying results. Because users can now afford to add keyers to all of their cameras, they can sidestep the problem and always get the best possible key for each camera.
Ultimatte 12 includes functionality for layering CG augmented reality objects into a scene, which ViSo has taken advantage of by developing in-house software they use to work with CG objects within the sets. Luigi said, "We are essentially able to take control of all 3D/CG elements in the scene and use the software to edit them.
"We visualise the sets in real-time and then if something needs changing, we can import and re-import models, pre-visualise them, move them, adjust the size, anything we want." Once they decide how the scene will look, it will be locked off, ready to use for recording live action while using Ultimatte.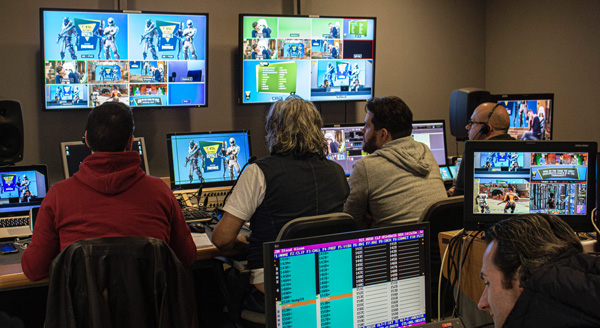 Artists prepare CG assets for compositing into shots as augmented reality elements.
This kind of adjustment can be done during a shoot because actors and directors see the virtual sets in real time as they work, taking care of previs while still on set. Ultimatte 12 also creates very accurate garbage mattes to quickly identify the regions of images that should be replaced.
Luigi said, "One of my favourite keying examples is ESL Italy's fortnightly magazine show, called 'House of Esports', which is shown on DMAXHD, an Italian factual-entertainment TV channel. We put the host and guests into the game being discussed and they can then get up and walk around the set and it just looks incredible. The scene is full of characters, effects and animations with elements in both the background and foreground to create a very realistic virtual set." www.blackmagicdesign.com