Sports News Channel Automates Efficient Live-to-air Workflow with Vizrt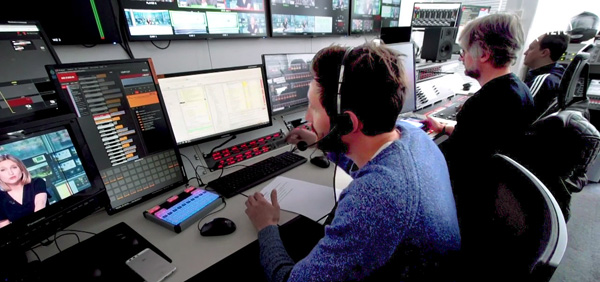 French sports and news channel INFOSPORT+, part of Canal+, recently upgraded its studio and graphics production facilities near Paris to an automated system that its technical and creative staff use to work together on live productions. The implementation has helped INFOSPORT+ bring its operations up to date, and has resulted in an improved on-air look for the channel that viewers are responding well to.
INFOSPORT+ only has a very small core team of three content producers. Charles Lesoil, Head of Broadcast Engineering, needed to find tools that would help increase production without increasing that core team. They initially installed a Vizrt Viz Opus automation system – which is designed for small to mid-sized production environments – as a test for their 5pm live sports news update program. Among the first effects were fewer on-air errors and greater consistency across the channel's programming.
Starting Simple
The standard Viz Opus configuration is a single workstation with a software-based architecture handling vision mixing, video server playout, live Vizrt graphics and audio mixing. The performance of the renderer, Viz Engine, supports real-time 3D animated transition effects, DVE boxes within the video frame and full-frame graphics. The Viz Opus package includes a rundown and story planning tool called Showmaker which, in effect, automates the studio and removes dependency on a traditional newsroom computer system.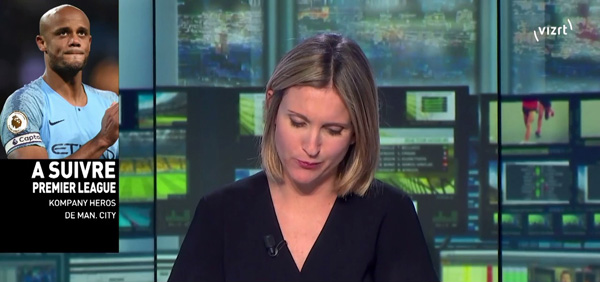 "Using the Opus system, we first tried to create a very simple show and build a live workflow based on an Avid iNews rundown, in which we could manage graphics, video clips, two camera feeds, two external feeds and the presenter's microphone," Charles said. The in-house staff got used to the system very quickly, calling it their 'exceptional live recording system'.
Actually, because the user interface is simple and focuses on the story, displaying the necessary information in a single view, one director can operate all aspects of the live production from one console. The singular approach helps avoid errors and maintain consistency. The team were soon using it on three of their daily shows.
Expansion to Viz Mosart
Over the next few months, INFOSPORT+ decided to expand its operations and install the Viz Mosart automation system, which is larger and has more functionality than Opus. The Mosart system helped simplify other operations for the team so that they could concentrate on the quality of the on-air programming and looks.
Because the new upgrade meant changing a large number of elements, including the tools editors would use, the sets, the control room, the transmission area, it has been a challenge – that was one reason why the channel started with the smaller Opus system – but the team feels it was worth the effort to see the kind of programs they can now produce very quickly.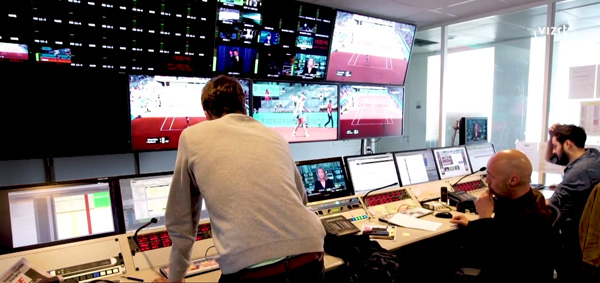 The team's Controller Jean-Marc Martin said, "What we needed was a way to simplify the editorial team's task of creating rundowns and implementing them with the video and graphic elements like lower thirds and banners. When we saw that Opus and Mosart could integrate Vizrt graphics with Vizrt automation, the decision to change our processes this way was obvious." The channel has also lowered its operational costs because no extra staff were needed to increase productivity.
A new INFOSPORT+ control room was also built to accommodate the bigger Mosart user interface panel, into which they also integrated Viz Multiplay software in order to add an appropriate interface for managing graphics, video and stills on every display screen on the production set. For each screen, the Multiplay media source is controlled via Mosart, distributing the right signals to the correct monitors on cue.
Autonomous Team
Opus' and Mosart's combination of a studio automation workflow, the Viz Engine graphics renderer and the Vizrt video playback server, have made operations more efficient at INFOSPORT+. Having this setup in-house means the channel can now broadcast a new 15-minute live show every quarter of an hour between 6am and midnight, and longer when news emerges, presenting a variety of sports news as well as two rugby and football talk shows.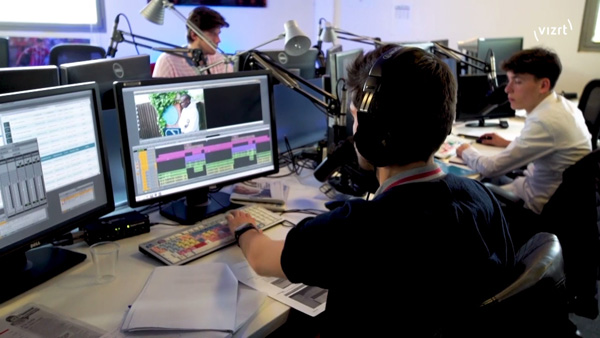 Producer Benoît Perez and Presenter/Producer Anne-Laure Salvatico, the other two members of the content team with Jean-Marc, commented on the autonomy Mosart gives them. "We are now very independent. With only three people plus a sound engineer, we can create a 50 minute show quite quickly," Anne-Laure said. "If we prepare a good rundown, the show can easily go to air with only one journalist, one producer and the presenter. It's a very simple system to use."
Charles said, "We had to change everything. The only thing we couldn't change was the economics of the channel. A larger staff was not an option. Automation is becoming the normal way to expand capacity and programming today. When we have a new project or show, we build it around these Vizrt automation tools, not in the traditional way, and it has been a change for the better." www.vizrt.com