Vizrt Graphics Move with CNN to ST 2110-based HQ in New York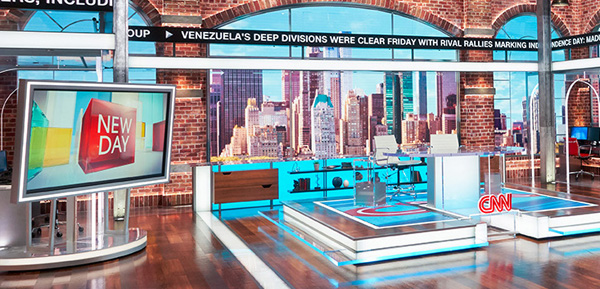 CNN news network's move in 2019 from Time Warner Centre to a new Hudson Yards headquarters in Midtown Manhattan gave them the chance to start with new equipment and a new look. "This is a greenfield installation," said Gregory Pocali, Senior Broadcast IT Support Engineer at CNN. "We have an opportunity to address challenges associated with a traditional video installation."
From an infrastructure point of view, that means starting from the ground up with a SMPTE ST 2110-based infrastructure to support IP transport and production, rather than HD-SDI signals which have cable run length limitations and are less flexible. "Hudson Yards is a larger facility, so in our old HD-SDI facility at Time Warner Center, we would have to devote rooms to re-clocking signals, allowing them to reach edge-point studios that were over the maximum distance – about 328 feet via coax – from the router," he said.
Measuring 110,000 sqft, CNN's new Hudson Yards headquarters is a good candidate for SMPTE ST 2110. "We can use a fibre infrastructure that gives us greater reach, reliability and signal integrity as well as the advantage of multiple streams carried on a single fibre – in effect, a multiplex equivalent," Greg said.
Efficiency, Complexity and Flexibility
The 30 Hudson Yards plant is configured for 1080i/60 production with an upgrade path to 1080p HDR if required in the future. Almost all configuration is handled through IP networking - Evertz equipment takes the incoming video feeds and encapsulates them in SMPTE 2110.
Prabhakar Gupta, Senior BIT Support Engineer at CNN, estimates about 90 percent of the video equipment at Hudson Yards supports the ST 2110 standard. "Audio, however, especially from third-party vendors, is still delivered half IP, half SDI," he said. Unlike SDI, audio streams in SMPTE ST 2110 are separate flows. "While that may make audio routing and channel swaps easier, it also creates a large increase in configuration and complexity," said Matthew Holcombe, SVP, Turner Broadcasting System. "Audio in SMPTE ST 2110 is a good example of flexibility greatly increasing complexity."
Audio notwithstanding, the move to SMPTE ST 2110 has supported more efficient use of resources at CNN and faster control room turnarounds. "Due to IP we are able to transition and adapt to the needs of the news cycle in a real-time workflow, or as close to real-time as-possible," he said. "It allows us to create a compelling product with minimal manual effort."
In some instances, the flexibility of the SMPTE ST 2110 environment allows CNN to set up a control room and studio in as little as four minutes. "An example is our news team shows where we maintain a hot-seat control room, and at the same time we are hot seating the studio, including its entire look, so that it can flip to another scenario instantly," said Greg.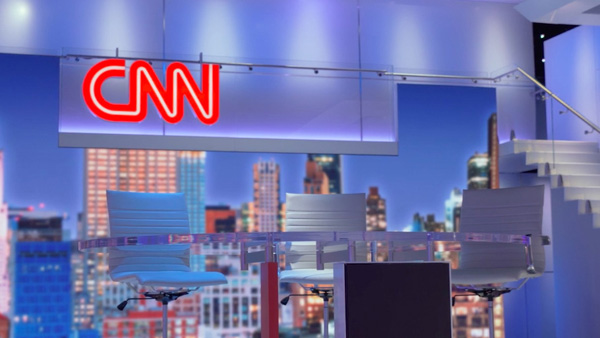 Graphics for Breaking News
The new IP infrastructure also supports a workflow making it possible for the network's graphic artists to keep pace with a breaking news environment.
In its four Hudson Yards studios, CNN relies on 6,000 square feet of video wall display based on Leyard LED cubes as the backdrop for its shows. This wall display comprises assemblies of cube enclosures, each containing a digital projector projecting onto a screen from the back. Used to display news graphics, animations, cityscape scenery, beauty shots and virtual video monitors for remote guests, the walls help the network engage with viewers. "Our audience always expects bigger, better presentations, as well as motion," said Shawn Mckeever, senior systems engineer with CNN's Broadcast IT Advanced Systems Group. "The days of the static studio are gone. Movement and text in the wall keep viewers engaged and overall present a better product."
Content for the LED videowalls, as well as the LCD monitors in six Flash studios, is controlled via a large-scale Vizrt Viz Multiplay deployment. Viz Multiplay creates a single interface for managing graphics, video and stills on all displays in a studio, flexible enough to allow content to be distributed to multiple screens with different configurations. It has a design tool to create distinct video wall configurations, which then become presets, allowing the positioning of content in the video wall to be changed live with animated effects. Selecting content and building a playlist is simple, done with tools to browse media including clips from the Viz One MAM, graphic animations and images.
Each of the studios is based on up to eight Viz Engines – four of which serve as backups – to feed the walls under the control of Viz Multiplay. Furthermore, each engine produces four 4K signals, which are split into 16 HD signals assigned to different areas of the walls. Extra Viz Engines are used for preview. In all, this amounts to abut 200 signals generated through the system.
ST 2110 Adoption
An important reason for CNN partnering with Vizrt was the company's alignment with SMPTE ST 2110. "From my point of view, that was a major reason why we chose Vizrt, especially in the studios," Shawn Mckeever said. "The fact that Vizrt was committed to 2110 with a partnership with Matrox that delivers 2110 natively into and out of the Viz Engines was an attractive feature." The Matrox X.mio series boards are used as Vizrt's HD, SD and UHD multi-channel video- and audio I/O hardware.
Workflow also played a part in CNN's choice of Multiplay. Having adopted Vizrt's Viz One media asset management system, the news network hoped to use the integration of the two to remove obstacles that previously limited the speed with which it could take news graphics and animations to air.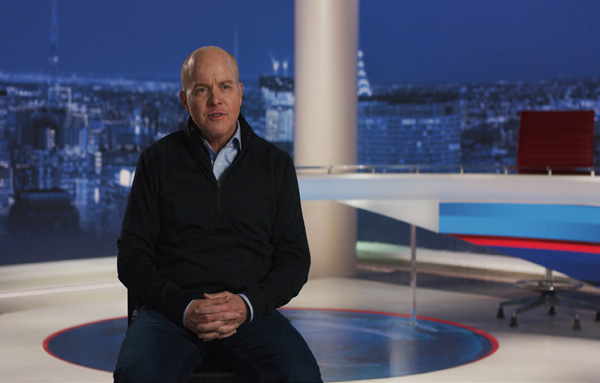 "The Vizrt Engine will play MOV files," Shawn said. "With our former set-up, we had to play MXFs into the wall." Transcoding from one file format to another could cause delays, especially painful on heavy news days or days with many rehearsals. Eliminating the need to transcode means CNN can accomplish in minutes what once could take as long as two hours.
MAM-based Workflow
"Viz One is central to our workflow," he said. "Our studio operations would be much more challenging without Viz One." The news network has assigned dedicated Viz Multiplay operators to run and manage the walls. These operators control what appears on the walls as well as transitions between content.
This approach has eased the network's workflow because it was no longer necessary for a technical director to wait for a clip to be transcoded, retrieved, inserted into a playlist and eventually played back on the wall. "With Viz Multiplay you can bring in live feeds and drag and drop them in a WYSIWYG environment," Greg said. "It gives operators the flexibility and speed needed to produce complex pre-sets and scenes that can be pushed in and out during a live production."
The network also usess Vizrt's Viz Pilot in its new IP environment to add flexibility. Viz Pilot is a template-based system that allows journalists and other users to create news graphics, and then manage and integrate them into their stories, managing and delivering graphics, video, stills and map content on-air or online. "Viz Pilot is used quite often for our graphics, statistics and polls – that is, graphics that are preproduced," said Greg.
Viz Pilot's meta-graphics functionality allows CNN to store clean video without graphics burned in, as well as graphics metadata in its Viz One MAM. By changing the metadata, journalists can change video, images and graphics up until the moment the completed package is required on air. At CNN, preserving these elements discretely via Viz Pilot on the Viz One MAM saves extra work. "You can keep a full screen at the ready with an animation, and place that same graphic in your wall without having to produce the same content twice," Greg said. "That is definitely an operation that we have used quite often." www.vizrt.com