Sinclair Takes Qligent Monitoring and Analysis Across the Network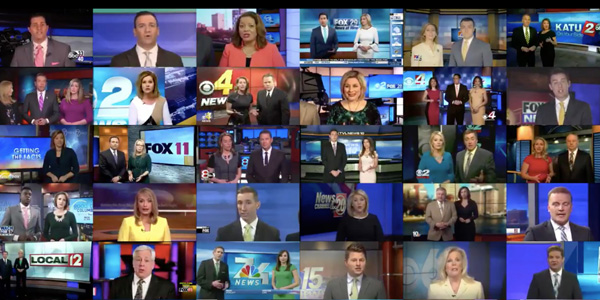 Qligent has started deployment of an enterprise-level Vision Compliance Monitoring and Analysis system for Sinclair Broadcast Group, the second-largest television station operator in the United States. The Qligent Vision system has been rolling out through the first months of 2020 to support QoS/QoE, compliance and transmission monitoring across 191 TV stations in 89 markets, covering more than 600 channels of programming.
Sinclair owns or operates stations across the country, covering about 40 per cent of households, plus four digital multicast networks, two sports cable networks and other services. Known for the conservative bias of their stations' news reporting and other programming, Sinclair is the largest owner of stations affiliated with Fox, ABC and The CW.
Sinclair's Qligent Vision system has a hybrid architecture that brings cloud and on-premise elements together to work as a centralised portal for compliance monitoring and data aggregation in the cloud. Its user interface manages all of the associated applications including compliance content storage, access and repurposing – some of these are described below.
Qligent's Cloud platform performs distributed multipoint receiving, recording, on-line viewing, monitoring and calculating performance metrics for audiovisual streams coming from IP, baseband and RF sources. Data aggregation, visualisation, analysis and reporting are delivered to authorised users via a web GUI in a multi-user cloud environment.
Software Probes
In the cloud, Sinclair is partnering with Wasabi Cloud Storage to accommodate the compliance content storage requirements. On-premise, the hardware is based on SaaS software Qligent Vision monitoring probes to handle compliance and QoS/QoE monitoring. For example, the probes will ingest ASI, IP and RF signals, initiate high-resolution recording, and transfer content to the cloud for compliance monitoring and recording.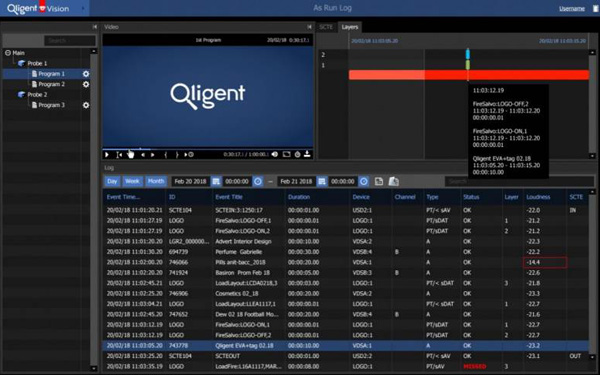 Vision analytics
The Qligent cloud server aggregates all quality and performance metrics across dispersed probes. The probes will also monitor Sinclair's transmitters and RF facility management systems via SNMP (Simple Network Management Protocol). Meanwhile, ordinary servers can be used to house the probes on-premise, lowering network costs.
Vision's lightweight architecture is made for action-based, real-time root cause analysis, identifying the underlying causes. As software, the probes can be dispersed as necessary across the network, giving broadcasters, network operators and content distributors an affordable way to gain direct analytical access at the last mile, at the consumer end.
Network Picture
Deploying Vision over an entire network compiles a picture of the channel delivery out to the last mile. Correlated trending and analytics help predict weaknesses and will prescribe actionable results to optimise infrastructure and find operational efficiencies. By overseeing all points along the distribution channel, Vision helps to expose Quality of Experience (QoE) before it becomes an issue.
The hybrid nature of Vision suits broadcast and video service networks like Sinclair that need to manage a large number of channels, services and delivery platforms. It is able to maintain native formats and resolutions along the chain as a means of optimising signal quality and integrity. A hybrid architecture is also cost-efficient for a system of this scale. Furthermore, having the scalability of the cloud means that adding a new station to the network is similar to adding a probe to the server environment – no new hardware or complex configuration in the cloud is required.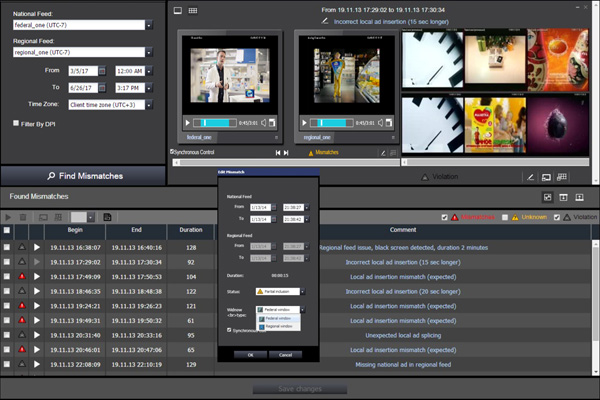 Vision mismatch detection
Vision Applications
Among the practical applications for the Vision system is content repurposing, which allows local TV stations to quickly create clips of previously recorded programming, and natively transfer the clips to playout systems. As an example, Sinclair operators can create a clip from a morning or afternoon newscast, and create promos for the station's evening news programs.
The compliance monitoring application will cover closed captioning, audio loudness and SCTE digital program insertion triggers. The triggers address compliance monitoring for local commercials or short-form clips inserted into national broadcasts.
Qligent's standard QoS/QoE monitoring makes sure that Sinclair operators can directly aggregate, analyse and troubleshoot all data relevant to broadcast performance. This includes signals moving through physical and transport layers within the infrastructure, and how the quality of the transmitted content affects the quality of the viewer's experience. www.qligent.com