ATEM Mini Pro Stream/Recorder Adds Multiview and Audio Mixing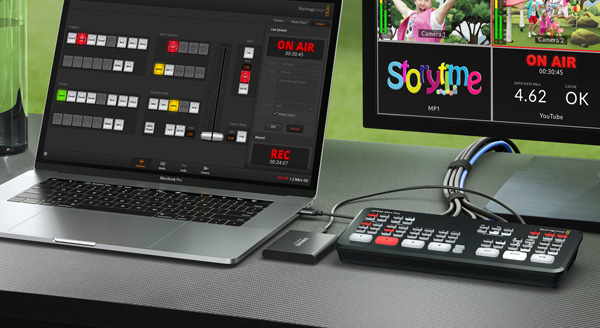 Blackmagic Design's ATEM Mini Pro is a new low cost live production switcher with the same functionality as ATEM Mini plus extra functions for recording, streaming and monitoring. It has a hardware streaming engine that supports direct streaming via its Ethernet connection to YouTube Live, Facebook and Twitch. The same stream can also be recorded directly to USB flash disks in H.264, and to multiple disks for continuous recording. Through a multiview on its HDMI video output, users can monitor all inputs on a single monitor, as well as live status of recording, streaming and the audio mixer.
ATEM Mini switchers are useful in multi camera productions for live streaming to YouTube and for presentations using Skype or Zoom. ATEM Mini can be connected to four different input sources including video cameras, PowerPoint slides, gaming consoles and others for live switching. The image quality of each source is maintained, and a built-in DVE includes a picture in picture function for commentary. Many other video effects are available as well.
All ATEM Mini models have USB webcam outputs that streaming software accepts as a regular webcam source. Beyond that, the ATEM Mini Pro model can also be used for live streaming and recording to USB disks. Other ports include a HDMI out for projectors and microphone inputs accepting desktop and lapel mics for interviews and presentations. On the rear panel are further HDMI connections for cameras, computers and an HDMI aux output for program video.
HDMI Multiview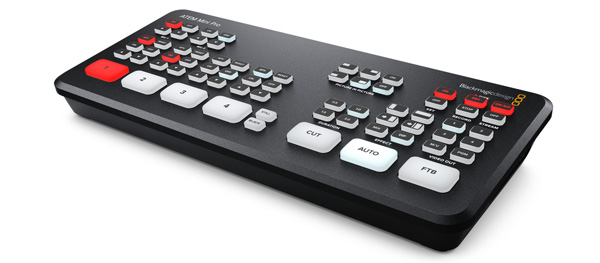 When working on larger live productions with multiple cameras, seeing all the video sources at once on a single monitor is important. The ATEM Mini Pro model includes a multiview for monitoring all four video inputs, plus preview and program on a single HDMI television or monitor. Each camera view includes tally indicators showing when each source is on-air, custom labels and audio meters, plus the status for recording, streaming and the Fairlight audio mixer. Customers also see the media player, indicating what graphic is selected.
On the front control panel are the source, video effects, audio mixing and transition selection buttons. The Mini Pro model includes record and streaming control buttons and others for switching between cameras, program and the multiview. The buttons make it simple to cut between video sources, or choose an effects transition, from dissolve to dip-to-colour, DVE squeeze and DVE push. Another option is a still store for titles and graphics accessible via external software control.
Hardware Streaming Engine
ATEM Mini devices work with software and streaming platforms including Open Broadcaster, XSplit Broadcaster, YouTube Live, Facebook Live, Skype, Zoom, Twitch, Periscope, Livestream and Wirecast. The new hardware streaming engine in the Mini Pro model streams live to these destinations, which means simpler settings at a consistent quality without dropped frames, through its own Ethernet connection.
Palettes in ATEM Software Control have tools handling the streaming set-up of the transitions, keys and the media player. Streaming status is also displayed in the built-in multiview. The data rate indicator shows the internet speed required for the video format currently in use.
USB H.264 Flash Disk Recording
Because the Mini Pro model also supports direct recording of streaming data to USB flash disks, users can capture extended recordings in the same H.264 video format with AAC audio that was used for streaming, and that is directly compatible with mainstream online video sites. ATEM Mini Pro supports continuous recording to a series of disks when used with a USB hub or Blackmagic MultiDock – when one disk fills, recording continues to a second disk. Record settings and disk selection are set up in ATEM Software Control with a record status view in the multiviewer.
Each of the four HDMI video inputs has a dedicated standards converter that automatically converts 1080p, 1080i and 720p sources to the video standard of the switcher. However the HDMI output is a true aux output, which means each HDMI input or program may be clean-switched to this output. For program and preview switching, the HDMI out can be selected to preview or, on the ATEM Mini Pro model, to display the full multiview.
Fairlight
With two independent 3.5mm stereo audio inputs plus the two microphone ports, desktop and lapel mics can be connected for interviews. ATEM Mini is built with a 12-channel internal Fairlight audio mixer. Since the HDMI audio and the two stereo mic inputs are connected separately to the Fairlight, complex live mixing from all audio sources is possible. Each input channel has a 6-band parametric EQ and compressor, limiter, expander and noise gate with full panning.
The ATEM Software Control app accesses and adjusts all of the switcher's functions through a visual switcher UI with parameter palettes. Although users typically connect via USB, when using Ethernet, multiple users can connect to an ATEM Mini using separate copies of ATEM Software Control on different computers. The switcher state can be saved as an XML file.
Broadcast Graphics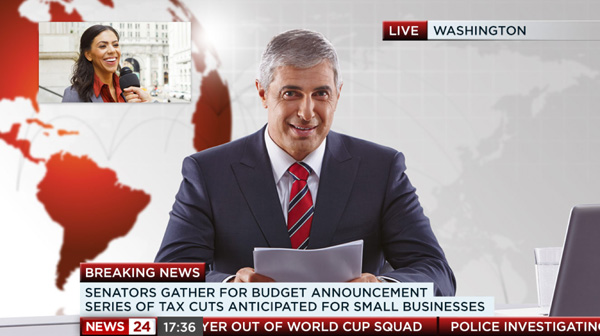 Up to 20 separate RGBA graphics at broadcast quality, for titles, opening plates and logos, can be loaded into a built-in media pool. Also, still frames can be used for complex effects such as graphic wipes by using ATEM Mini to grab stills from the video output and adding them to the internal media pool. Users can either load graphics via ATEM Software Control or download them directly from Photoshop using the ATEM Photoshop plug-in into the media player, which is useful for graphics like scoreboards that change often.

For news or on-set presentation work, ATEM Mini has an upstream ATEM Advanced Chroma Key for green or blue screen background removal, plus a downstream linear keyer to add graphics while monitoring, immediately before playout.

For broadcast workflows, customers can control their cameras remotely from ATEM Mini. Blackmagic Pocket Cinema Camera 4K and 6K models can work as studio cameras with control sent via the HDMI connection to ATEM Mini from ATEM Software Control. For example, when the camera operators need to focus on the shot, another crew member can control the camera's settings – ISO and tint, lens iris, focus and zoom – and the colour corrector. As well as a traditional CCU layout for tint colour control, a separate interface controls the camera's internal DaVinci colour corrector to add digital film looks to live productions. www.blackmagicdesign.com