Grass Valley Shifts to Cloud, IP, Live Production with GV AMPP and New Devices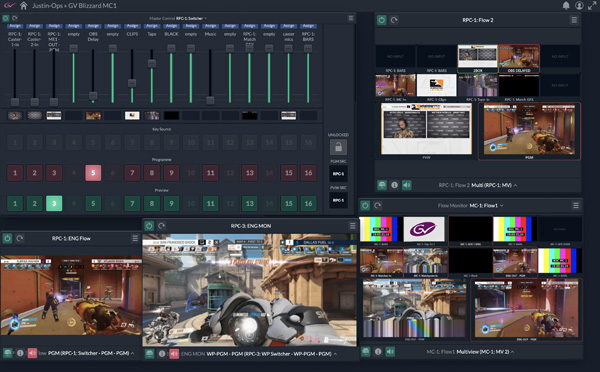 Blizzard Esports' AMPP Master Control production UI
Grass Valley's most recent developments are focussed firmly on the cloud and the use of IP networks to overcome distance for dispersed production teams, especially those covering live events like news, sport and entertainment. Further support is included for multi-format, HDR/SDR and 4K UHD productions. These trends are evident in Grass Valley's cloud-based Agile Media Processing Platform service (GV AMPP), the new LDX 100 camera and compact, flexible new hardware for highlights and replay production – outlined below.
GV AMPP – Elastic Compute for Live
The new Grass Valley cloud-based software as a service (SaaS) Agile Media Processing Platform (GV AMPP) makes elastic compute available for live sports, news and playout workflows, transitioning them to public, data centre or hybrid cloud infrastructures.
As the service's launch customer, Activision Blizzard has gone to air with the first application available on the platform, AMPP Master Control, since the opening of the Overwatch League 2020 season in early February. In response to the COVID-19 crisis and building on that application, Blizzard has been able to keep its Overwatch League and Call of Duty League matches live since 28 March by setting up the operators and talent to work from home on an AMPP distributed remote production system.
"Our leagues rely on cloud infrastructure to produce live, multi-language broadcasts for global audiences," said Pete Emminger, vice president of global broadcast at Blizzard Entertainment. "The Overwatch League has been using AMPP since the start of the 2020 season. It extends our cloud capability and supports our remote broadcast setup, giving us flexibility despite the ongoing crisis."
Activision Blizzard Esports' production teams use AMPP Master Control to create configurable virtual master control rooms and access them from any of their locations, instead of depending on a conventional equipment room. Multiple distribution streams with separate graphics and languages for each audience region can be produced by a single operator from a single web-based interface and equipped with regular PCs, screens and a connection to the cloud. All monitoring and local program distribution processes take place in the cloud.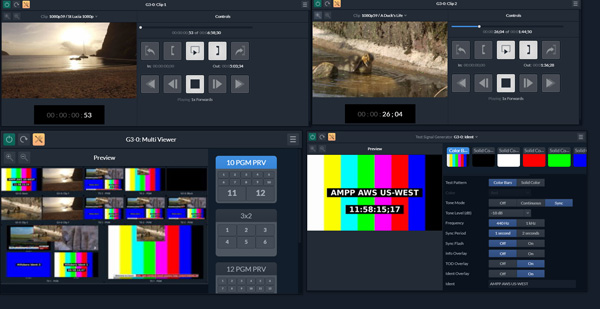 GV.UI HTML5-Based User Interface
Production teams using GV AMPP have options to customise workflows as they work with various apps for functions such as multiviewers, router panels, test signal generators, switchers, graphics renderers, clip players and recorders – all of which can be deployed to support different scenarios. GV AMPP is built on a microservices architecture based on five core production areas – fabric, timing, connectivity, identity and streaming – in order to support elastic media services. It also aims to address issues that complicate common IP and cloud deployments – network connectivity, timing and latency.
The GV AMPP platform is cloud native and cloud-agnostic, while supporting the processing of video/audio both in the public cloud, in a private, on-premise data centre, or in hybrid environments. The company believes that this flexibility and power will bring about a significant shift in live content production, as it means shows can be produced from any location.
LiveTouch 1300 - 4K UHD and HDR Production
Grass Valley has developed a new device in its live highlights and replay production system that allow users to capture video directly from IP sources, which makes mobile, collaborative workflows simpler to set up. LiveTouch 1300 supports 4K UHD production and is designed for mobile, outside broadcast (OB) productions and sports venues. It has a HTML5 LiveTouch Dashboard for system monitoring, control, start up and basic configuration that is simple to use in rushed OB truck environments.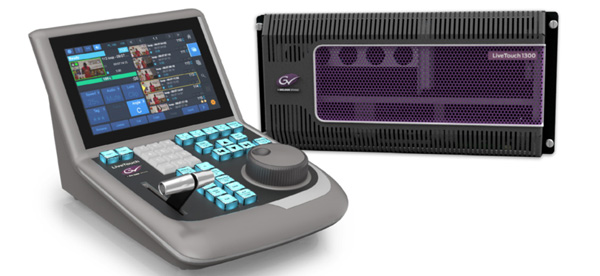 For efficient content production in a distributed environment, the LiveTouch 1300 Panel integrates creative tools so that external PCs and software are unnecessary for immersive 4K UHD and HDR replay content. It also supports multi-format production without changing the operator workflow. With inputs that accept up to full raster, single stream 4K UHD/HD processing and HDR/SDR up and down or cross-mapping, LiveTouch is capable of working across production standards.
To reduce delays, operators are allowed to access cameras and servers concurrently, in order to create, edit and playout highlights packages immediately. Operators can also use a new UI called Fileflow 4 to create rules for automated file delivery to social media, archive and other network-based destinations.
Built with native IP environments and 4K UHD workflows in mind, LiveTouch 1300 has dual redundant 50G SMPTE ST 2110 IP interfaces with NMOS IS-04 and IS-05 that allow operators to use standard IT network connections to identify and connect the system. For extra flexibility, panels connect over IP, so that operators can be located at a substantial distance from the event and the Live Touch server.
LDX 100 UHD Camera – IP Discovery and Control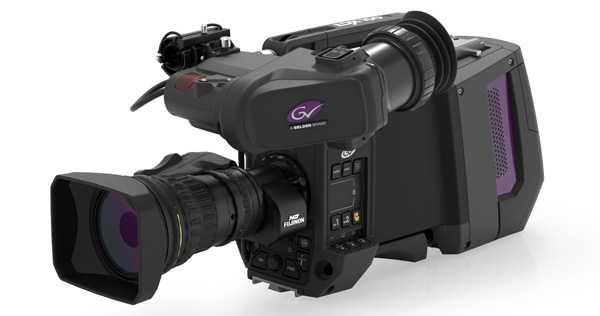 The Grass Valley LDX 100 camera platform is a high-speed UHD camera built with native IP connectivity, delivering signals directly into the network. This means the production can access the video wherever it is needed, including to use a stream as return feed monitoring from another camera position. The LDX 100 allows scope for creativity and flexibility by overcoming some of the physical constraints of traditional live production environments.
The LDX 100 uses IP for rapid set-up and configuration and to add features as required. Various software options, available temporarily or permanently, give users access to upgrade capabilities and only pay for features when they are required.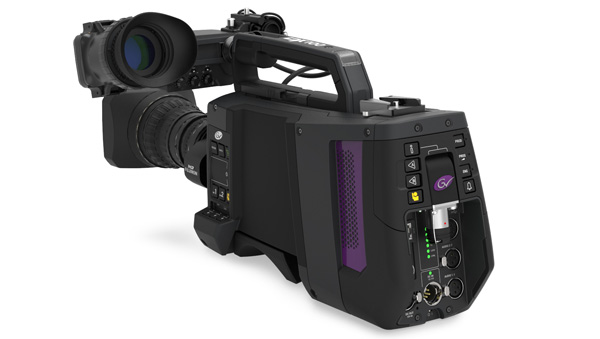 Its integrated design leaves rack units free that were formerly occupied by Grass Valley camera base stations and simplifies the logistics of matching cameras to CCUs at each event. The camera is a self-contained IP device that connects directly to the network, at up to 100 Gbps, for connection and discovery of audio, video and control, with PTP timing, using open SMPTE IP standards. Implementation of NMOS IS-04 and IS-05 protocols makes the camera identifiable to a network control system such as Grass Valley's GV Orbit.
The camera design includes Grass Valley's new Titan 2/3-inch imager, which was developed specifically for live sports production with UHD resolution and HDR/WCG colour reproduction at up to 3x normal speed. The camera can be used with standard B4 lenses to achieve the zoom range and depth of field needed for sports. For live event crews, the LDX 100's build includes ergonomic support for operators lifting and carrying equipment, at-a-glance status indicators for operational status and protection against moisture and dust. www.grassvalley.com