Telestream Automates IMF Package Creation, Monitors ST 2110 Video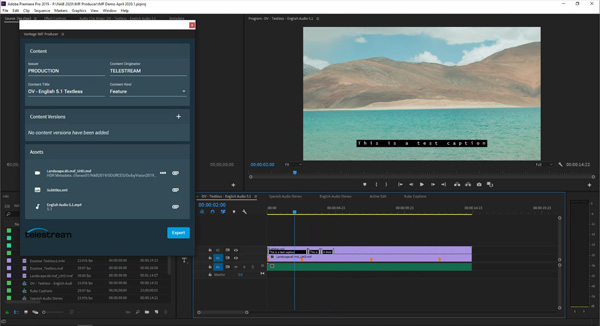 Vantage IMF Producer
Telestream has released two new software tools to help facililties automate compliance testing of the media they create to ensure it meets broadcast and delivery standards. One is an IMF package producer that can be installed directly in Adobe Premiere Pro, and the other is a scalable tool that monitors ST 2110 IP video streams across production networks
Telestream's Vantage IMF Producer is a new option on the Vantage platform that automates the creation of IMF (Interoperable Master Format) packages from Premiere Pro. Using a Vantage panel within Premiere Pro, editors can access IMF processing and packaging directly from their timeline, as part of their workflow.
IMF packages are the preferred method to deliver show masters to companies like Netflix, 20th Century Studios, Disney and many others. But the IMF delivery format is complex and using an automated tool helps avoid errors and saves time.
IMF is a SMPTE standard for supplying a single, interchangeable master file format and structure for the distribution of content between businesses around the world. IMF is used as a framework for creating a file-based final master. Part of the Vantage Media Processing Platform, IMF Producer automates the creation of all files required in an IMF package from a single output render of a Premiere Pro timeline.
As well as generating the primary package, editors can create further sequences, which become supplemental IMF packages that contain different versions of audio, subtitles, edit points, Dolby Vision HDR metadata and so on.
Vantage IMF Producer automatically creates well-formed supplemental IMF packages which can be sent to media management systems that can automatically extract the correct content for final distribution. IMF Producer can process up to four jobs simultaneously from Premiere Pro. Using Vantage Timed Text Flip, IMF Producer also supports IMSC-1 Subtitles. The subtitle feature is required for IMF packages and is may be missing from other systems.
Inspect 2110 Increasing Visibility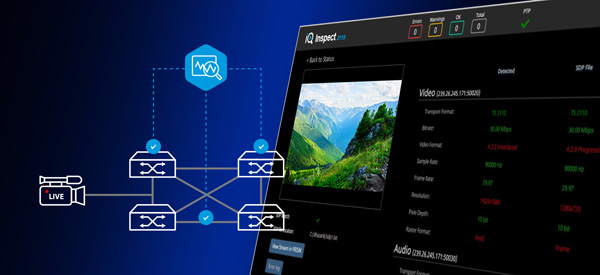 Inspect 2110 video monitoring
Telestream Inspect 2110 video monitoring for broadcast, production and distribution networks is a new tool in the company's IQ Solutions monitoring series. Operations staff, network engineers and content creators at broadcast and production facilities can use Inspect 2110 to monitor ST 2110 video streams and make sure that video flowing across the network is correct, working as expected and synchronised. Having this facility prepares broadcasters to make the shift from SDI to IP video more effectively, with advantages such as flexibility, scale, migration and efficiency.
Streaming IP video across Ethernet instead of SDI means that video operations become less aware of the complexity of the underlying video network. Visibility and diagnostics are required to make sure live production, synchronisation and redundant networks are working properly. Inspect 2110, for example, helps monitor growing, dynamic broadcast IP networks with limited staff.
An individual program can be tracked throughout the network to ensure that the video content on any particular stream is exactly as it should be in terms of media, format, audio and metadata. It also ensures that both sides of a redundant system are the same and that there has been no degradation to either side. Inspect 2110 also confirms PTP system synchronisation, that network traffic is correct and operating as expected.
The system also establishes a direct link to PRISM, Telestream's IP media analysis platform, to help solve troubleshooting issues while the Telestream IQ management system gives program correlated visibility across the network. www.telestream.net