Interra and Skyline Communications Integrate for OTT Quality Monitoring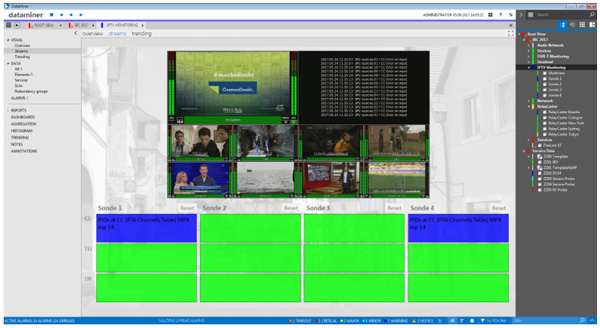 Interra Systems and Skyline Communications have formed a new partnership to improve quality of service (QoS) and quality of experience (QoE) for linear and nonlinear OTT channels. From an integration between Interra's ORION-OTT system and Skyline Communications' DataMiner network management and orchestration support systems (NMS/OSS) platform, the two companies created a single, automated system broadcasters and OTT service providers can use to manage OTT content workflow orchestration and quality alerts more efficiently.
Interra notes that audio and video errors can occur at any point in video streaming workflows, from transcoding to the final delivery. To counter the negative impacts of poor video streaming quality on QoE and the risk of losing customers, the joint system between the DataMiner NMS/OSS platform and ORION-OTT means service providers can monitor and manage the quality of all linear and OTT channels through one screen, through the entire delivery chain.
Channels are monitored by dynamically orchestrating probes on-premises, in the cloud or in a hybrid setup. Using probe assignment functions, users can automatically associate probes to new services for efficient resource use, and by performing in-depth monitoring of active services, the system aims to avoid false positive alarms.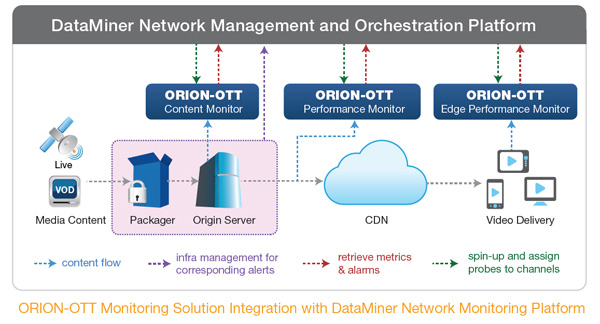 Because the OTT supply and delivery chain is very dynamic, more so than other media delivery environments, automation for content providers, broadcasters and service providers needs to reach across the media data, control and monitoring planes – all in one. For every channel change, the monitoring system has to be automatically reprovisioned to match the new situation. The DataMiner platform was paired with Interra Systems' ORION-OTT system in order to keep OTT monitoring in sync with the actual program lineup, increasing effectiveness and efficiency even for occasional-use OTT services.
Using proven audio and video quality analysis techniques, ORION-OTT enables service providers to monitor online video delivery for quality and compliance purposes. A software-based system, it carries out a comprehensive range of checks on content integrity and related network performance – at the edge and at the origin – of ABR content for multiscreen service delivery. The user can drill down the monitoring runs to identify the most important issues, their location and occurrences in an asset, with contextual information for overcoming the issues.
The DataMiner platform runs up-to-date AI procedures such as forecasting, anomaly behavioural analysis, intelligent fault detection and automated incident analysis. The results help service providers to proactively manage channels and streams, and to detect issues before they impact QoS and QoE. Automated orchestration of the over-all monitoring infrastructure has become an integrated part of operations with DataMiner. Through the platform, service providers can reduce operational workload, reduce outages and improve resource utilisation on premises and in the cloud. www.interrasystems.com