IHSE KVM Maintain Live Broadcast Flow at Jordan's Al-Mamlaka TV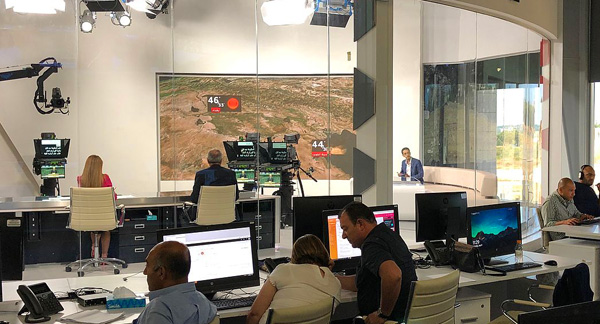 Al-Mamlaka TV became Jordan's first state-funded public service news broadcaster in 2018. The service operates from a new greenfield, purpose-built broadcasting centre in the capital city of Amman and continuously airs a 24/7 lineup of HD news and public affairs shows on linear and OTT platforms.
The new broadcast centre has brought several modern broadcast innovations into the region, making it one of the first facilities to virtualise some of its functions, among the first to employ a motorized video wall, and the first to make wide use of augmented reality.
In the Studio
The Al-Mamlaka TV facility centres on a 400sqm, seven-camera studio with five sets and an open design connecting it to the newsroom one floor below. A second, four-camera studio has three pre-designed sets, and a third smaller studio looks out on a view of the Amman skyline.
"In order to manage as complex broadcast infrastructure as this one, we need full redundancy for all vital systems, including AV and broadcast IT equipment. Centralising the management of virtualised systems is essential to guarantee 24/7 operation on all channels," said Sami Qouta, engineering manager, Al-Mamlaka TV.
"That involved engineering the ability to switch quickly between the production control rooms of our two largest galleries, in case we have an issue with one. We have set up this capability by adopting IHSE KVM systems, which give us a centralised controller for accessing all systems in either control room."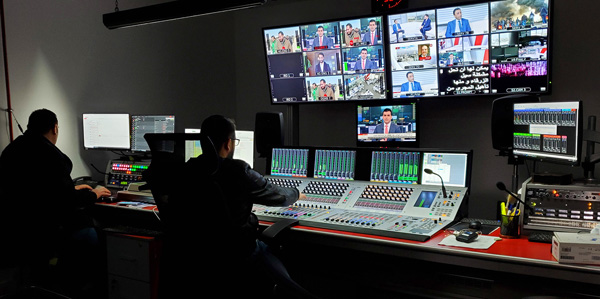 Al-Mamlaka TV's KVM system consists of an 80-port IHSE Draco tera compact fibre-optic matrix switch with Draco vario extenders for dual-head DVI and DisplayPort connectivity. Operators using Draco vario extenders at remote workstations can to gain real-time access to DVI, VGA and DisplayPort computers, including the computers' monitors, keyboards, mice and other peripheral devices.
Redundant System
Draco tera is a modular matrix for bidirectional signal distribution of HD video, audio and data over Cat-X Ethernet, fibre optics and SDI. Each port can be configured as an input or output, scalable from one CPU to multiple workstations or with multiple CPUs managed by a single workstation console. Built for multi-level redundancy, the chassis support redundant power and hot swappable modules, which allows upgrades without interrupting signal flow.
The operators also need real-time access to the HDMI computers controlling the X1.2 Barco LED video wall, for which they use the Draco vario ultra HDMI 2.0 extender. Control includes HDMI monitor, keyboard and mouse over a duplex LC fibre connection with digital video transfer in 4K resolutions up to 4096 x 2160 and 3840 x 2160 (UHD) at 60 Hz colour depth of 24 bit, 4:4:4 or 30 bit, 4:2:2.
Because the IHSE equipment integrates directly with all of the other studio systems, the studio workflow is flexible. Operators from any department can connect, disconnect and reconnect a variety of laptops as necessary without interrupting processes or physical reconfiguration.
Linking to the KVM Network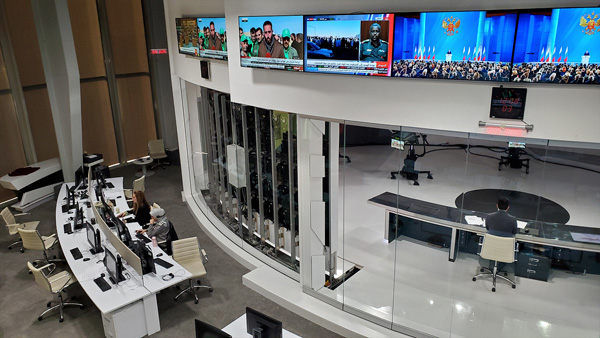 From the users' point of view, Sami said, "The system is simple and highly flexible. It creates a familiar workflow for operators in different departments to access the broadcast tools and computers they need, right from their own workstation consoles, instead of having to change position or disturb other operators. The gear is stable and reliable as well – we have not had any issues with the KVM system in two and a half years."
For redundancy, the critical studio systems are linked to the KVM network – specifically, the robotic camera control system, graphics systems generating lower thirds, vision mixers, teleprompters and VR/AR systems. If a problem develops with a piece of equipment in the first studio, operators can remotely log onto the vision mixer in the second studio and immediately put it into play.
Centralised remote control makes sure of continuity, and also means operators do not need to physically attend to each system when the need arises, making Al-Mamlaka TV's broadcast operations generally more efficient. www.ihseusa.com