Relying on Low Latency for Remote Broadcast Acquisition and Contribution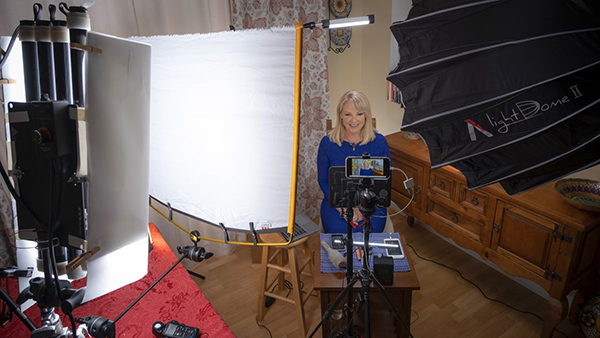 During a crisis, video transport and connectivity are among the first elements to address to ensure delivery of broadcasts and public safety services. The success or failure of a broadcast during this crisis depends on the ability of reporters, presenters and weather forecasters – now reporting from home – to stay in constant, precise synchronisation with their central production team.

When broadcasting under pressure from remote locations, reporters and cameramen lack studio equipment, technical support and other broadcast facility resources. Crews on location are also disconnected from the live programme feed and usually don't know what shots looks like as they go to air, which makes it difficult to make real-time adjustments. But, during the COVID-19 pandemic, broadcast staff have been learning to cope.
Persistent Challenge
Studio resources aside, according to Yvonne Monterroso, Director of Product Management at Dejero, the main challenge for remote broadcast is still latency. "Traditionally, it has been difficult to feed anything more than the IFB audio communications to the field crew without a significant degree of latency. That is why systems that achieve low latency for return video and teleprompting have become more important during the current crisis, making talent cueing and confidence monitoring available to a shed, a living room and other unlikely places," she said.
In those circumstances, delivering precisely-timed live content that engages viewers requires flexibility, ingenuity and creativity. In March and April, news anchors and presenters posted on social media techniques they used to set-up home-based TV studios, including Sky News' presenter Sarah-Jane Mee, CBS/CW San Diego TV news anchor Marcella Lee, WUSA9 TV news anchor and reporter Adam Longo and Toronto's CP24 anchor and reporters Nick Dixon and Stephanie Smyth.

These particular contributors integrated equipment made by Dejero into their outside workflows. Yvonne said, "Using the Dejero LivePlus app on a smartphone or a notebook, for example, they have delivered live video back into their organisation's main broadcast workflow by setting up a phone on an inexpensive tripod, and working out the lighting and the background. They can be ready to go live in a few minutes. Dejero has made this app available to people who need it without charge for a period of time in an effort to make reporting easier and support business continuity."

Real Time Return Video
As well as checking lights and backgrounds, presenters working from home still need to view return video and teleprompter feeds from the broadcast facility to deliver on cue, and adjust their on-camera position to work with graphics and overlays in real time. By setting up an iPad, phone or computer monitor at eye-level behind the device acting as a camera, they can receive teleprompting or return video from a Dejero CuePoint at the broadcast facility.
CuePoint is a standalone studio-based device that does not need Dejero transmitters or receivers to work. Its functionality is simple – low latency is what makes it useful, and how it makes near real-time visual talent cueing and teleprompter feeds work. CuePoint also allows a broadcaster to scale the number of return feeds that can be seen in the field.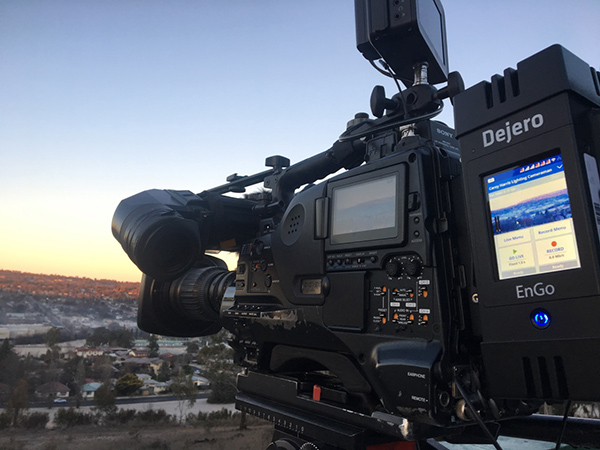 High-latency return video is distracting and means that presenters have to listen for audio instructions from the MCR instead of focussing on their on-air presence. CuePoint is fast enough so that they see their counterparts in the studio or other remote locations, allowing interaction with their colleagues during programmes. Latencies as low as 250 milliseconds are now achievable on the ground. Script writers can send updates to the teleprompter feeds in near real-time, while talent read the updated text as it flows
Freelance
Freelance cameraman and producer Carey Harris in Australia uses a Dejero EnGo mobile transmitter to produce a weekly three-way live conversation between two remotely located experts at a farm location and the anchor at the studio for Channel 7's 'Sunrise' morning show. Since the farm has limited network coverage, his EnGo is running two SIM cards and a Wi-Fi modem to support production.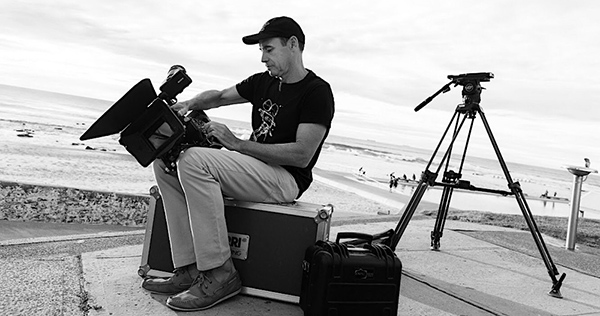 EnGo, like other Dejero products, is built with Smart Blending Technology, a proprietary approach that simultaneously blends together multiple wired connections such as broadband and fibre, and wireless IP connections like 3G/4G/5G, Wi-Fi and satellite, from multiple providers to form a virtual Dejero network. By dynamically and intelligently managing the fluctuating bandwidth, packet loss and latency differences of individual connections in real-time, devices achieve a reliable connection and faster aggregate connection speeds.
Using EnGo, the captured footage is encoded and can be used live, transmitting live video over IP networks, or transmitting live while recording video at the same time for later transfer at a higher quality. The device has 65GB of internal storage, recording 30 hours of HD video to transfer to a Dejero receiver. Because material can be ingested in real-time, Carey's clients do not need to download large FTP files. The connectivity also means a reporter can connect a laptop, phone or similar device to the Internet, creating a hotspot. www.dejero.com