Dorna and Vizrt Hit the Track with Real-time MotoGP Tracking and Graphics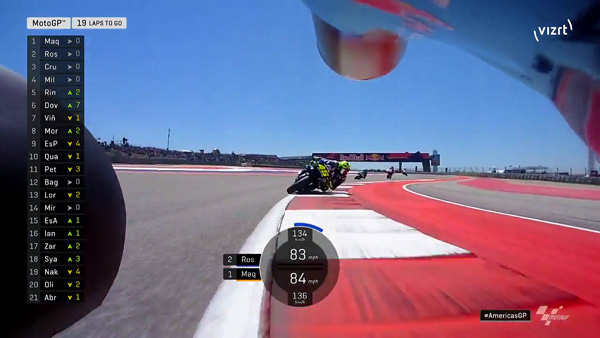 MotoGP racing is intensely competitive, generating fast-paced sustained action at race events. It is a challenge for production teams producing a live broadcast to capture all of the action in real time, and then add graphics to enhance the scope for storytelling and the viewing experience for the audience.
MotoGP is one of the oldest motorsport championships in the world and has attracted a strong following since it started in 1949. Consisting of 19 events from March through November, MotoGP is held in 16 countries and is considered the high point of motorcycle racing with the world's most advanced, fastest prototype bikes, charismatic riders and daring race tactics, combined with global television coverage. Dorna has been the main force behind its marketing, media and broadcast production for over 30 years as exclusive commercial TV rights holder.
On the Track
Sergi Sendra i Vives, Senior Director at Dorna MotoGP media company, described some of the production challenges associated with a large scale MotoGP event. "This is a sport you cannot see in one shot. You need multiple cameras shooting in sequence to understand each rider's journey as he completes a lap. You have several riders at the same time, resulting in several stories. So for us, the graphics make a big difference, especially as a way to inform viewers about the timing. People need to understand who is first, second... when a driver overtakes another or crashes, calling for very fast changes of the live script."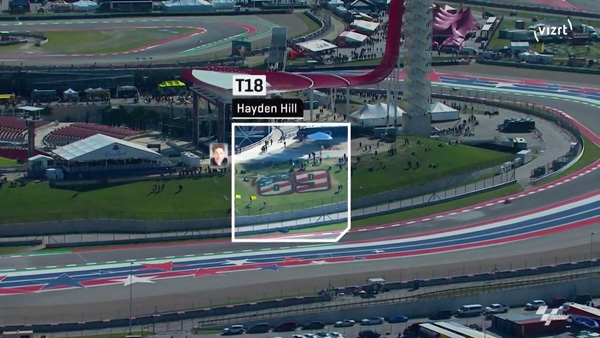 Vizrt has a speciality in IP systems for television and broadcast productions that overlay varied types of graphics and visual stories in real-time to produce a continuous stream of information, augmenting what the script alone can deliver. This production approach particularly suits high-pressure live environments involving lots of information, like MotoGP.
Dorna was using Viz Artist as their graphics design and data visualisation software, with the Viz Engine compositor/renderer for video playout, and then took advantage of Viz Engine's extensible design to develop their own tracking plugin, Motion Tracker.
Vizrt Motion Tracker
The Viz Engine platform architecture serves as the foundation for various production use cases, and its connectivity enables integration of customised control software, user-specific plug-ins, Unreal Engine 4 rendering, imported models and support for tracking systems – like Dorna's Vizrt Motion Tracker. "At the beginning the idea was to enrich our replay images, but when we saw how effective the tool is, we realised it has a lot of potential for other uses," said Victor Segui, Programmes Senior Manager, Dorna.
Vizrt's CTO Gerhard Lang said, "Dorna is an unusual production company, not only because of the number of cameras they have active during the race. Further to that, the amount of data they need to process in order to tell the full story to their viewers is almost overwhelming. Every single bike is equipped with a box that collects the telemetric data – measurements, incidents, logs and so on – plus sensory data from the rider."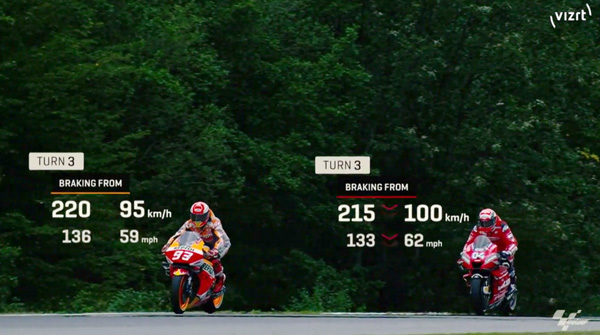 The data is fed in real time from the bikes back to the control and broadcast centre. The Vizrt system captures the information from the bike, and then displays data-driven graphics such as position and speed. It can also calculate split times, braking times at specific turns, top speeds, angle of lean, gear selection and other real time data. The system then overlays these graphics before reallocating them wherever they are required next.
Automatic graphics placement in relation to the bike is what makes this system so versatile. As the bike and rider lean into a corner, the Vizrt Motion Tracker allows the graphics to move with them. Victor Segui said, "The data that we receive from the bikes is reproduced in real time and, by combining it with the motion tracking, we can move the graphics in real time with the bike as well."
Expectations
Manel Arroyo, Managing Director at Dorna, talked about their involvement in the broadcasts and the expectations of the MotoGP as their client. "The challenge for our production is simply to deliver to the same standard as our riders,"he said. "It's also important to engage with our audience, in order to understand what they expect from us, what they expect from the sport, what they like to watch and listen to. These factors tell us what data they want to follow, what information interests them, all of which is possible due to the tools we currently work with in our three locations."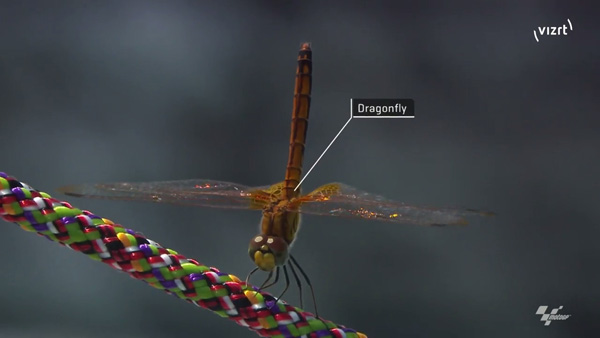 Dorna's Vizrt Motion Tracker is not limited to motor sports. It has applications in many environments. For example, a nature program production could use it with video of animals to label them with information and enhance the viewing experience. Since animals, like motorcyclists, are not inclined to keep still, as they move, their graphical label moves with them.
Sendra i Vives said, "When we are working with the companies who supply our equipment, we like to work with the engineering team. That was critical in this case too, and resulted in a different approach. In other words, we are not just consuming a product, but also developing and interacting." www.vizrt.com