Pebble Beach Marina Automates Multi-Site Channel Playout for ERT Greece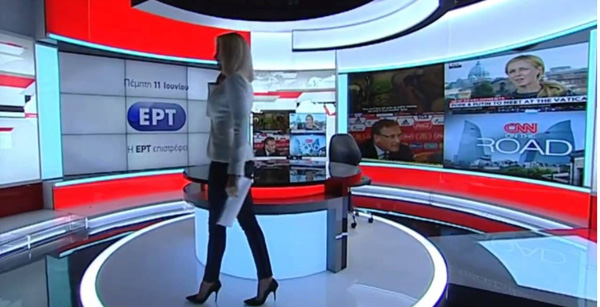 The Hellenic Broadcasting Corporation (ERT), public radio and television broadcaster for Greece, is one of the 23 founding broadcasting organisations of the European Broadcasting Union in 1950. A state-owned company, today it runs four digital terrestrial television channels and one international satellite channel.
Running these channels includes round-the-clock broadcasting from Athens for ERT-1, ERT-2 and ERT-SPORTS-HD. ERT-3, which focuses on regional broadcasting for Northern Greece and surrounding areas, operates from premises 500km away, in Thessaloniki. To bring the playout capabilities up to date both at the Athens headquarters, and at their Thessaloniki facility, ERT has recently ordered a multi-site installation of the Marina automation system from Pebble Beach.
As ERT's infrastructure was over 10 years old, their requirements called for a systems upgrade that would make significant changes to playout, for delivery across all of their sites. The organisation launched a tender process, resulting in the purchase of the Marina platform. ERT worked on the project with local Pebble Beach reseller PTS, Pierides TechnoSystems.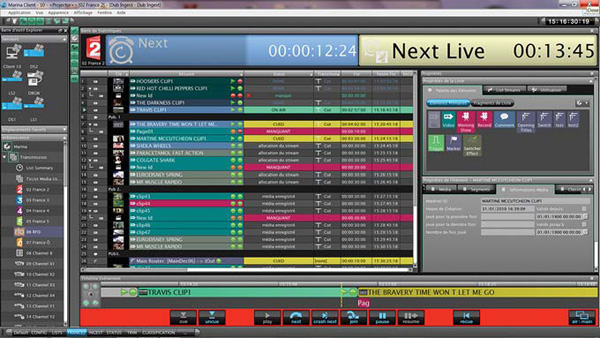 Marina user interface
Scalable and Agile
Marina will give ERT a flexible, scalable architecture and allow them to distribute resources over multiple servers, and make its users across the country more agile. Marina's architecture combines flexibility with resiliency, in order to meet and anticipate the evolving demands placed on the media environment.
It can scale from a single channel to hundreds of services, operator positions and devices across locations, for instance, while the system remains live. Marina also uses a single system-wide database to manage media. A system can be synchronised with disaster recovery applications and remote devices, making sure all workflows can be replicated, and protecting system integrity and security.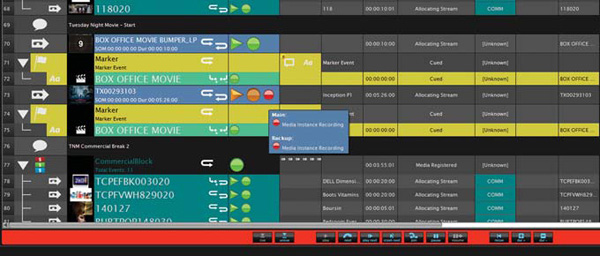 Summary Cell status view
Agility comes from an ability to control myriad types of systems, and integrate into workflows incorporating digital asset management, traffic, news and scheduling. Because playout automation must be available constantly, performance is consistent whether teams are working with 3rd party legacy A/V devices, new multi-functional devices, or hybrid combinations. One of the most attractive aspects for ERT was Marina's interoperability, including the ease of controlling graphics and interfacing with routers and servers.
Multi-Site Installation
As a strategic multi-site installation, two Marina playout systems will be deployed. One system will be installed at the Athens HQ, facilitating up to five channels, and the other will overhaul the regional playout of ERT-3, which is based in Thessaloniki.
ERT has decided to keep ERT-3 as a separate operational unit so that it will be able to maintain its own continuity and autonomy in servicing the regions. Marina can support this strategy through its ability to control a variety of channel types in any combination, including those broadcasting live and unpredictable content, regional opt-outs or simulcast, and simple clip-based channels.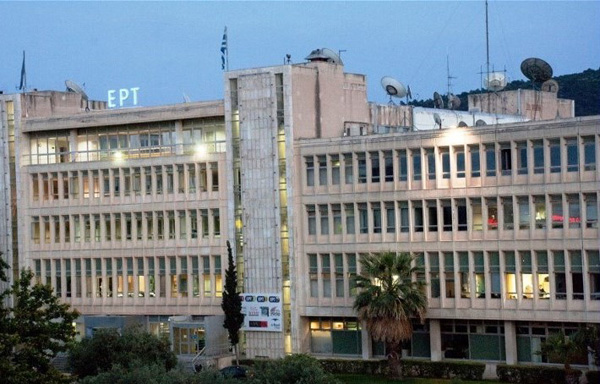 ERT in Athens
The equipment was originally scheduled to go on air prior to the 2020 summer of global sports but will now be on air within August, in time for the new TV programming season.
Each operator at the facilities can control a high density of channels, using a desktop layout configured via a user login that limits the workload presented to the operator to only what is necessary and minimises errors. Tools for efficiency like continuous media validation, context-based playout rules and high resolution media viewing make the operator's role simpler. The desktop also displays a concise 'Summary Cell' status view of device and media status. www.pebble.tv