EVS and b<>com have now made b<>com's Adaptive HDR Converter, real-time adaptive HDR conversion functionality, available to users of EVS' new Neuron signal processor, acquired as part of the Axon acquisition.
Through the use of these two systems, broadcasters have a straightforward way to introduce SDR-HDR, HDR-HDR and HDR-SDR conversions into their production workflows for HD and UHD formats, without having to allow time for manual adjustment.
Neuron is a network attached signal processor in a 1RU device, made for centralised, virtualised environments. It works in SDI and hybrid SDI-IP workflows and supports multiple channels. Serving its high density, Neuron's IP-to-IP processing handles uncompressed SD, HD, 3G and UHD signals based on ST2022-6 and ST2110 standards. Specific functionality includes edge synchronisers and converters for processing streams before they enter the core router, which helps control signal routing complexity.
Visually Lossless Round Trip
b<>com's dynamic and adaptive conversions are based on an intelligent algorithm, and aim for an optimal conversion at any point in the video regardless of variations in the content. Existing converters that use a static LUT approach may generate an unsatisfactory result when light conditions in the video are less than ideal. In contrast, dynamic-adaptive conversion methods like those in the Adaptive HDR Converter analyse each frame and apply the most appropriate correction to each one. Processing is automatic and does not require manual adjustments or settings.
Despite the adaptive conversion, it does not depend on metadata, but is still able to achieve a visually lossless round trip. In other words, when a user converts in one direction and then back the other way (SDR to HDR and HDR to SDR), the resulting video is visually identical to the original. Production colour grades are also preserved. The round trip ability is useful when customising a workflow for specific HDR to SDR conversions, especially in situations where the same content must be simultaneously delivered in HDR and SDR format.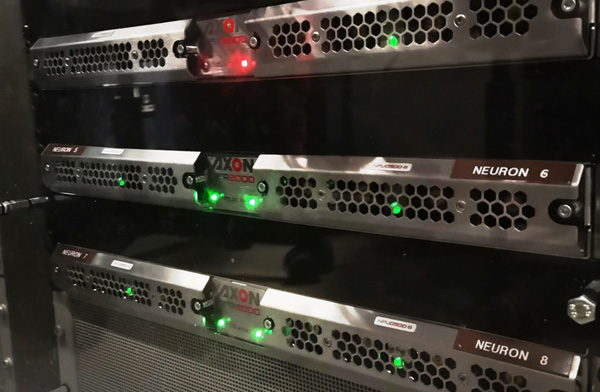 The conversion processor fits directly into most existing products, ranging from playout and encoding harware to chipsets, requires no input metadata and can be used at a chosen stage in the production process. It also supports conversions between different HDR formats including PQ, HLG and Slog3.
Full Dynamic Range
According to b<>com, their method makes use of the full dynamic range of the destination screen, and outputs an HDR signal similar to the result achieved with native HDR. The company is among the first organisations to have introduced this type of real-time dynamic-adaptive conversion process.
"The need for an adaptive system to go from HDR to SDR or vice-versa was obvious from the first test we did with static conversions," said Peter Schut, CTO Media Infrastructure at EVS. "b<>com employs such an algorithm. After evaluating the core with some rough shot HDR content and converting it adaptively to SDR, I knew we were heading in the right direction. After a few updates we integrated this in our Neuron Platform and can now generate better pictures using HDR workflows, and still be compatible with your SDR workflows."
Examples of practical applications might include live mixing SDR and HDR sources, a simulcast of SDR and HDR programs, up-conversion of legacy channels to HDR, and monitoring and quality control in production environments. www.b-com.com