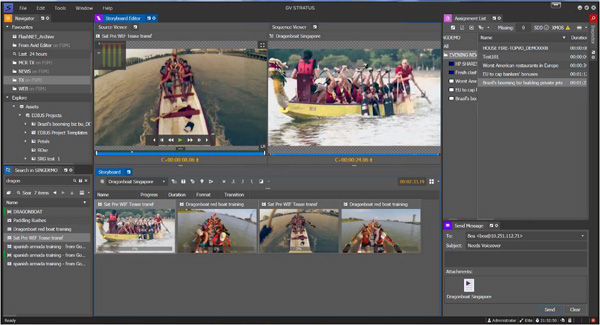 GV STRATUS Storyboard Editor
Indian regional 24hr news channel Lokshahi News has deployed a new playout operation, aiming for greater efficiency across their news production process with the ability to support content delivery to both linear and social media outlets.
Lokshahi News was launched in January 2020 by owner Lokshahi Media Group as an outlet for news in Marathi, one of India's three main languages. The channel's prmary source of equipment for the new operation is Grass Valley. In particular, the system is built around Grass Valley's iTX integrated playout platform, allowing them enough flexibility and scalability to manage multiple playout channels, across a range of platforms, and accommodate its service as it grows and changes.
The iTX platform can handle multiple resolutions, which currently involves 4K, HD and SD, and simultaneously play out via both IP and SDI. It suits broadcasters who plan to migrate to IP, supporting for compressed IP outputs plus simultaneous SDI playout. iTX can mix IP and HD-SDI live inputs, using back-to-back IP and SDI clips.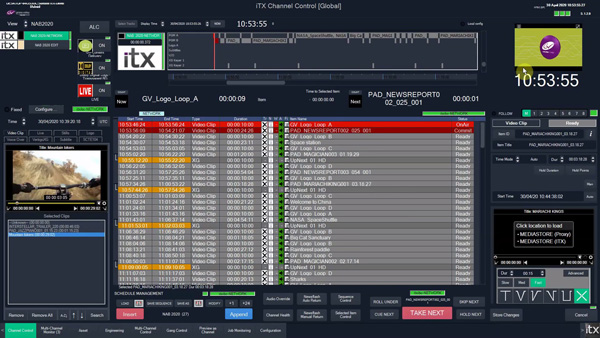 Grass Valley iTX integrated playout
At the production end, Lokshahi has also deployed GV STRATUS for news production and content management. STRATUS has a huge number of tools ranging from logging, monitoring, creating storyboards and playlists to scheduling and others. At all of these stages it supports growing file workflows from ingest to playout and output. The iTX platform also manages dynamic schedules and late arriving media by supporting multiple video format playbacks without the need to transcode.
Application Framework and Automation
For efficiency from the operator's point of view, GV STRATUS has an application framework in which each user decides which tools to use and how to arrange them on their screen, either through a windows client application or an HTML5 web client, with access to a subset of the tools. Common components can be re-used within new tools, so that new functions and workflows have less impact on the operators.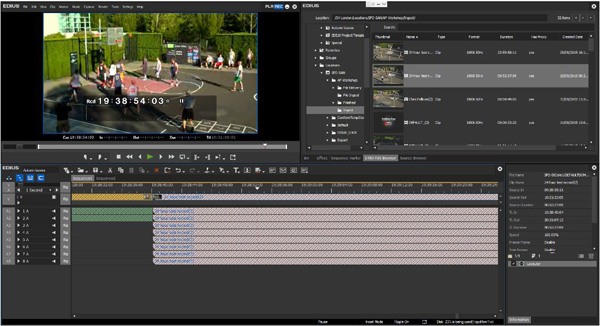 EDIUS NLE interface
Grass Valley EDIUS is used as their NLE, with Kula 2ME and Kula AV production switchers, the Masterpiece master control switcher, Kaleido Multiviewers and Densité 3+ FR4 Frame processing hardware.
GV STRATUS has a built-in Rules Engine that allows the production team to manage content automatically based on metadata, folder location, name and so on. This way, they can handle tasks from deletion after a set period, to social media delivery and archiving via one unified interface.
Automatic archive and restore are also supported. Import rules may be set up to bring content into the system from external file transfers, USB or cloud storage. Transcoding upon import and export of content is also possible via workflow rules. Combining the automated asset management with iTX's ease of use and scalability to set up a channel in a few hours, Lokshahi's system meets the requirements of the business as it evolves.
Social Networks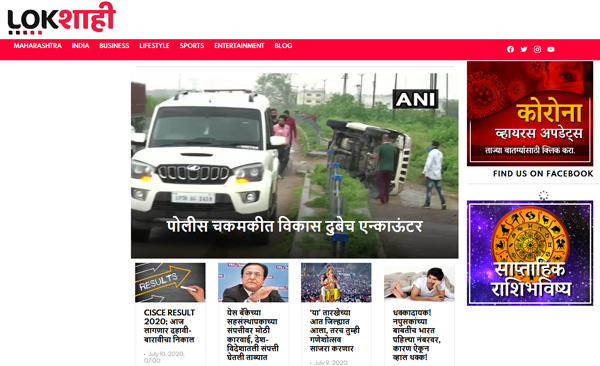 Mr Vijay Shekar, Editor-in-Chief and CEO at Lokshahi News said, "Working with GV STRATUS means we have a scalable, manageable workflow and a news platform that supports both traditional and modern social media broadcasting. The system allows us to directly publish content and metadata to social media networks, Twitter, YouTube and Facebook, and keeps track of those assets and their popularity on these platforms."
For example, users in News or Live Production will be able to distribute content to their viewers and subscribers without extra work downstream. GV STRATUS controls the creation, transcoding and publishing of the media, exporting and uploading the asset metadata in parallel. GV STRATUS Social Media Management collects statistics and usage info for these assets, immediately displaying how the content is being consumed and rated per platform. www.grassvalley.com