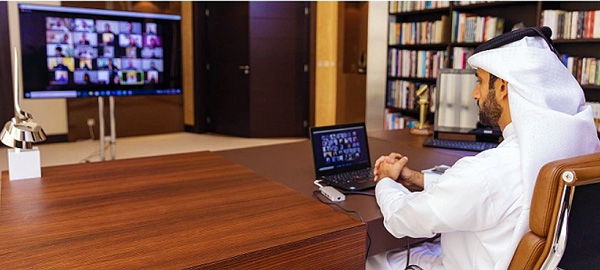 Al Wousta is a new television channel owned by Sharjah Broadcasting Authority (SBA) and broadcast from Al Dhaid, the capital of the Emirate of Sharjah, and a completely greenfield installation built into a new, modern building and facility. The station functions entirely on IP connectivity using SMPTE ST 2110 standards. The systems platform was collaboratively developed by engineers from Al Wousta and SBA in association with UAE systems integrator Tek Signals.
Broadcasting documentaries, dramas, Islamic content and other regional programming, Al Wousta will focus on promoting the heritage, culture and traditions of the Central Region and highlighting its nature and archaeology to viewers all over the world. As well as using 90% locally created content, Al Wousta has an educational role, working with local media universities to make practical experience available to students in its production and playout centre.
Greenfield Installation
"Building a brand-new facility was a rare opportunity for us to use the most up to date, agile systems available," said Aisha Alzareef, broadcast technology & information systems director at Sharjah Broadcasting Authority. "We were especially interested in SMPTE ST 2110 standards because of the advantages associated with open systems and IP connectivity, like compact and flexible installations, and the ability to add new functionality and other standards like Ultra HD. This is also considered a flagship installation within the Middle East broadcast industry."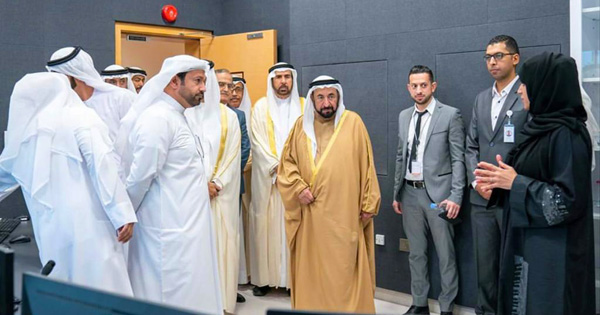 Al Wousta Station opening event.
The new facility is built with a large studio, post production and a playout centre, and nearly all of the functionality for the centre is implemented in software on COTS hardware, which has helped them control costs. It also makes their operations more flexible in terms of configuration and the operators, and adds the ability to scale in the future. All connectivity uses IP over fibre, with sufficient bandwidth to move to 4K and HDR Ultra HD when the channel begins delivering in those formats.
"We have based our infrastructure and automation for playout, at Al Wousta and in the disaster recovery operation, on Imagine Communications equipment and software because we were already familiar with the company after using their systems in our main playout centre," Aisha said.
Automated IP Playout
For its central storage and playout preparations, Al Wousta's main channel uses Imagine Communications' Nexio+ AMP integrated and shared storage video servers with Versio IOX SAN storage, online storage specifically tuned for broadcast and production of news, sports and live events. The overall control is handled by ADC automation.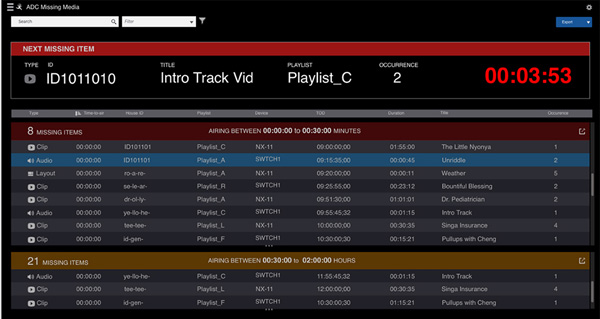 ADC Automation
ADC automation helps media operations distribute their content, regardless of format, combining asset management tools with automated processes. Versio playout, a modular microservices-based media workflow platform, supplies functionality including the playout engine, I/O interfaces, automation and graphics, and can incrementally implement options such as audio track routing, multi-language captioning, UHD and proxy generation, on an as-needed basis.
These systems interface directly with other broadcast equipment, including those in the live studio and post production network ― which means they will be able to keep up with the channel's future workflows. Currently, Al Wousta content producers are recording with Sony cameras controlled with an Evertz SDVN backbone system. The post production team works with Avid software for editing, news production and MAM, Adobe and Vizrt applications for graphics.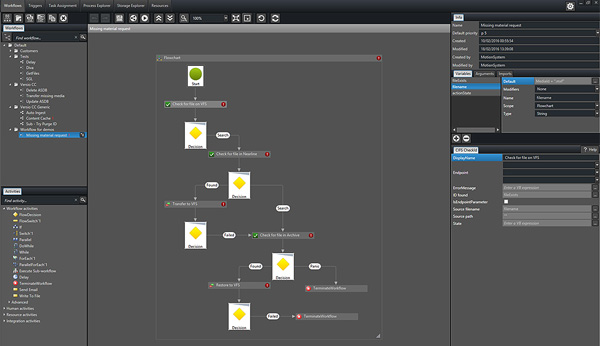 Imagine Nexio Motion
The playout system establishes tight integration with SBA's existing Broadcast Master suite, also from Imagine, for automation and the management of linear and nonlinear rights, sales, scheduling and media that SBA will need for monetisation strategies.
Four-Channel Disaster Recovery
Regarding disaster recovery (DR), as well as building the master control and automation facilities at Al Dhaid, Imagine Communications implemented a four-channel DR site based on the Versio modular playout system with ADC automation. The DR playout system maintains precise synchronisation with the main site, with complete content mirroring to allow direct switchover when problems arise.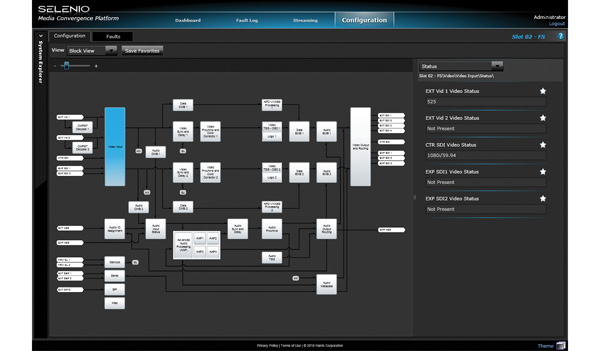 Selenio Media Convergence Platform
The DR site handles backup playout not just for Al Wousta, but also for other channels from SBA, so that service provision is consistent. On top of this set-up, Nexio Motion software is used for workflow management, optimising and automating processes that move and manage media between the main playout centre and DR site – between Imagine products, storage and third-party systems – resulting in business continuity with minimal operator intervention. Applications are QC, transcoding, restore from archive and others.
Because the DR centre establishes redundancy for other SDI channels, it needs SDI connectivity. To integrate this content into the IP environment, the system includes a Platinum VX compact router for baseband signals and Imagine's Selenio Media Convergence Platform for signal conversion, along with an EPIC MV multiviewer, which allows engineers to monitor IP and SDI signals on the same screen.
The equipment at the DR site also works under the management of Imagine's Magellan SDN Orchestrator, a control layer for managing software defined networks, efficiently integrating IP with legacy systems. It uses COTS IP switching, including the most recent generation of IP routers, managing SDI and IP matrices simultaneously and supporting large numbers of end-points from either Imagine or 3rd-party manufacturers, using native and open APIs.
Al Wousta went live from Al Dhaid in February 2020. www.imaginecommunications.com