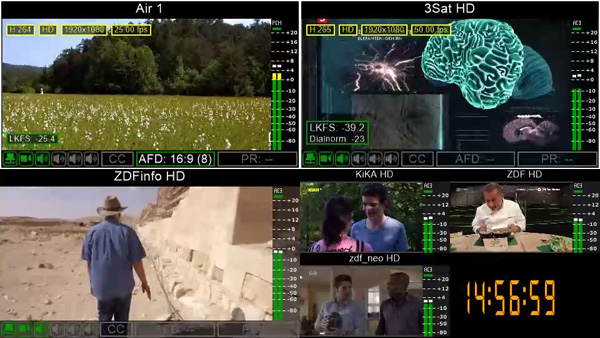 Cinegy Multiviewer 15.2 is the most recent update to Cinegy's IP and multipurpose software multiviewer, made for on-premise and remote monitoring of satellite streams, camera feeds, playout devices and other sources. Cinegy Multiviewer displays and analyses the signals, raising alerts for detected problems. Running as a service, operating on commodity IT equipment, video streams can be received over IP including UDP/RTP, NDI or SRT via Ethernet, or using standard SDI cards.
Updates include support for the latest version 4.5 NDI, using Cinegy Encode as an SDI output option, SRT encapsulated IP input and output stream inputs, and support for encrypted SRT streaming on input. Cinegy Encode converts SD or HD SDI streams into SMPTE-compliant RTP/UDP streams – or vice versa.
Cinegy fully supports the SRT Alliance, evident in all of the company's products. Head of Product Management Lewis Kirkaldie said, "For years the world of broadcasting has been anticipating an open and reliable system for moving signals around. Numerous attempts have been made by different proponents across the industry but so far none of them have come closer to fulfilling the requirement than SRT."

Further SRT enhancements in Multiviewer Version 15.2 are more SRT output encryption support plus DNS resolving for SRT URL addresses.
"The new Multiviewer has many performance optimisations and compatibility enhancements to improve reliability on the most recent Microsoft operating systems, as well as keeping up with the newer systems and protocols widely used in the industry," Lewis said.
8K Workflows
Cinegy Multiviewer 15.2 supports all 8K workflows, via IP or SDI. Cinegy's 8K capabilities were first deployed in 2015 on the release of its proprietary Daniel2 codec, which at that time was capable of decoding 16K video at 280 fps with an NVIDIA Quadro M6000. Cinegy has further optimised and integrated Daniel2, making it ubiquitous throughout their software. Cinegy Multiviewer 15 joined Cinegy Capture PRO and Cinegy Air PRO in supporting 8K, via IP (SRT/RTP/UDP), SDI, NDI – for example, when using Blackmagic Design DeckLink 8K Pro – confidence software for broadcast systems, when the major update v15 was released earlier in 2020. www.cinegy.com