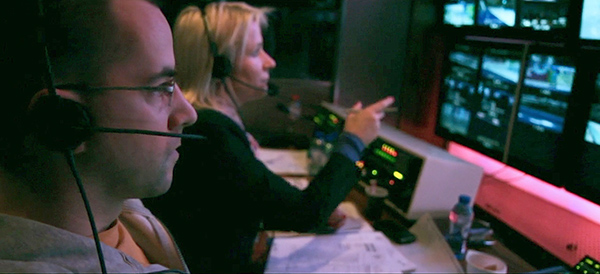 Media facilities and services provider Euro Media Group S.A (EMG) has implemented IP systems across its organisation by developing its own software platform called diPloy. EMG started developing the platform, known initially as OBjective 2020, in 2019 as a way to move past the conventions of outside broadcasting by designing a scalable, modular IP-based workflow.
Designed primarily for very large-scale sports events, EMG uses diPloy to quickly create scalable live production architectures from preconfigured IP modules. At the centre of its design is the Selenio Network Processor (SNP) from Imagine Communications, a flexible standards-based IP media processing platform. Scaling can be achieved through system size, channel count or resolution to UHD or greater. Processing and delivery can also scale out across locations, formats like HDR, and linear, mobile or OTT platforms.
Flexible Processing Modules
Each SNP, housed in a 1RU chassis with a consolidated 100GBE network interface, comprises four independent processing blocks that can be software-reconfigured in each deployment. In some diPloy modules, the SNP works as a gateway to bridge EMG's legacy SDI equipment to the SMPTE ST 2110 network on which diPloy depends. In other modules it works as a processor, adjusting visual parameters of camera signals or performing HDR conversions.
"Our operations have grown rapidly, not least through acquisition," said Timo Koch, Director of Operations of Euro Media Group (EMG). "The Group owns a huge store of legacy equipment such as cameras and replay servers that still needs to be integrated within a future-proof system. In 2017, we started on our internal initiative to develop our transition to IP in a managed way, taking advantage of both our investment in legacy equipment, and the flexibility and scalability of software-defined operations.

Selenio Network Processor
"The diPloy project is 4K and HDR Ultra HD enabled. Ultimately, the great variety of these preconfigured IP modules enables us to build facilities for the biggest productions with less engineering time, the necessary functionality and high reliability. Imagine's SNP is a major factor in our architecture with performance capabilities that suit the live market, in an agile device."
Video Sync in IP Networks
The EMG platform uses multi-level, high-speed networking to set up fully redundant connectivity, on the understanding that interdependent networks will be more robust against random failure than one random independent network. A controlled network for video and audio signals is in place as well as for system timing, using Precision Time Protocol (PTP).
PTP is critical here, because moving to IP connectivity means handling audio, video and metadata as separate objects, which are then routed using IP networks through COTS ethernet switches, which are unaware of any synchronisation requirement. However, broadcasters still need to perfectly synchronise, or align, each video source in order to switch between them invisibly, and mics must be in phase to allow mixing – in other words, the broadcast standards of predictable, deliberate timing have to be imposed onto IP connectivity.
For different tasks on the network, modules are attached as required, delivering specific functionality from stage boxes to replay. Each module is contained in a standardised rack unit, many taking up only 9RU, but some demand very high processing density.
High Density Complex Conversion
The 1RU Selenio Network Processor (SNP) supplies this high density. A single SNP can, for example, handle 32 channels of conversion between 3G-SDI and IP, including synchronisation, audio management and colour processing on every signal path. In a different production, the same SNP can process 8 channels at 4K resolution.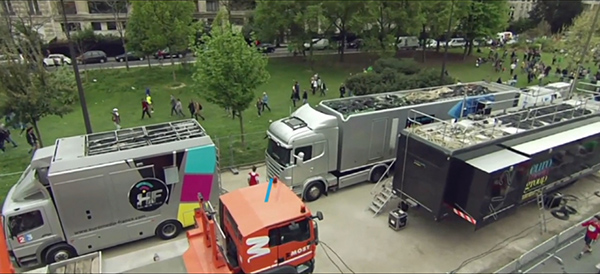 In diPloy, the SNP also supplies up/down/cross conversion between HD and Ultra HD in HLG, PQ and S-Log3 through its own colour processing pipeline with a set of user adjustments. In productions that require matching to a specific LUT, the SNP will allow customer-uploaded LUTs, including dynamic adjustments alongside the LUT and dynamic contextual switching between the LUT and the pipeline, choosing the appropriate conversion on-the-fly.
Other SNPs are supplying all frame synchronisation outputs back to SDI, with full phasing and delay adjustment from the network PTP feed, and audio processing including MADI and AES67 audio integration.
Evolving Concept
"Building an IP infrastructure from preconfigured modules is an evolving concept, and EMG is putting particular effort into advancing it while using IP connectivity to support video production," said Mathias Eckert, SVP & GM EMEA/APAC from Imagine Communications. "In the initial deployment, EMG's systems architects needed agile, intense processing to make a success of the diPloy concept. Over the last 10 months, we have refined and added new features to the Selenio Network Processor."
The diPloy platform was developed and built for use in major international sporting events originally planned for the mid-year season of 2020. After the initial programme, now planned for mid-year 2021, diPloy will be retained as a modular flight-pack system for other remote productions and will form the basis of upgrades to EMG's fleet of OB trucks and fixed production facilities, both on-site or at remote operations centres. www.imaginecommunications.com