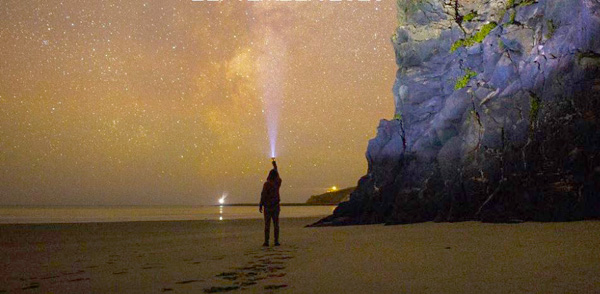 As the world went into lockdown in March, the CoNZealand World Science Fiction Convention looked for alternatives to cancelling its annual event, scheduled for late July in Wellington, New Zealand. Like many other conferences and shows scheduled to take place in 2020, the CoNZealand team decided to move the entire 5-day event online, creating a virtual convention.
They used free, publicly available production tools like Zoom conferencing and the Discord VoIP application and digital distribution platform, and streamed video from the Fantasy Network, an SVOD service and hub for independent fantasy films and series that distributes creator-owned genre TV and film content online.
Project Management
The remaining challenge was managing the production with a dispersed team. "As a broadcaster, I knew that good communications would be essential to operate as a team while we couldn't physically be together," said John Maizels, CoNZealand Division Head for Technology Services. "That meant finding an effective virtual intercom system."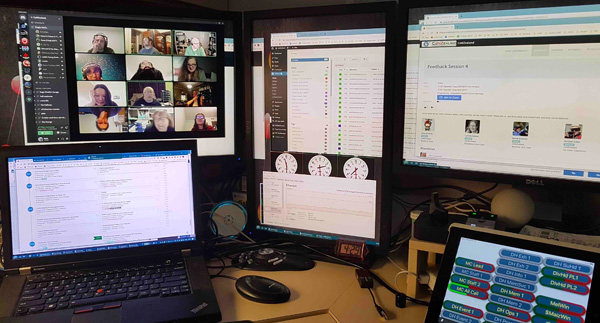 John Maizels' CoNZealand workstation
He worked with the Asia-Pacific broadcast systems specialists at Magna Systems & Engineering, who were already working on virtualised broadcast events and socially distanced live sports for several other clients. Lucas Böhm, product manager at Magna Group Australia, recommended the RTS VLink online communications system. "RTS Vlink works well for global applications because it is platform agnostic and massively scalable," he said.
RTS and CoNZealand agreed on a 30-seat VLink license, supporting up to 30 simultaneous communication streams. John then set up a virtual control room where the core team would have access to a global view of all convention activities, using RTS VLink to communicate and vMix mixing and switching software for live production, to monitor several video events simultaneously. Both of these applications were located in an AWS cloud, serving as the control system operating independently of all the public-facing elements of CoNZealand.
The next challenge was education. "One of the biggest barriers was that people believed that using their personal device for voice and text would be sufficient communication, which is fine until you have a problem and don't know what caused it, how to fix it or who can help," said John. "VLink distributed the global view and instant access, both partyline and point-to-point, needed to address problems."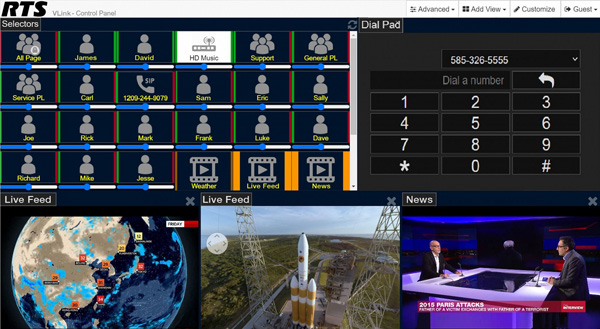 VLink software Control Panel
Device Compatibility
A potential pitfall that VLink overcomes is device compatibility. "To use VLink, all users install the free VLink software on their device, which could range from handheld to desktop computers, running iOS or Android, Windows or any operating system," he said. "Vlink has very wide compatibility, installing and operating on any hardware while uniting hundreds of users around the world.
"A lot of our volunteers were unfamiliar with broadcast intercoms as well, but most people learned to use VLink very quickly. It's also easy to customise the VLink Control Panel view for various devices, which our tech team especially liked."
Virtual CoNZealand held up to 15 to 20 simultaneous program events, running multiple live events while preparing the next hour's schedule. In addition to panel discussions and presentations via Zoom, virtualised versions of the exhibit hall, art show, fan tables, parties, bars and cafes were broadcast, and all had to be monitored. If glitches occurred in the audio, video or chat lines, VLink was used to identify and address the problem.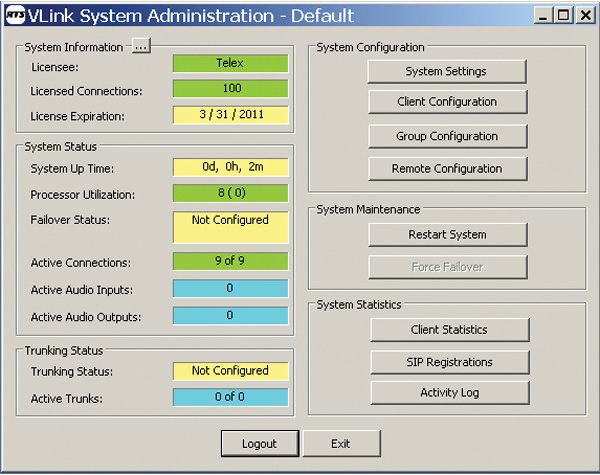 VLink Virtual Matrix tools
Staging Virtual Awards Shows
CoNZealand's Technology Division traditionally produces and presents the conference's headliner events in a ballroom – the opening and closing ceremonies, a Masquerade ball and, most important, two science fiction award shows, the Hugo Awards and the Retro Hugos.
For the Hugos, the team used a combination of pre-taped video segments and live video to replace the physical awards. The ceremonies were viewed globally in real time, including live announcements of each Hugo Award winner by author George R.R. Martin ('A Song of Ice and Fire'), live from an empty theatre in Santa Fe, New Mexico.
During rehearsals, John used point-to-point communication to transmit IFB audio from the show presenters to assist remote participants, directly from a VLink Control Panel. The same functionality could be achieved by feeding the audio output of a Zoom instance into the switcher's audio buss, enabling a controlled clean feed sent directly to the talent that would include only the inputs they needed to participate.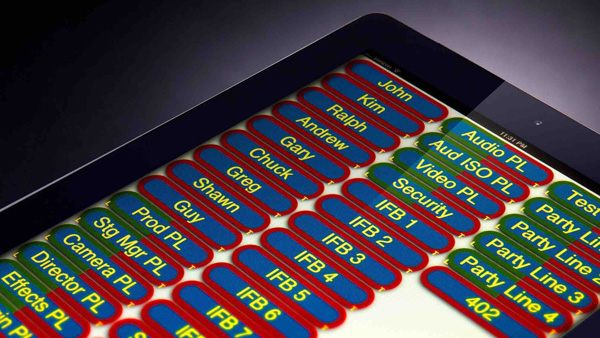 Crisis Points
Through most of the event, the VLink intercom system worked quietly in the background as a regular intercom system, but during inevitable moments of crisis the system suddenly showed its value. As an example, John mentioned an Internet issue that hit the area chosen to host the video feed of the closing ceremonies.
"The Internet at the playout location unexpectedly became very unreliable," he said. "With several point-to-point and partyline conversations on VLink, we confirmed the issue and then switched the playout operation to another team member in Baltimore. We liaised with all parties for the technical handover process using the partyline on VLink, and meanwhile no one attending the ceremonies online was aware of the change. Several similar examples arose during the show, when VLink communications helped us find the cause of problems and then fix them." magnasys.tv