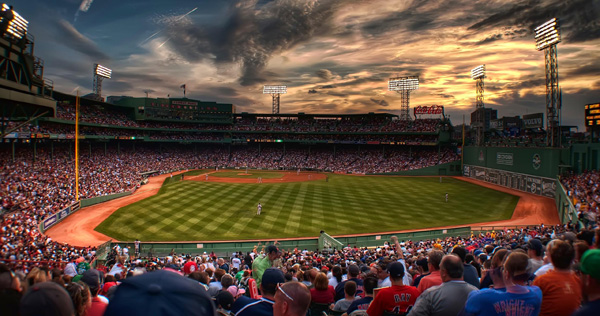 AJA's v4.0 firmware for the FS-HDR real-time HDR/WCG converter and frame synchronizer has a new Colorfront Engine TV Mode, v1.4 BBC HLG LUTs, and is available now, free of charge. FS-HDR is a 1RU, rack-mount universal converter/frame synchronizer for HDR transforms, and for 4K/HD up/down/cross conversions.
Combining AJA's FS frame synchronisation and conversion expertise, with video and colour space processing algorithms from the Colorfront Engine, FS-HDR is used to meet ongoing real-time, low-latency processing and colour fidelity demands for broadcast, OTT, post and ProAV environments.
Colour and Camera Correction
The new Colorfront Engine TV Mode adds functionality for colour and camera correction. Knee Point and Knee Slope controls are available to manage highlights and roll-off in SDR and HDR (HLG and PQ) conversions more effectively, and improve the image output. Knee correction adjusts contrast in high luminance image areas. Most modern camera sensors can handle an extremely bright input signal but to output it as video, the signal has to be kept within the camera's dynamic range, or scope of input signal levels, that it can process.
For that reason, in brighter areas that generate input signals above a certain level, the signal output level is kept lower than the signal input level. By changing the position of the Knee Point and the inclination of the Knee Slope, contrast in the high-luminance range can be adjusted.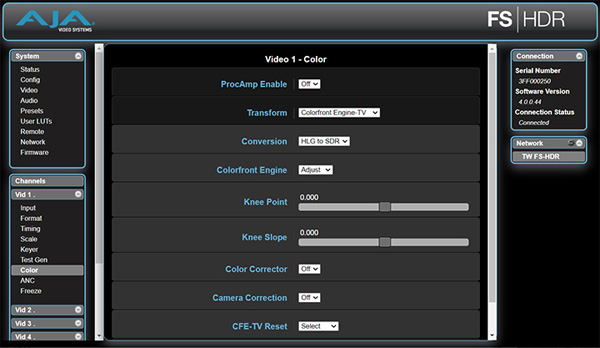 HDR TV Mode
With the Colorfront Engine TV Mode, more HDR image information is made accessible for use in SDR down-conversions, and SDR expansion into HDR can be more thoughtfully managed. Beyond a simple curve, the new mode is powered by an algorithm based on the human visual system that maintains the source colour relationships of the original material though the transform process. To protect the colour fidelity of SDR brand colours, for instance, used in graphics or in-camera, SDR-to-HDR and HDR-to-SDR transforms make direct round-tripping possible.
New v1.4 BBC HLG LUTs
For users who want to take advantage of recent BBC HLG LUT improvements, FS-HDR v4.0 includes new v1.4 BBC HLG LUTs and a new LUT 9 for HLG to SDR display-light conversions. BBC R&D have created a diverse set of LUTs to use when creating HDR programming, both pre-recorded and live. These LUTs, which complement the HDR workflow that BBC uses and licenses outside organisations to use, currently include the display-light conversions that preserve the colour and appearance of content after conversion.
Other updates include support for the metadata management schemes from a wider range of cameras than before, which will speed up the pass-through of camera and lens metadata through FS-HDR to downstream devices for on-set applications. Also, the ability to configure the HDR components of the SDI output VPID (SMPTE video payload identifiers) on a channel-by-channel basis, has proven important for workflows that require a consistent VPID.
The SMPTE payload identifier is inserted into the ancillary data and carries information to identify the video format and scanning method, interface standard and aspect ratio for the current video signal. If this VPID is not consistent – that is, if it appears, disappears or changes – as you transition between video signals, it may cause problems for downstream devices such as encoders and monitors.

VPID Override for Custom Workflows
The FS-HDR sets each channel's VPID based on the configured Video Format settings of the output, and the HDR components of the VPID are set by configured Transform settings. Some workflows require a specific HDR VPID to be signalled, independent of what Transform or source is selected.
For example, you may want to signal a constant HLG BT.2020 to the downstream encoder, but you may need to switch from your HLG BT.2020 live source to a playout server's SDR BT.709 signal, turning off the transform engine just to pass the SDR signal through. Meanwhile, you would still want the overall VPID to remain HLG BT.2020, and not signal SDR BT.709. This is a customised playout workflow example, where a changing VPID could cause an incompatibility issue with the downstream encoder.
With FS-HDR v4.0 you can now override the HDR VPID characteristics per channel, but still supply a constant VPID regardless of the original source. While the FS-HDR can operate in a four-channel mode with four independent channels of HDR processing, the Override VPID feature is always available on each independent processing path to help customise workflows and solve incompatibility issues.
This new feature is located in the ANC tab of the web UI, where you can turn it on and select the desired colorimetry and transfer characteristic for that channel. Status is presented in the top level Status page of FS-HDR for visual confirmation and control. www.aja.com