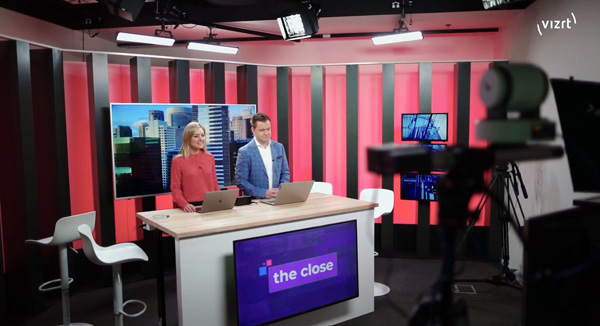 ausbiz is a news outlet devoted to the Australian financial sector, serving investors, bankers and business professionals around the country. Founded a year ago, ausbiz now specialises in live news and video-on-demand covering Australian business, markets, economy and startups.
Its purpose, according to Founder and Managing Director Kylie Merritt, is to connect investors with opportunities.
Her idea was to focus their news service on editorial rather than programming production, so that journalists can produce video content largely on their own without depending on a large, on-premise installation requiring a large investment in studio crews or technical engineers. The location at Barangaroo International Towers in Sydney's financial district gives them direct access to guests including CEOs, fund managers and analysts who can visit the office for interviews.
Real Time Data and Modern Graphics
In the role of Head of Content at ausbiz, Nadine Blayney wanted to reach all types of investors ranging from individuals managing their own money to financial advisers and business people interested in news about the markets and companies. This has involved building up a channel that caters to diverse niche sector audiences, which her team accomplishes by delivering accurate, topical information sourced from a range of guests.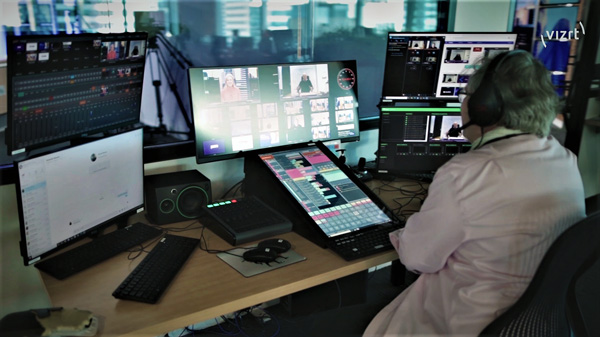 Running the service is a small team of 14 people including four presenters and six producers, who sought from the start to set up a straightforward workflow that a single journalist could operate. At the same time, as a new financial channel, the team recognised that accessing and presenting real time data and modern graphics in flexible configurations would be a priority if they were to be taken seriously. Since ausbiz's content is driven by the interviews – that is, video of people talking about the market and economics and not a lot of action – it calls for graphics elements that are engaging and enjoyable to watch as well as relevant.
Automated Answer
Data gathering and information sources are one side of the service, but program production is another. Many of ausbiz' journalists lack a television background, which at first presented the challenge of handling all the different aspects of production. To deliver their product to viewers as smoothly as possible, they chose and combined Vizrt software-based equipment including Viz Verdi, Viz Pilot and Viz Engine to build an automated digital media production system.
Viz Verdi is the central component that automates their studio functionality, with a layer of live switching on top. Viz Verdi integrates with Viz Pilot, a template-based newsroom graphics system that journalists use to produce content and deliver it using automation. The automation layer controls a number of different third-party devices such as their BirdDog NDI-connected PTZ cameras, an audio mixer and other peripheral hardware. Viz Engine handles the compositing and real-time rendering for processing and playing out the graphics and video.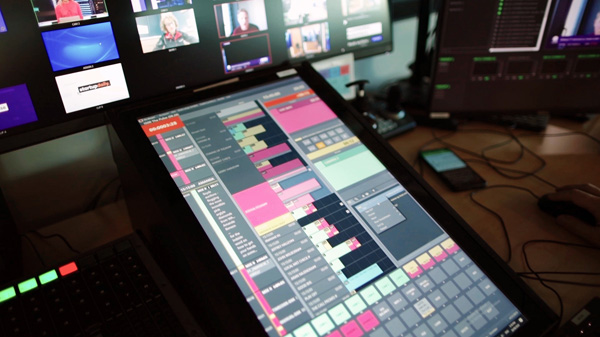 Software-Driven
Viz Verdi is designed for a single operator, who can also be the presenter, to create and manage live shows. Viz Verdi's switching and delivery functionality includes eight M/Es, keying including chroma-keying, audio mixing and a compositing engine for DVE sequences and animated effects. To fit into ausbiz' overall deployment, it integrates with Vizrt and third-party graphics creation and production workflow management equipment, and with many NRCS.
A software driven system with an interface for production and automation control, it integrates into IP environments by supporting SMPTE2110 and NDI based devices, making infrastructure and connectivity simpler and more cost-effective. SDI is also supported to incorporate legacy equipment.
The customised Viz Pilot templates serve as control and content entry interfaces for graphics scenes. The template works as a HTML newsroom interface to plan shows with graphics, animations, videos and images. It includes a live preview and snapshots, giving real-time control over how a prepared news rundown will look, and a workflow allowing last minute changes.
Video content is searched by keywords and the journalist edits the video and adds graphics to the video on a timeline. Multiple Transition Logic graphics can be placed on several timeline tracks, creating a graphics overlap that results in a sophisticated graphics presentation when the content is played out from Viz Engine.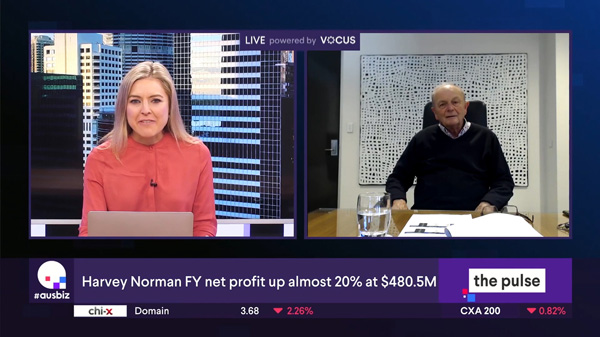 NDI Newsroom
The entire production environment uses multi-directional IP connectivity based on NDI interfacing instead of a traditional newsroom approach using unidirectional SDI cabling. Using NDI made set up relatively quick, as all the hardware components in the system were discoverable immediately and could be connected without manual configuration or user intervention to resolve conflicts. Within 20 minutes or so of delivering cameras and devices, installers had all sources available and ready for switching.
Owing to NDI compatibility, ausbiz also expects to have the flexibility to adapt to changes in the workflow and to add different equipment as needed. All the equipment for the entire channel fits into a single rack in which the Vizrt gear uses about 20 rack units.
Viz University
To prevent this new newsroom environment from overwhelming the journalists, Vizrt supplied remote training through the Viz University online training platform, which the journalists followed from home during the weeks before moving on-site. By the time the equipment and systems were ready to go, everyone was familiar with the processes and vernacular.
Later, the staff had a chance to work hands-on with the systems and work out the procedures out as a team. Once the journalists were able to understand how rundowns are incorporated and how to use automation templating, they were able to build productions pretty quickly on their own. Within the first week of going live, they were driving the entire system by themselves.
Vizrt also supplied project management and commissioning services for the facility. System design started in December 2019. In early 2020 Vizrt completed the build-up in their offices and delivered everything on site within a six-day period.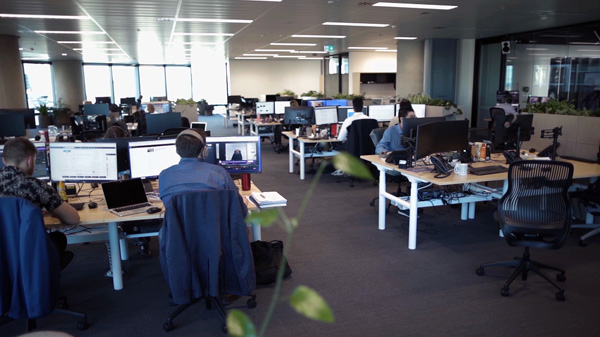 One Man Show
ausbiz journalists, now trained up as Vizrt content creators, take program ideas and follow them through to delivery. In contrast to a traditional workflow, they are part of the production from start to finish, and capable of putting together a one- or two-hour long news bulletin with one person driving the show. They book guests, conduct research and write copy, building entire bulletins, putting together all elements and dropping them into the automation system.
From there, they move from workstations to the studio to execute the bulletins that they've put together. An advantage of this approach is that they are already familiar with the content and know what to expect. As they know the desired timing and exactly what they're trying to achieve, they can make changes as they see fit.
Switching cameras, bringing up graphics, making minor adjustments, communicating with the presenters and adding breaking news on the fly are all part of their responsibility. Currently, ausbiz conducts about 50 interviews per day, 30 percent of which are in-studio. This is expected to increase when most of the Sydney-based guests will be able to come into the facility. www.vizrt.com