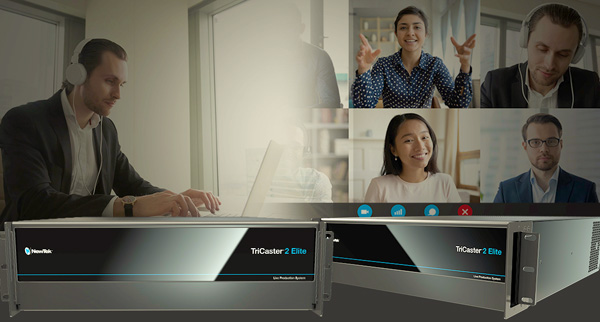 The NewTek TriCaster 2 Elite gives you better than broadcast capabilities to produce shows in an ever-changing production landscape.
In this online event hosted by the NewTek APAC team, you'll discover how to use TriCaster 2 Elite as a complete video production platform.
When:
Wednesday 28 October 2020
10am & 2pm Bangkok (GMT+7)
Choose your session and register below: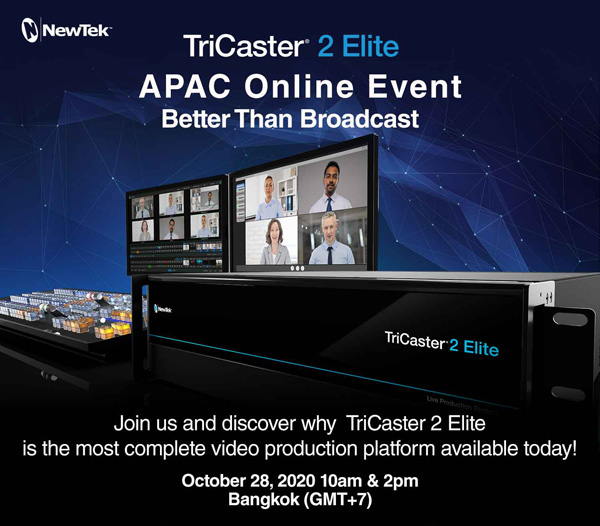 TriCaster 2 Elite can:
• Produce simultaneous mixes
• Deliver multiple 4K streams to different places at once
• Feed video walls
• Accommodate separate branding and language packages
• Record programs, sources, and replays
• Tell more and better stories
Live Call Connect: Anyone, Anywhere, Any Device at full quality.
Conduct live video calls with Live Call Connect from anywhere in the world. TriCaster 2 Elite integrates a range of popular video conferencing software applications including Microsoft Skype, Microsoft Teams, Zoom Meetings, Slack, Discord and Tencent.
• Enhance productions with high–quality video and audio
• Offers choices for you to present conversations, interviews, reports, and more—regardless of the caller's device
• Each caller automatically converted into a video stream, combined with system loopback audio, to bridge into the TriCaster system as an input
• Automatically detect and separate individual caller screens as discrete inputs
Multiple remote callers on different platforms no longer means lower production quality.
Speakers:
• Paul Dobbs, NewTek APAC Sales Director
• Raymond Siew, NewTek APAC Regional Sales Manager
• Wanlop Wattanadussadee, NewTek APAC Sales Specialist
www.newtek.com