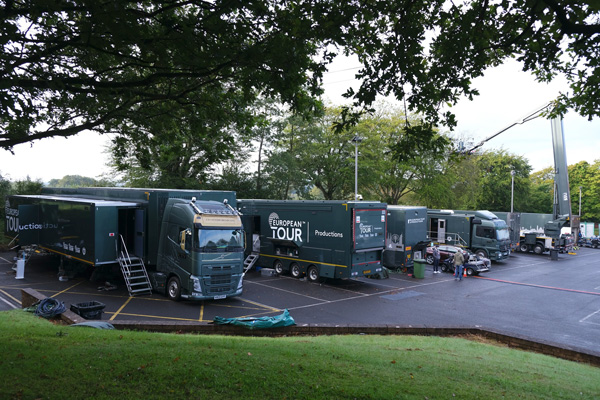 OB trucks and facilities provider CTV has been developing IP-based workflows, including the company's new OB12 all-IP, ST 2110 32-camera truck, which is currently in use on the European Golf Tour. During the development of CTV's IP workflow, the company needed test and measurement systems that would cater for IP, SDI, UHD, HDR and audio as it proceeded with the construction of new IP-ready trucks, flypack and remote systems.
"The test and measurement system we were looking for had to be suitable for all stages of IP development, with proof-of-concept testing of the set of features required to integrate a real system, and it had to be easy to use for daily operations of the tour. We were also looking for a manufacturer with an eye on future development, and good customer support," said Richard Morton, Head of Projects, CTV.
IP-Ready Systems
They chose the PHABRIX Qx rasterizer to supply test and measurement functionality for IP-based workflows, now and into the near future. CTV also invested in an Sx TAG, a handheld hybrid IP/SDI unit with ST2110 and ST2022 10GbE options for use with flypack systems.
"PHABRIX was one of the first manufacturers to produce a useful working instrument," Richard said. "The Qx has all of the necessary functions such as PTP, as opposed to alignment to a video reference. The Sx TAG portable unit is also very convenient and has features for both IP and SDI operation. The products are also cost-effective, considering the quality and breadth of their features. Confidence in the PHABRIX engineering is an asset to the workflow as well."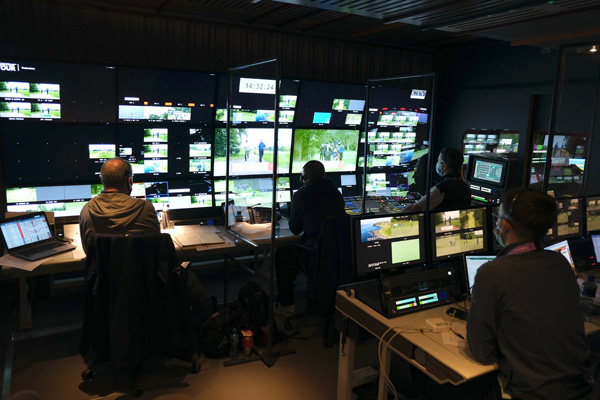 With timing-awareness, PTP is useful in CTV's IP environment because different video feeds can be aligned in time as soon as they are delivered, making synchronised playout possible for use cases such as multi-camera remote production and primary distribution. Also, IP-based synchronisation using PTP can be extended over wide area networks to set up distributed production or remote production in locations that, for instance, are inaccessible to GPS.
Qx in the Data Centre
CTV launched OB12 in September 2020, comprising two large expanding production trucks and a third separate data centre truck. The Qx system is installed in the OB12 data centre for ST 2110, PTP and network measurements, and can be accessed from any area of the three IP connected trucks using a KVM system. NMOS control and management layer allows the EVS Cerebrum broadcast controller to quickly route video, audio or ancillary flow to the device for immediate analysis.
Richard said, "The Qx is a pure IP device with essential ST 2110, PTP and system reference tools. The customised display layout is very convenient for arranging and recalling the measurement windows for different applications. We have used this system to great advantage in testing the interoperability of IP equipment, system timing and flows to quickly identify and gather evidence of specific issues."
Spine-Leaf Network
The CTV team found the initial setup of the Qx and its subsequent updates straightforward, and have in the end delivered a substantial, competant IP truck based on a large spine-leaf network capable of supporting equipment from many manufacturers across the market. "We have not experienced any stumbling blocks so far and, more important, customer support and guidance have always been close at hand," said Richard.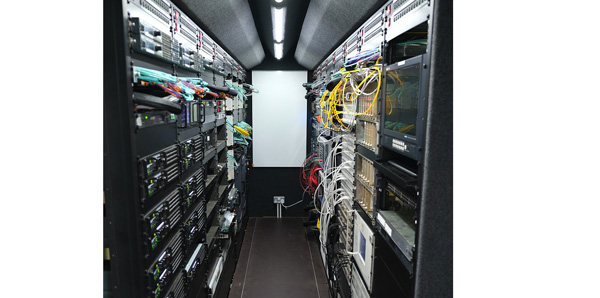 A leaf-spine architecture enables all ports on a spine switch to support connections to leaf switches, instead of only to other spine switches. The leaf layer consists of access switches that connect to devices such as servers, and the spine layer is the backbone of the network, responsible for interconnecting all leaf switches. Every leaf switch connects to every spine switch in the fabric.
Also, connections can be distributed among a large number of spine switches. Compared to a traditional three-tier architecture, Spine-Leaf uses fewer aggregation switches and redundant paths between the access and interconnection switches, reducing latency and energy requirements. www.phabrix.com