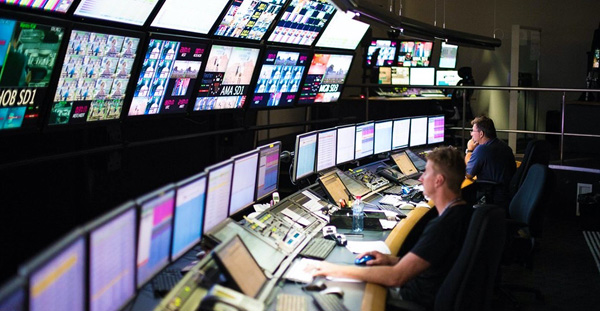 MediaHub Australia has migrated their Master Control environment from a traditional SDI platform to a COTS and SMPTE 2022-6/7 and 2110 IP platform based on EVS infrastructure.
Executive Head of Technology at MediaHub Simon Scott said, "Our main requirements were flexible gateways or server devices to convert any incoming signal format from various service providers, who deliver contact as as SDI, IP or ASI streams, to a standard IP format SMPTE-2022-6/7 or SMPTE 2110 for our MCR to process. In particular we needed operational control surfaces to provide the user experience of a traditional SDI routing system while managing the signals in IP workflows. The EVS-based system proposed by supplier Magna Systems satisfied all of these criteria."
The gateway devices needed to be very flexible, have a small footprint and carry out essential video processing tasks such as sync, audio shuffling, legalising, audio processing, picture and up/down convert, preparing signals as they enter the MCR platform and avoiding the traditional series of modular processing cards.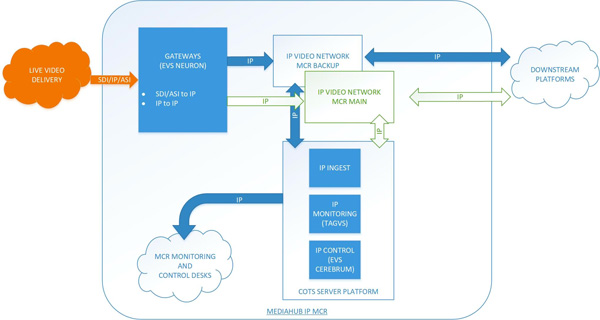 MediaHub Australia's MCR
Simon said, "The core MCR system is being built with standard COTS-based IT equipment including network switches and servers, and any processing that happens past the conversion gateways is done on standard IT equipment as well." Magna built the core of the system from EVS Neuron IP gateways, EVS Cerebrum broadcast control systems and TAG multi-viewers.
The Neuron gateways serve as boundary devices to convert traditional SDI/ASI feeds to IP standards, or IP-to-IP bridging with IP multicast translation. They also handle the facility's video signal processing under the control of Cerebrum, which performs routing control of new and legacy systems, hard and soft-panel user controls, rules based workflows and IP SDN with IP and SDI timeline management.
"The TAG VS multi-viewers generate a low latency mosaic of uncompressed and compressed IP feeds as 4K IP outputs for 4K displays in our MCR," said Simon. "The entire system runs on standard IT servers via 100G Network links back to the video core."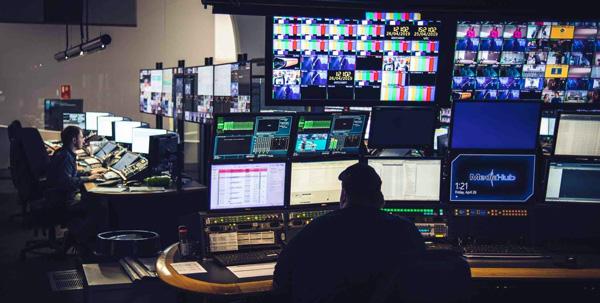 MediaHub's MCR will be able to operate new 4K, HDR, native IP and other workflows, supporting an uneventful transition between the current operations to the new IP model with more scope for expansion. For Simon, as important as its physical design is the flexibility Magna's EVS system will give MediaHub for processing and monitoring various types of streams from ASI, IP compressed, SDI, IP uncompressed sources and HD, SD, 4K, HDR, SDR and audio formats.
Magna's EVS-based IP system for Media Hub Australia is due to be installed and operational in the first quarter of 2021. EVS only announced their acquisition of Axon, the original developers of Neuron and Cerebrum, in May 2020. EVS Director of Sales UK, Ireland, Africa & Australia for Media Infrastructure Adrian Richmond said the company is pleased to see that their products are forming the foundation and backbone of this new system. www.magnasys.tv