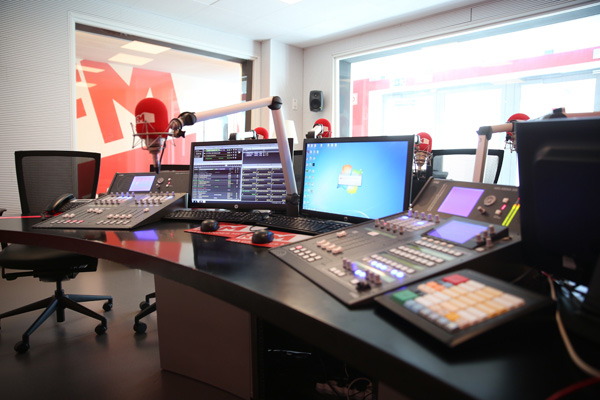 Studio RFM
Grupo Renascença Multimedia is among the largest players in Portuguese radio. The firm operates three of the country's main stations – Rádio Renascença, known locally as RR, Mega Hits and RFM, which consistently rates as the most listened-to station in the country. Across its portfolio, Grupo Renascença Multimedia broadcasts everything from news and sports to music and other entertainment. The stations include an element of religious programming as well, as the primary owner of the radio group is the Catholic Church.
"We actually have a chapel in the building that is connected to our audio system and occasionally used for broadcasting religious events," said José Loureiro, Assistant Manager at the Radio Innovation & Technical Unit for the stations. "But in fact, as unusual as that might be, it's not so challenging or complex to include it in the audio workflow because we are now using Dante networking."
Digital Audio Network
Dante is a digital audio network that distributes uncompressed, multi-channel digital audio channels via standard Ethernet networks, with near-zero latency and precise synchronisation. Dante allows audio, control and other data to coexist on the same network, and replaces the traditional cable connections between microphones, mixers, processors, amplifiers and speakers with a computer network. It sends video or channels of audio over Ethernet cables, while preserving digital fidelity.
Because all connections are managed with software, routes are faster and more readable and reliable, and because all devices share the same network, signals can be sent between them regardless of their location, with no change to physical wiring. José said, "Using Dante gives us confidence and agility, makes our job a lot easier."
IP Transmission
The Dante hardware or software in a device segments and wraps digital audio into IP packets for transmission across a standard IP network, complete with timing information and source and destination network addresses, which allows them to be efficiently routed through the network.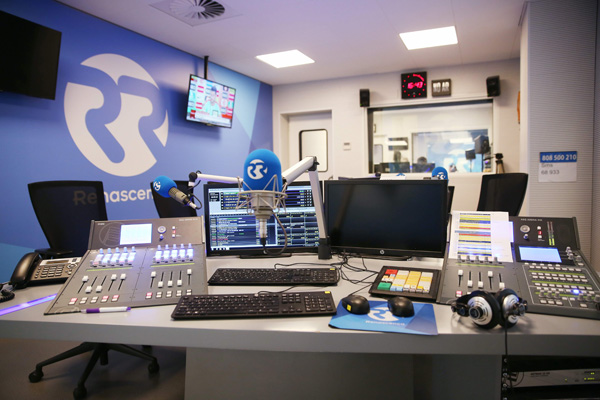 Studio Rádio Renascença
When a device receives Dante audio packets, it reconstructs them back into a continuous digital audio stream, which is then played out, recorded or digitally processed, depending on the role of that device in the system. Users configure signal routes and other settings with the Dante Controller software. All routes and settings are stored in the individual devices, allowing them to run without a connected computer – re-establishing the routes when a system is moved is unnecessary.
Fewer Cables, More Connections
In 2016, RR moved into a new headquarters in Lisbon. The previous office location, which they had occupied for nearly 80 years, was in the city centre and spread across multiple floors within a historic building. According to José, the facility showed how challenging traditional cabling can become over time. "Some of the cables had been in place for a long time. No one wanted to touch them because we didn't know exactly what they did and so people just left them alone. Over time, that becomes a bigger and bigger problem," he said.
The team faced this challenge when Grupo Renascença Multimedia began looking for a new facility. Various equipment used in the new system are made by manufacturer AEQ, who recommended moving to a system supported by Dante to essentially replace traditional cabling. Instead, signals could run over standardised network infrastructure – resulting in fewer cables, more connections, and better visibility of exactly what equipment was on the network.
Jose said, "Apart from solving the problem of cables lying around, we would be able to know the exact purpose each signal we were using actually served – and if we could do that, we could run a more agile business."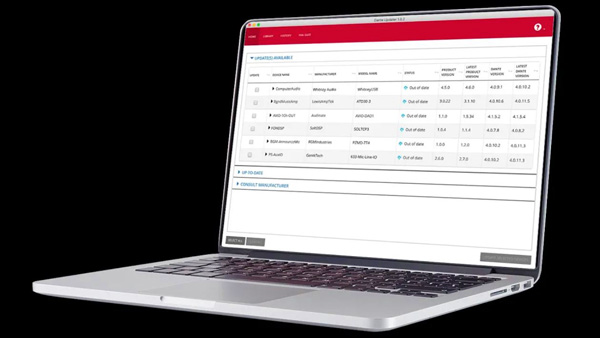 Dante Controller software
Interoperability
Dante networking not only has the audio-over-IP capabilities the company was looking for, but also interoperability. Dante is available to manufacturers in several formats – hardware modules, chips, reference designs and software – that suit different product types, and is used in products made by more than 500 manufacturers. That means that RR would not be confined to a single type of product or manufacturer.
"For example, if a mixing console goes down, it doesn't incapacitate the whole system," said Jose. "I can plug in a new console and we're back up and running. The ability to replace something easily, without a hassle and without cabling it, gives us a lot of confidence."
RR has 11 studios and four 'phone booths' – or mini-studios – it supports with Dante networking. In total, the system makes use of 50 or more Dante-capable pieces of equipment and manages around 1,000 signals – mono and stereo – each day. For example, the studios use AEQ Netbox 32 interfaces, which turn all the audio from the studio – microphones, CD Players, TVs, DJ Sets, and more – into Dante signals. AEQ Capitol IQ mixing consoles can then allow mixed signals to exist immediately on the network.
In a few locations, Dante-native Behringer X32 mixing consoles are in use, with two RDL RU-LB4 line-level bi-directional network interfaces and an AEQ 4MH interface.
No Going Back
"Currently, I don't think we have any audio cables running between rooms," Jose said. "We're at the point where I can't even think about doing it the old way any longer. Going back to traditional audio connections would be very difficult for all of us here because of how much Dante networking has improved operations."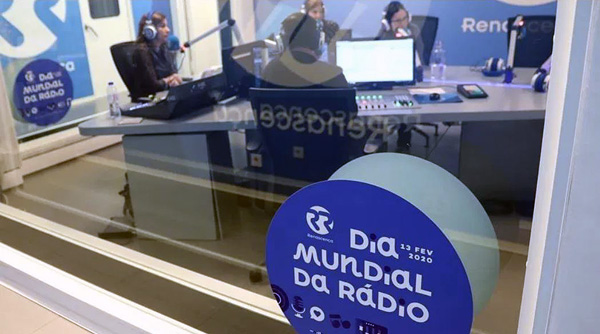 For example, a reporter or producer sometimes wants to play out something from YouTube or bring a Skype channel into a production. Because Dante is integrated into computers on site, they can add those connections to the network through the interface.
Jose is also looking ahead and plans to add other locations to the workflow, such as meeting rooms and a small auditorium, with Dante capable microphones. "The main advantage we have now is flexibility," he said. "We're in a world where we can change our production, just by connecting devices to the network with a single cable. Earlier on, making changes was a problem, whereas now it is quite easy."
Adding it Up
When reflecting on the financial difference the system makes – that is, what it would cost to replicate what he has now with a traditional set-up – Jose said, "Obviously, it would be far more expensive. Considering all the cables and work hours that would go into setting it up, I can't really put a number on it, but you could estimate you would be cutting costs by as much as 90 percent by adopting Dante. But even with that estimation, its greatest benefits relate to the new efficiency of his company.
"We're working a lot faster and with a lot less stress, factors that are hard to put a price on," he said. "The fact that you can access a signal anywhere on your infrastructure is significant because a defining feature of radio is its agility in response to news or new music. Systems like Dante allow us to amplify that quality." www.audinate.com