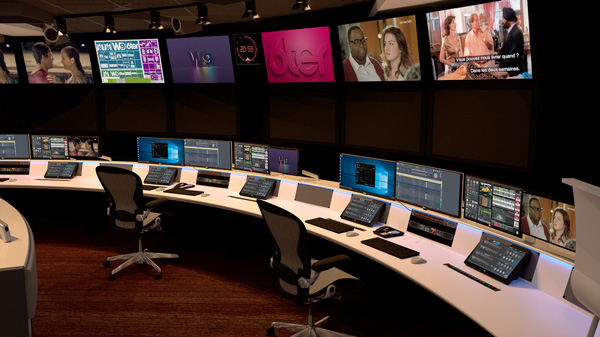 French broadcaster Metropole Television SA, also known as the M6 Group, currently handles the playout for 11 channels including the company's premium channel, M6, and other speciality channels such as W9, Série Club, 6TER, TEVA, Paris Premiere, M6 Music and M6 International.
M6 Group has recently changed over the infrastructure of its Master Control Room from SDI to IP, based on the SMPTE ST 2110 standard, choosing to make the change in order to incorporate new HD services, delivery platforms and video formats such as Ultra HD 4K and 8K with more agility at M6.
Playout Centre Monitoring
M6 technical manager Franck Martin said, "Investing in IP infrastructure has made it quicker and easier for us to add more channels and will make introducing UHD channels simpler in the future. We have also improved the monitoring and ergonomics of our playout centre by installing Evertz VUE software, which allows us to manage our video wall to turn on the screens when alarms are triggered."
VUE gives teams access to all of their broadcast devices, with controls – such as XY Routing, A/V processing, Simple Network Management Protocol (SNMP) and others – and visualisation in a single interface. A single operator can manage the complete broadcast infrastructure and operation from content creation to distribution.
An orchestration layer consisting of a unified software stack acts as the management hub – this layer controls, manages and monitors all equipment while VUE interacts with it to display only the tools necessary for the operator's task at any one time.
"The software's black screen is less tiring for our technicians and its ignition on alarm attracts more attention, compared to a permanently lit wall. Also, VUE displays video sources and allows switching directly on a touchscreen," said Franck.
Switch Fabric
M6's new MCR uses Evertz EXE-VSR IP switch fabric, which supports 46Tb/s of switching capacity for video transport over IP. Using SMPTE ST-2110, EXE-VSR supports up to 13,800 uncompressed HD-SDI signals – and more than that when a compression standard such as JPEG-2000, H.264 or MPEG-2 is applied.
It supports multiple timing planes, handling independent SMPTE compliant switching for different digital video signal formats and increasing the system's flexibility and scalability. Using SDI routing architecture for redundancy, users can re-route individual signals manually or automatically, while verifying the quality of the redundant path before switching.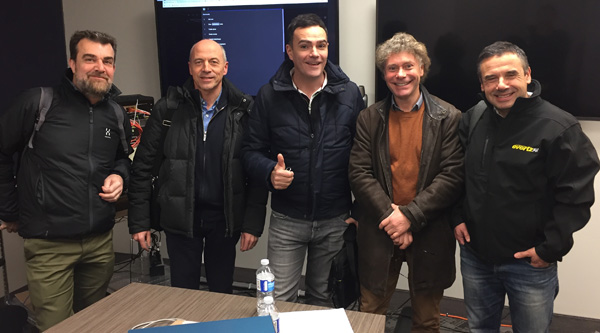 L - R: Nicolas Corneille, Nicolas Viault, Fabrice Tauzies, Frederic Loup from Evertz, Pacal Cima
System Build
The system installed comprises 11 sections – one for each channel path – all of which are similarly equipped. Common to each section is a customizable image processor for displaying multiple images and an Evertz evBLADE with high density FPGA processing nodes for audio, video and ancillary data processing. A high density Evertz IP media gateway converts between SDI and all of the common IP formats, with another converter for ST 2110 to HDMI conversions.
Evertz clean switching protects the integrity of output video, including in cases of catastrophic error. Each section includes further third party equipment such as Harmonic media servers, Ross Video graphics engines, an Aeromax audioprocessor system and an SCTE104 advertising inserter, controlled over NMOS IS-04/05 discovery, registration and connection management.
The 11 sections are built around a central system, where the EXE-VSR main and redundant IP switches are located and which contains two Evertz MAGNUM controllers, two VistaLINK PRO servers for management of the full network and Evertz 5700MSC-IP Network Grand Master Clock and Video Master Clock. The complete system is linked to eight of the VUE software defined interfaces.
Channel Migration
Fabrice Tauzies, Chief Engineer for the playout centre, said, "We built the new MCR in the same location as the old one, so we faced some practical issues regarding space. Obviously, we couldn't shut down and strip out the old MCR because that was still handling playout for all our channels, so we had to work around it. In our old system, each channel required two racks, but the new equipment is more compact, and we now only need one rack per channel."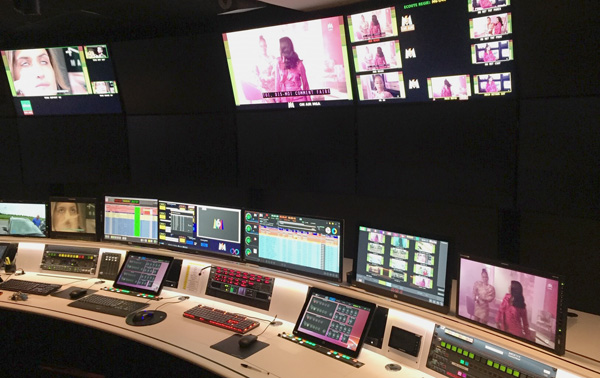 As a result, M6 could migrate to the new system on a channel by channel – that is, section by section – basis, freeing up rack space for the next channel as it went along. "It was a challenge, but we took our time because we wanted to do it properly and weren't in a hurry. This new design also means we have room to expand when M6 decides to add more channels in the future," Fabrice said.
Because having a system that can be used for future projects was M6's plan from the start, the company is intending to build a second backup IP playout facility – although this is still some way off in the future.
"We have made a big investment and need to get used to what we have before we build anything else, but we now have a roadmap and any future system will be easier to implement," Franck Martin said. "Having an IP based MCR has already been an advantege in terms of future channel expansion and format expansion with UHD." evertz.com