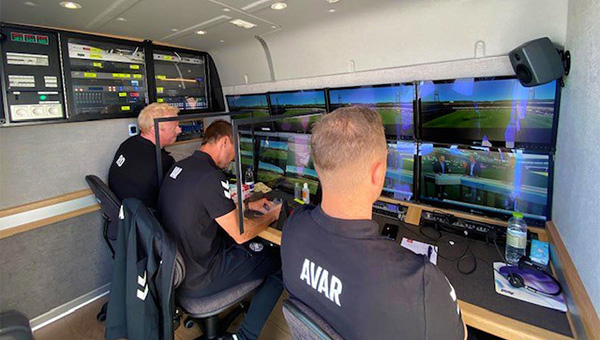 NEP Denmark is managing the deployment of a video assistant referee (VAR) system, EVS Xeebra, for the Danish League's top football tier, the 3F Superliga. The system's VAR capabilities have been in operation since the start of the season and will be used in all matches through the 2020/2021 football year.
NEP Denmark have a great deal of experience in producing live coverage of Danish football. For this project, NEP has designed and custom-built VAR vans, each equipped with a Xeebra system. Essentially a multi-camera review system, each Xeebra supports up to 16 cameras, including Super Motion cameras, and all camera angles can be accessed instantly during a match. This setup enables the VAR, assistant VAR and replay operator – who are all stationed on-site – to accurately assist the on-field official in their decisions.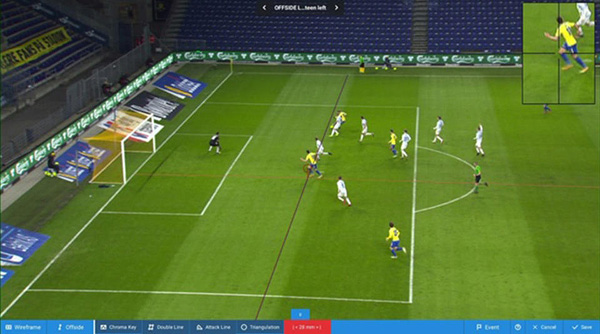 Offside line on the Danish Superliga pitch.
Virtual Offside Line
With Xeebra, which is based on EVS' expertise in replay system, they can review any match action and select the most relevant camera angles using ordinary touch-and-pinch gestures to zoom in and analyse every angle in detail. As all of the camera angles are completely synchronised, the software visualises everything the officials need to make the right call, meaning reviews can be completed quickly and efficiently.
As part of the Xeebra deployment, EVS is also supplying its AI-driven virtual offside line, which is certified by FIFA, to automatically calibrate the field of play and produce a virtual offside line for players in real-time. A player is considered offside and can't receive the ball from a team-mate unless there are at least two opponents (including the goalkeeper) either level with him, or between him and the goal, or unless his team-mate plays the ball backwards to him.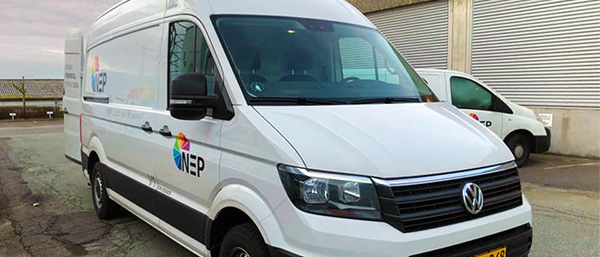 The EVS virtual offside line does not require configuration prior to the match and does not require an extra operator. Using this functionality, the 3F Superliga VAR operators can add an offside line very quickly, enabling them to review player positions and be assured that they are seeing precise imagery.
Training and On-boarding
Claus Thomsen, CEO of the Danish League, said, "VAR is a technique with a potential to change our sport, and implementing it efficiently requires a certain investment - EVS and NEP have been excellent partners during the installation. We're looking forward to seeing how the season ahead will unfold. EVS' Xeebra stands out in the market with its FIFA-certified AI-driven offside line software and controls that are easy to use but don't compromise on quality."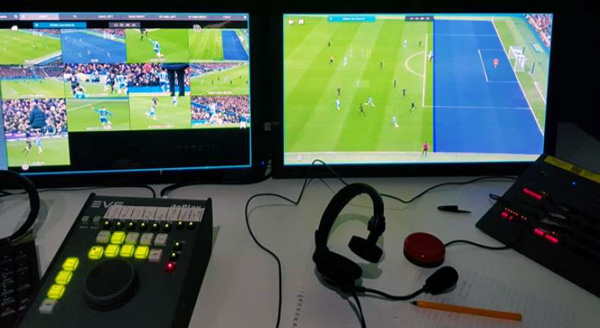 Although Xeebra's interface and ease of use means operators can learn it quickly, since the selection of Xeebra as the official VAR system, both the Danish League and NEP have organised extensive training sessions in accordance with the IFAB/FIFA protocol for the 3F Superliga officials and replay operators. The sessions combine theoretical training, simulator training and practical training using the Xeebra system. www.evs.com