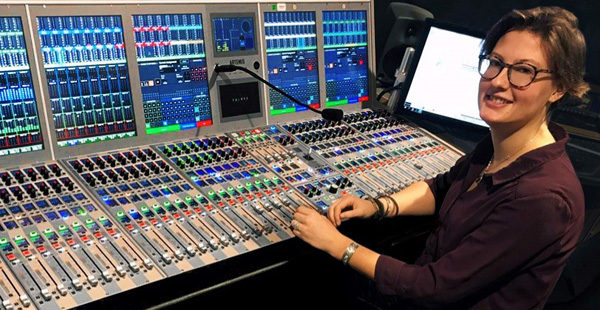 Marine Martignac at the Calrec Artemis console
Audio technician Marine Martignac in France works freelance at several companies that involve her in many, varied ways of working. She believes that taking full advantage of IP systems now is in the industry's best interest. "I think we're living a revolution," she said.
Marine's first job after graduation in 2016 was a part-time role with outside broadcast specialist Boîte à Outils Broadcast (BOB). She also works freelance for a range of companies from France Télévisions to beIN Sports and Gearhouse. The combination of steady part-time work with casual posts has given her a chance to discover new approaches to her work, and to use a variety of equipment.
"It has also given me the opportunity to take part in longer-term projects – BOB handles not only one-off services such as sporting and cultural event recordings, but also control room integrations. My job is mainly to take care of the audio aspect, whether it's providing a service or working for the design office. This means that I listen to what our client needs in order to draft an invitation to tender. Once the company is chosen, I keep monitoring and making sure the team is doing its job correctly and satisfying the tender requirements.
Around the Industry
"At France Télévisions I am a Sound Operator, assisting the Chief Operator during broadcasts and working with the audio equipment on-set. At Mediapro, I have the same job, but for Mobile. Mediapro is the technical service provider for the contribution side of the top two football leagues in France. I'm responsible for setting up the OB van as well as patching the sources, configuring intercoms before the match, and mixing the international feed during the matches."
In 2020, Mediapro set up its own TV channel after obtaining L1 and L2 broadcasting rights, and took over beIN Sport control rooms operations. Thus, when AMP Visual TV became beIN Sport's technical service provider, that company became a new employer for Marine. She mixes matches from different European football competitions, or US sports such as the NBA.
Marine with the Type R
"Mediapro has just set up its sports channel Telefoot, where I am a Sound Operator, in August 2020," said Marine. "I mix all non-voice sources like the playout servers – for example, EVS Live Slow Motion (LSM) or IP Director – music, international versions for the matches and so on. I also have to manage the intercom for the control room. Meanwhile, the Chief of Audio is responsible for mixing all of the voice sources including mics, Skype and duplex using a Calrec Artemis."
Marine first took an interest in Calrec products at an IBC show when looking for a console to equip a fixed installation for the daily TV talk show called 'Clique', broadcast on Canal+. Calrec's Brio 36, new at that time, met the client's criteria and was in continuous use on the show for three years.
IP Integrations
"Then SMPTE 2110 IP standard was released and has undeniably become the future for productions – especially for its simplicity of wiring and its flexibility," Marine said. "We therefore continued with Calrec's Type R console, natively using SMPTE 2110.
"We had been working on IP integrations for various products, when Covid-19 restrictions began changing many procedures and other matters became more important. As technical service providers for 'Clique', during the first lockdown, BOB proposed setting up a remote production specifically to follow the new Covid protocols without interrupting the filming.
"The show had already been simplified in terms of the number of contributors and guests on set. We therefore designed a set-up with the Type R and a Clearcom matrix, which allowed remote control of the console without transporting audio separately from monitoring, and supplied an intercom system."
Calrec's ST2110-compatible Type R is a modular mixer in which all of the faders on screen are connected via IP to the core, and stagebox interfaces are connected to the core with a ST2110 feed so that broadcasts can be completely automated. The mixer is compatible with 3rd party automation systems including Ross Overdrive, Sony ELC and Grass Valley Ignite.
Made for IP
"The Type R is a good match for this use case because it is made for IP. While the 2110 connection between the core and IO boxes isn't mandatory for what we do, the ability to network multiple IP devices for each console is very useful," Marine said. "All the consoles are managed via a web Interface and, in the case of a network problem at the Sound Engineer's home, we can take control from the control room using the web GUI or a portable physical fader panel."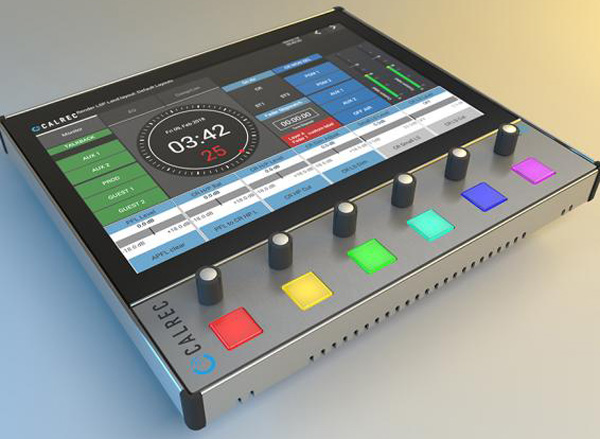 Calrec Type R LSP (large soft panel)
Since August, she has worked with the Calrec Artemis console for Téléfoot, and is working on an OB van project that contains two Calrec sound consoles.
"Probably our most exciting project was setting up remote production during the lockdown. It's amazing how much the systems and gear have progressed to allow us to do this. In theory, we knew the equipment could do it, but achieving this – especially having identified potential difficulties in working remotely from the studio – was really very rewarding. We were moving to a workflow that was wholly unfamiliar.
"Remote production is a real revolution in the way we work. Furthermore, managing intercom feeds remotely also means you have to understand problems described by non-technical users who don't have direct access, and solving them remotely!" To keep up, she and the team had to constantly anticipate requests. Each evening after the show, she took a step back to understand how to improve their operations, adding to their competence.
The Networking Challenge
Currently, she sees network configuration as their main challenge. "We have used IP for years for control or moving signals, but now we are using it to transport audio as well as video. SMPTE 2110 is more demanding in transport terms than it is for control. The monitoring is more complicated, and the network is technically demanding. Timing is down to a very precise one microsecond, so you have to be very specific and there are not enough monitoring devices out there.
"For my part, I think that IP will force us to think differently about how we work. We will have to go back and understand new working methods imposed by using IP, from a basic level. For instance, we used to work point-to-point, but now we will have to think in terms of flow. This is a new language – connections must be designed as part of a bigger flow, comprised of several available channels.
"If the architecture is intelligently designed, it enhances flexibility in the interfacing. Today, we have to use several audio and video formats and each format needs to support the transmission. Today, we still have to use specific equipment to transport these types of signals but tomorrow, a single fibre and a switch will be enough and all the transport will be done using the same 'container' of instructions, whatever the content.
"All equipment will be interoperable, regardless of the manufacturer. In turn, some job functions will have to change. We will have to familiarise ourselves with IT operations, until now a closed world."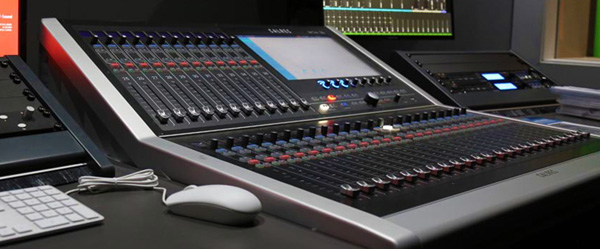 Calrec Brio 36
Remote is Here to Stay
For all of these reasons, Marine believes we are living a revolution. The push toward IP will inevitably bring about more remote production and more flexibility to workflows. This will change the way tasks are handled, especially in a post-Covid world, forcing teams to adapt and to work "with much more solitude in a neutral space".
"In five years, IP will be omnipresent, whether for control room or audio control, and I think that productions will take advantage of this revolution to increase remote production," she said. "I imagine buildings where multiple control rooms will be in use to mix a number of events remotely, therefore limiting travel. Rather than moving 20 staff to cover a football match, only a few technicians would travel with a smaller OB truck containing all the necessary processing functionality, operating as the mobile heart of the control room.
"Only enough technicians will be needed in the field to install the microphones, plus a technician in the OB truck to connect the equipment to a fibre box that connects the core to the network, allowing engineers to control the technology remotely."
Specifically in terms of audio, having a standard that all manufacturers can use will allow us to be more flexible. Therefore, the flexibility of IP should simplify all installations. Considerable work remains to be done, but a lot of adapting to IP is about adapting it from a human perspective. Merine said, "I think a lot of people regard IP as a huge box of mysteries, but it's in all of our interests to quickly move toward IP." calrec.com