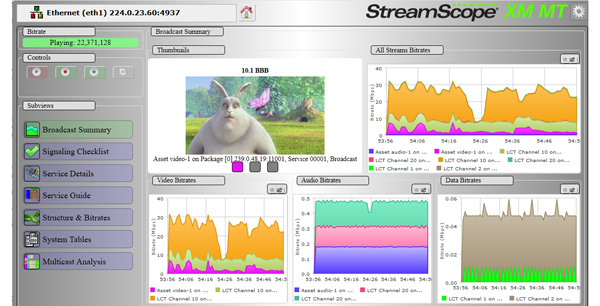 Hearst Television, whose multimedia operations serve over 30 US cities, has chosen WMOR-TV station in Tampa, Florida as its first ATSC 3.0 broadcast transmission host. The ATSC 3.0 standard, also called NextGen TV, merges the capabilities of over the air broadcasting with the Internet. It combines what viewers and advertisers expect and like most from existing viewing services, both the over the air and via broadband.
The resulting standard converges the primary method now used for live events – that is, TV sets – with the variety of programming available online. ATSC 3.0 has also been designed for UHD video transmission with HDR, interactive features and immersive audio. It is the first broadcast standard built with an IP backbone, and integrates with Internet-delivered content, resulting in more streams, choice, channels and flexibility than broadcast alone.
Robust Delivery
Designed on a group of standards that will be updated over time, ATSC 3.0 makes use of modern compression techniques that preserve image quality, and modulation robust enough to compete with traditional broadcast quality of experience. It is adaptable for single-frequency network transmission systems that can overcome physical obstacles, for example, delivering signals within buildings and moving vehicles.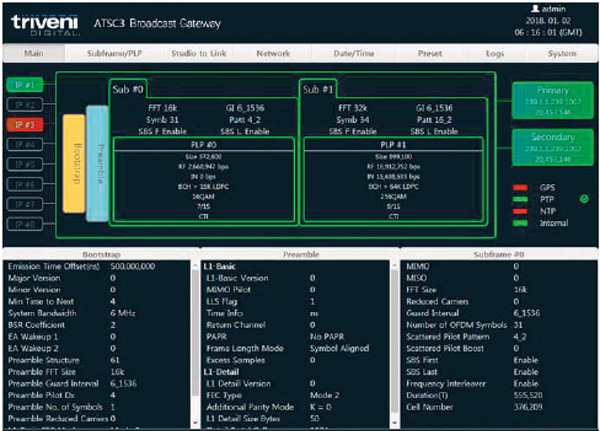 Broadcast Gateway scheduler
That means better reception to households, and wide mobile coverage. New gateway receivers allow delivery over the air TV to existing tablets and smart TVs via Wi-Fi – in other words, TV almost everywhere.
Hearst Television is installing a software-based ATSC 3.0 system from Triveni Digital for WMOR-TV's upgrade. With Triveni Digital's ATSC 3.0 Broadcast Gateway scheduler, GuideBuilder XM ATSC 3.0 Transport Encoder, and StreamScope XM ATSC 1.0 and ATSC 3.0 Combo Analyzer, WMOR-TV will serve as Hearst's pioneering testing ground ahead of their wider transition to NextGen TV.
Strategic Partner
Brian Darragh, chief engineer at WMOR-TV said, "We chose Triveni Digital as our strategic technology partner based on their ATSC 3.0 deployment experience and their contribution to ATSC 3.0 development." As a key contributor to standards development and active participant in NextGen TV trials, Triveni Digital applies an open and standards-compliant approach to digital television.
WMOR-TV is using Triveni Digital's unified, software-based systems in an on-premises virtual server environment, avoiding the need for rack space while saving power and operational costs. The system supports both ATSC 1.0 and ATSC 3.0, so that the operation complies with the FCC mandate to broadcast both standards during the transition.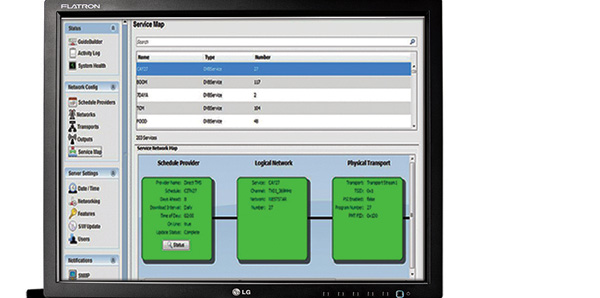 GuideBuilder XM ATSC 3.0 Transport Encoder
Channel Sharing Environment
The station has put Triveni Digital's ATSC 3.0 Broadcast Gateway server and software in place for NextGen TV scheduling. The software encapsulates ROUTE and MMTP (Multimedia Multiplexing Transport Protocol) inputs and sends STLTP – ATSC-compliant Studio to Transmitter Link stream protocol over IP – outputs to ATSC 3.0 exciters that generate the carrier frequency of the transmitters. This functionality simplifies the station's implementation and management of ATSC 3.0.
The Gateway can receive multiple IP streams from encoders, such as GuideBuilder XM, to generate L1 and L2 signals for transmission, making it possible to apply ATSC 3.0 services in many types of TV networks. GuideBuilder XM is important for managing ATSC 3.0 services in a channel sharing environment, which will be necessary throughout the broadcast transition to the NextGen TV standard due to bandwidth limitations. Also, with GuideBuilder XM, broadcasters can manage both ATSC 1.0 and 3.0 metadata in centralised, distributed or cloud-based systems.
StreamScope XM Analyzers perform critical RF and IP measurements for service quality assurance in ATSC 3.0 trials and deployments. They output complete real-time analysis of ROUTE, MMTP and STLTP streams from RF, Ethernet and file inputs at multiple delivery points. TV engineers can, for example, perform signaling verification, services and system table analysis, and multicast or rules event analysis. www.TriveniDigital.com