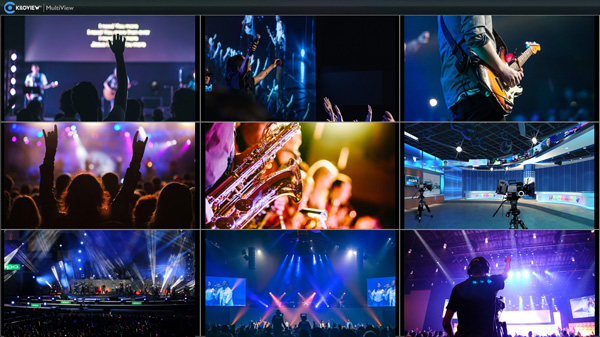 The Kiloview Multiview Player, now released in a Beta version, is multi-screen playback software for NDI and NDI|HX streams. The Player receives and decodes nine or more NDI and NDI|HX streams and displays nine split-images from encoders, cameras and devices including NewTek TriCaster, vMix and OBS (Open Broadcast Software).
Kiloview Multiview Player is compatible with various high bandwidth NDI and NDI|HX sources, both 4K and HD, handling unlimited NDI streams via multi-screen split display, picture-in-picture (PIP) and multi-window playback. To manage the bandwidth, the resolution can be set progressively lower on each sub stream. The software can be connected to smartphones, computers, NDI-enabled encoders, cameras and production systems.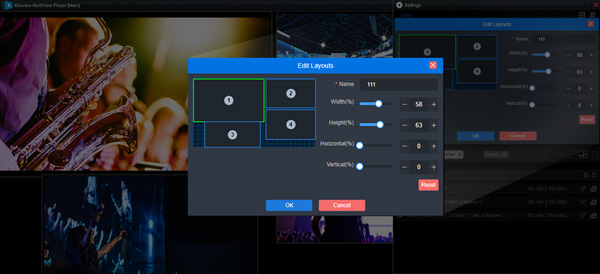 "While many different SDI multi-viewers exist, not as many NDI-enabled multi-viewers have been developed yet. Kiloview Multiview Player aims to thoroughly optimise performance by decreasing the overhead demanded of your computer's CPU – instead it works mainly on the GPU," said Jacob Zuo, CTO of Kiloview. "It is versatile and flexible enough to allow extensive customisation of the layout on a nine split-image screen and, not limited to particular locations, to support remote control via mobile phone/iPad. Kiloview Multiview Player will support further protocol conversion in the future."
Made specifically for the AV industry, Kiloview Multiview Player includes Preview (PVW) and Program (PGM) modes. You can preview decoded video sources in Preview mode in a window and drag any video to Program mode in another window, and customise layouts with up to nine images per screen (16 image customisable), and tally light indicators for all NDI-enabled encoders.
Its focus on the screen's frame, centre cross, safe area, smart border and other indicators makes it especially useful in video production. The screen's border can be set as visible or invisible with adjustable colours. The audio on each video can be enabled or disabled, and every video can be renamed and its name displayed as an option. en.kiloview.com