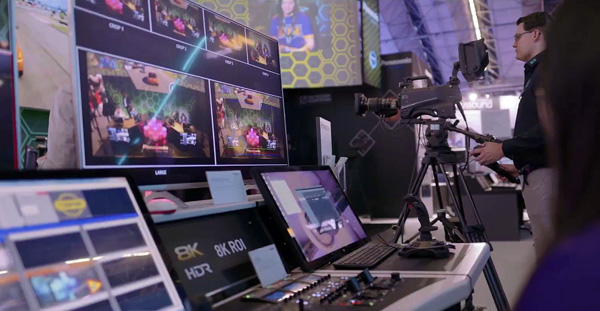 LiveX production and broadcast company has purchased Panasonic's KAIROS IT/IP live production platform to automate its new 4K broadcast streaming studio and expand the company's remote capabilities for the future. KAIROS is called an IT/IP platform because of its input/output source management and the efficient use it makes of its CPU and GPU, increasing the level of control and flexibility it gives users over input, output and operation in live workflows.
Previous work at LiveX includes the Democratic National Convention and United States Golf Association US Open Championship. "Remote broadcasting has been a part of our business for the last four years," said Corey Behnke, co-founder and producer and at LiveX. "Panasonic's KAIROS platform was the first system we saw in which all functions work closely together in tandem and that has the ability to remotely control its operation from most locations in the world."
IT/IP Input/Output and CPU/GPU Processing
KAIROS is built on two major elements. One is its IT/IP input/output source management, based on networks using SMPTE 2110 protocols and capable of bringing in any source on the user's network instead of relying on a traditional router. From there, you can take advantage of the multi-casting capabilities of ST 2110 streams and send one input to as many outputs as necessary.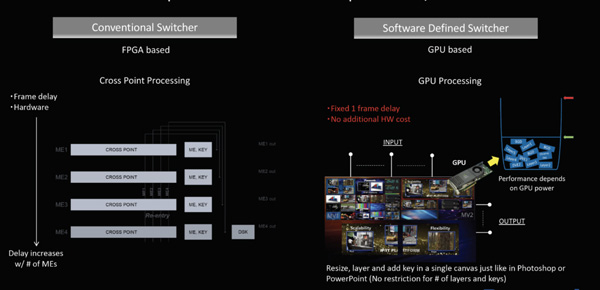 The other element is its use of CPU/GPU-based processing for video switching, allowing more flexibility on how the system is used, compared to traditional hardware. While users have always been able to define each M/E and its keyers, the resources for the switcher's application cannot be dynamically changed to suit a different task.
Tuning the System
KAIROS' CPU/GPU-based approach, in contrast, allows users to tune the system either to manage multiple outputs with only a few M/Es, or to handle multiple layers and multi-viewers. Users resize media, and add unlimited layers and keys in a single canvas, in an interface similar to a desk-top post-production application. An advantage of a CPU/GPU based live switcher is that the user does not need to be aware of what resources will be used for a particular effect, or how to manage the effects to avoid latency.
The way an operator uses KAIROS isn't restricted by the number of MEs or keys it has – operators can scale and move layers, or add effects and keys to each layer of a composite. The system's processing latency is as low as one frame, low enough to keep all elements of the production synchronised, resulting in a more immersive experience for the viewer.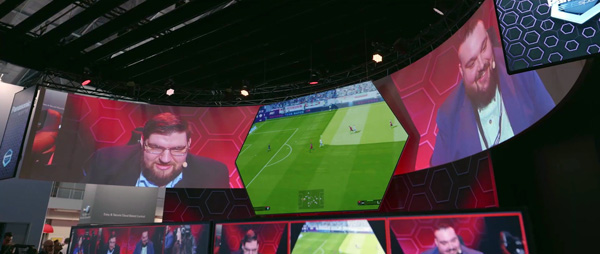 With open live switching architecture with I/O flexibility, KAIROS operations are resolution and format independent. KAIROS can simultaneously process mixed input sources with different resolutions, such as HD and UHD, and support video production design not only in a standard aspect ratio like 16:9, but also in the 32:9 format suitable for display walls, for example.
Platform Configuration
The platform configuration consists of the KAIROS Core processor with its software user interface, KAIROS Creator and KAIROS Control, the two M/E hardware control panel. Within the wider production system, the KAIROS Core is at the centre, connected to the network switch with the IP inputs.
Having one platform to process all outputs, and share all sources that are available on the network, makes the production quite efficient, avoiding aggregated latency due to devices, cable and converters added to the pipeline to run a particular workflow. The single platform processes non-standard resolution LED boards, iMAG and remote feeds.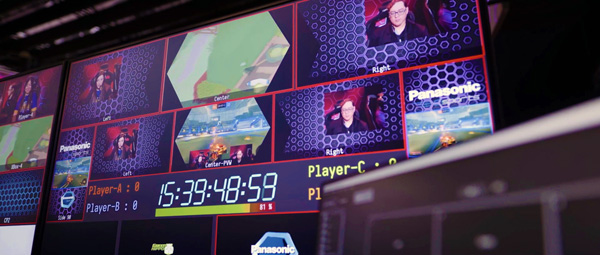 Regarding hardware, as a native-IP, ST 2110 system, KAIROS removes certain constraints imposed by dedicated hardware. Its COTS-based design means it can form part of IT systems comprised of vendor components from several industries – including LiveX's legacy hardware. Their production team can use the platform's built-in functionality within their own workflow, including the ability to control all cameras through one IP network, colour correct, playback shots and edit graphics.
The SOFTWARE UI adapts to large or small productions. All processing is tracked in the interface, keeping scene composition flexible. For example, with the layer-based processing system, adding a picture-in-picture effect doesn't require first planning which keyer to use.
Smaller Crew, Bigger Production
"Being able to walk into an automated set and show our clients the full potential of what we can create is something we are really excited about," Corey said. "We will be able to use KAIROS to lock in our camera views, and then reconfigure them with completely different types of shot movements and tracking, allowing us to be more efficient at a higher level in the production."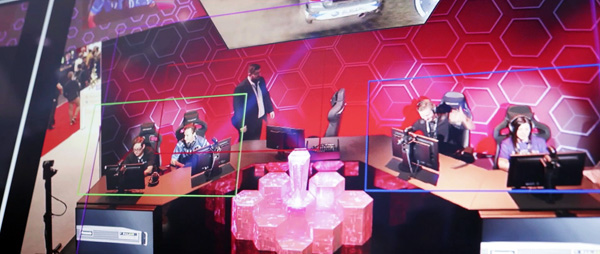 Especially useful at this time, KAIROS makes it possible to produce programs with fewer operators on set, resulting in opportunities for more guests, new set configurations and the ability to expand the programming without expanding the crew. The GUI design is relatively simple for operators at most skill levels, and the physical control panel is customisable.
As KAIROS does not require many dedicated devices, it works well in small spaces like TV studios. It also enables live streams to be manipulated and combined with the same level of control as images or recorded clips, helping the crew manage the pressure of a live studio environment.
By adopting new approaches to their work like IT/IP video processing, LiveX's production crews have gained an edge in terms of efficiency in content delivery, as well as the amount of work they can handle at one time. Introducing KAIROS will, in effect, upgrade the master control room at LiveX by making their workflows simpler and automating the studio. business.panasonic.com.au