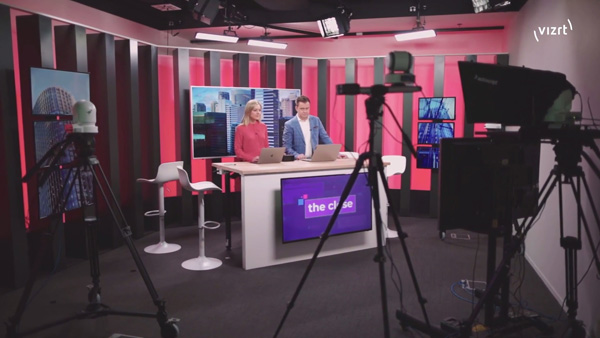 Vizrt Production Control, Vizrt Newsroom and Vizrt XR (Extended Reality) are the first three of five software Solution Suites made available within the new Vizrt Flexible Access service, developed for users to adapt and scale their production software up, and then down, to meet rapidly changing production needs.
Vizrt Production Control
Vizrt Production Control is a single software-based production system made to help producers manage the complexity of live content creation, including graphics, control and automation for daily news, live sports and other live productions. The software digitally re-builds the control room to allow producers and editors to generate broadcast quality content from any location, at any time, by any team member, and is available in annual or month-to-month software plans.
Daniel Nergard, President of Vizrt said, "Software-based production techniques are being adopted at a slower pace inside the central core of the TV station – the control room, limiting the productivity and creativity of storytellers. Vizrt Production Control allows users to choose how to deploy their tools, where to produce from, and which day-to-day tasks to automate."
Vizrt Production Control can be deployed on premises using commercial off-the-shelf hardware or virtualised in cloud environments. It has been developed in three tiers of production control capabilities and options to suit specific requirements. Vizrt graphics creation and control is available to enhance content with real-time 3D graphics and data-driven elements.
Production Control can also be customised with automation that speeds up processes, reduces errors and controls production systems remotely. Furthermore, producers can use the same assets and templates across multiple production sites for more consistent results, meanwhile focusing their time and effort on producing engaging content. Show set-up and preparation time is shortened, improving the efficiency and allocation of resources.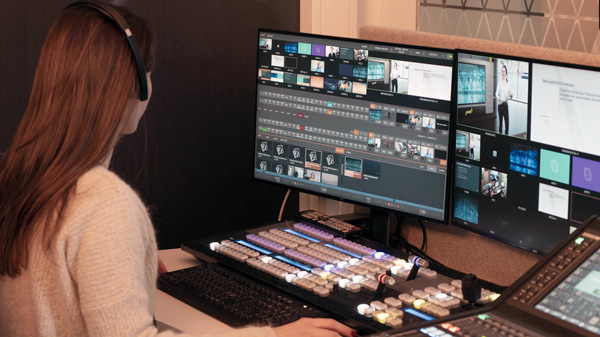 Vizrt Newsroom
Vizrt Newsroom integrates with major newsroom computer systems (NRCS), adding further tools for journalists that help make visual storytelling more straightforward. It uses Vizrt's template-based, cross-platform newsroom content creation system to create, manage and deliver high volumes of broadcast-quality stories and graphics. Journalists can use the system to prepare, script, plan and create content independently, and then add graphics, video and stills, data visualisations and maps to their stories from within the NRCS.
Vizrt Newsroom allows journalists to scale and adjust the tools they need to the volume of required output and produce various types of content for diverse shows, programs or platforms. For example, content production teams can create data-driven election graphics and breaking news stories, as well as carry out social media aggregation, and republish and adapt the material to different combinations of required outputs.
Vizrt Newsroom is accessed through browser-based interfaces, which means that journalists can plan, create and edit stories from the broadcast centre, from the road, or from home. By combining a familiar newsroom workflow with just-in-time meta graphics and a template-based system, a single journalist can take over various roles in the production crew.
The suite gives access to video, stills, maps and graphics and the tools to turn them into the required types of stories. Templated graphics, proxy preview and the ability to work on growing files allows breaking stories to be delivered in real-time as they unfold. Users can repurpose any video or story and deliver all versions – with custom graphics and branding – to any online output destination.
Vizrt Extended Reality
Vizrt has also developed Vizrt XR (Extended Reality) to give broadcast productions, in-studio and outdoor, greater creative potential in visual storytelling and sports analysis. It includes virtual, augmented, mixed and extended reality graphics and video wall control.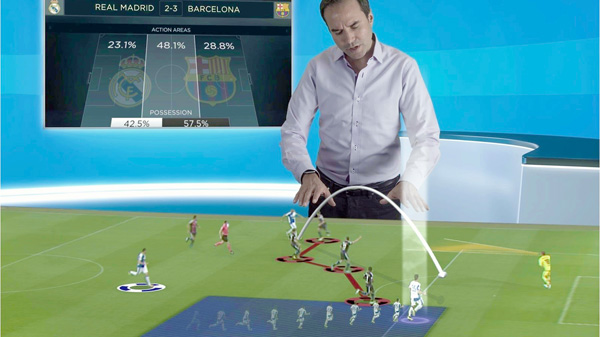 A close look at how the Vizrt XR suite builds creativity in studios, at the stadium and on the pitch will be presented on VizrTV on Wednesday, 17 February at 10am and 4pm Central European Time, and 10am US Eastern Time.
Producers who are under pressure to capture an audience ahead of their competitors need to visualise news stories and sports content in an engaging, informative way. Vizrt XR has options designed to extend the visualisation of their stories to tell them better. Video or virtual studio walls and floors, as well as the pitch and stands within sports arenas or other outdoor environments, become blank canvasses allowing interaction between presenters and graphics objects on scales ranging from finely detailed to larger-than-life.
Elements that scale to meet client demands within Vizrt XR include Vizrt XR Set, a collection tools for working with augmented reality, virtual sets and videowalls within one workflow. The studio or any other location can be reset from one show to the next in a few minutes, which is expected to help lower costs and speed up production.
Vizrt XR Venue has camera tracking and AI keying systems that produce precise, hyper-real graphics that can be used to enhance match events and improve sports coverage with minimal effort. Because it uses image-based tracking, no equipment is required at the event – calibration of camera angles and control of live virtual graphics can be handled by one operator. The software and the operator can be located either at the venue or in a downstream workflow at the production centre.
The precise, sophisticated match break-down generated through Vizrt XR Playbook helps fans understand exactly how and when a match was decided. Virtual views, 3D camera flights and numerous analysis tools let the presenter break down the match interactively in the studio, delivering insights on a touchscreen or even virtually inserting them directly into the action on the pitch. www.vizrt.com