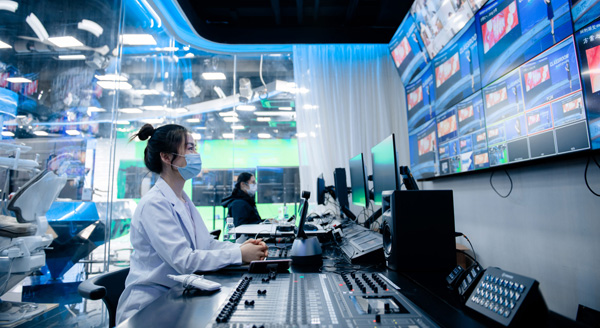 Beijing-Citident Implant-Dentistry Technology College (BITC) is an education facility with a sophisticated broadcast grade studio, devoted to training, education and research in dental implantology since 2006. In 2017, they launched their online learning website BITC Global and built the studio in Xidan commercial district in Beijing to support their work in educational content creation and academic communications. This studio is also a media convergence education centre, certified by Open University of China.
The staff at the BITC studio includes both a team of implantology experts and a crew of video professionals and software developers, who customise production and streaming systems according to the characteristics of each course. The studio is under some pressure to produce high quality online courses and a competitive learning experience.
Meeting Expectations
"BITC is not a television broadcaster but our audience are all dentists – well-educated people with high expectations of online course material, who wouldn't be attracted to academic webinars and presentations with low production values. Consequently, we make sure the courses and webinars are produced in a professional manner using up to date broadcast equipment," said Su, head of the BITC studio.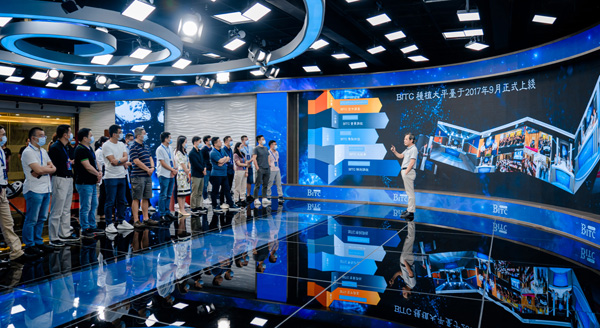 "We've put a lot of effort into trying out products from different manufacturers. Our current workflows for different scenarios, such as membership courses, open classrooms, webinars and interviews, have evolved into the current ones resulting from those trials. All now involve a large number of Blackmagic Design products. They are not only affordable but also, from an integrator's perspective, almost every Blackmagic product is versatile enough to be used for many different purposes. That's important for users like us who need to customise systems for various situations."
LED Screens
The main stage of the studio has a giant 8K curved LED main screen serving as the backdrop, and integrated with two large screens on the ceiling and floor, which can display impressive stage effects. For example a light ray travels across the floor and reaching the bottom of the 8K main screen to trigger an animated fire burning on that screen and onto the ceiling screen. Such an effect requires accurate time sync of all the screens, which is controlled by a computer equipped with two DeckLink 8K Pro and two DeckLink Quad capture cards.
In addition, about 100 further screens are in use across BITC, including 30 in the studio, a large screen at the front desk and screens along hallways. All signal routing for these screens and equipment in the studio is managed using three Smart Videohub 40x40 routers with a Smart Videohub 12x12 for redundancy.
"It's fortunate that the Smart Videohubs are controllable via Ethernet because we need to control multiple routers together and we can simplify the routing by cascading the routers and having them perform a series of actions automatically with one press of a button on controllers like StreamDeck," Su said.
ATEM Constellation 8K
All source feeds go into the Smart Videohubs before being sent to the ATEM Constellation 8K, the main switcher in the production control room, controlled by an ATEM 2 M/E Advanced Panel with ME 1 for controlling the program out and ME 2 for controlling the signal for the 8K LED screen and DVE windows.
"Because the ATEM Constellation 8K has 40x24 12G-SDI ports, we can handle the large number of signals going into and out of the studio. Furthermore, each of its outputs is an AUX, so the switcher itself can be used as a 4K HDR router, which can alleviate the pressure on our routers and prevent possible errors due to frequent patching," said Su. "Also, the feeds come in with different standards, but the standard converters on the inputs of ATEM Constellation 8K can convert them to the one we specify without installing external converters, simplifying the whole system."
With the four DVEs and SuperSource feature that adds another 8 DVEs, the BITC staff have flexibility, overlaying windows on the giant 8K LED screen, for example, for the close-up of the presenter, with a wide shot of the audience.
In the Classroom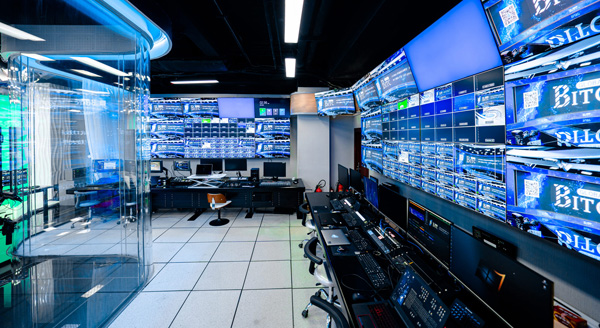 When live streaming an operation or an open classroom, they could set up an ATEM Television Studio 4K Pro or an ATEM Mini Pro in the operation room or classroom, of which the program then goes to the main switcher in the production control room.
"The two smaller switchers also have advanced features of the ATEM Constellation 8K, such as the standard conversion, which is critical to streaming our online courses live, as the HDMI feed coming from the teacher's computer has to be converted to a broadcast standard. The ATEM Mini Pro can even live stream the course with its own streaming hardware. When not used for streaming, we sometimes use it as a converter."
An Ultimatte 12 real time chroma keyer is integrated in BITC's real 3D virtual set with an 8x7.5x3.5 green box and Vizrt graphics system. Hundreds of Blackmagic Mini Converters and Teranex Minis glue devices with various connections including SDI, HDMI and DisplayPort and different framerates and resolutions all together. HyperDeck Studio recorders and Video Assist recorders are used for recording, and staff members in the production control room use a Blackmagic Multiview 4 for monitoring the feeds from the computers of the guests in the case of a talk show production.
"We also use an URSA Mini Pro to film promos, because the Blackmagic RAW footage allows us to manipulate the colours in post for the look we want," said Su. www.blackmagicdesign.com